One of the most important things to have in the kitchen while cooking is sharp knives. Dull blades are really annoying, but also pretty dangerous. The problem is, not all of us have tons of time to be able to expertly sharpen our knives with a whetstone.
I don't know about you, but I want to be able to quickly and easily sharpen my knives with a knife sharpener I can count on to do the job well. That's where the Chef's Choice 1520 electric knife sharpener comes in. Before this machine came to my rescue, I was constantly cursing the dullness of my favorite knives.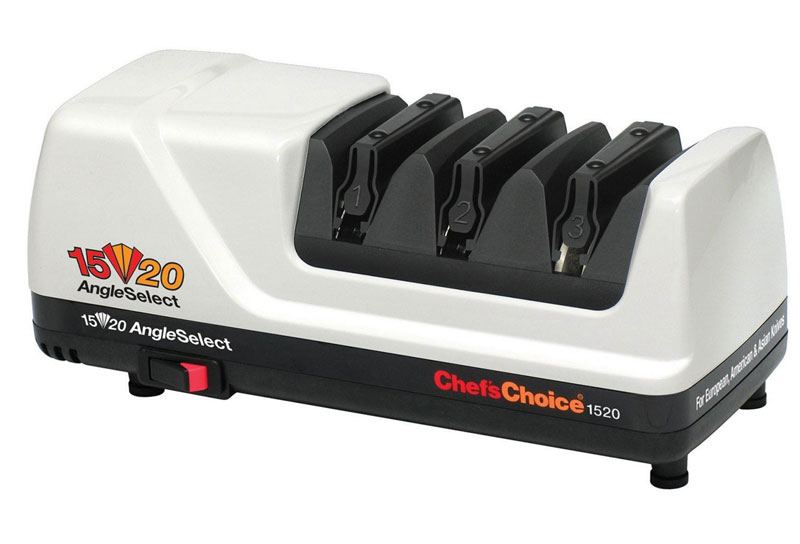 If you have that problem too, you might want to check this guy out. It's fast and easy to use, and it doesn't take a ton of space to store. There are many options for electric knife sharpener from Chef's Choice (not to mention all the other brands).
Here is our review of the Chef's Choice 1520 AngleSelect electric knife sharpener. If you find that this knife sharpener doesn't meet your needs, check out our full guide to finding the best knife sharpener.
We'll also include a few more choices of manual knife sharpeners at the bottom to check out.
Chef's Choice AngleSelect 1520 Electric Knife Sharpener Review
One of the first questions I asked myself when deciding on a knife sharpener was whether to go with a manual or electric model. Both can be easy to use and just as effective.
While I think there is a good case for owning both, I tend to fall on the side of electric, because the powerful electric blades can get the job done way faster and better than I can do by hand. Perhaps you agree. (If not, you can read about our favorite manual sharpener here.)
The Chef's Choice 1520 is our top choice because it combines everything we're looking for in an electric knife sharpener. It's versatile, working with many different types of knives, it uses only 100% diamond abrasives, and not only can it reliably put the sharp edge I expect on my knives, it can also repair and restore damaged blades.
This video by Chef's Choice on YouTube will take you through all the top features of this sharpener: https://youtu.be/M4ybo8vF_po
What type of knifes does it work with?
Many different knives can be sharpened with this tool, including European/American blades, Japanese and Santuko blades, as well as sports, pocket and outdoor knives. Serrated knives are also supported on this electric knife sharpener.
The 1520 was designed with ultimate flexibility, so it can sharpen Asian and European/American style knives to either a 15 or a 20 degree angle, depending on your preference.
Can be used with:
European/American 20-degree edge knives
Japanese 15-degree edge knives
Santuko blades
Serrated knives, including bread knives
Fillet knives
Pocket and sports knives
What degree edge does it sharpen?
One of our other favorite models of the Chef's Choice line is the Trivor XV, but that machine is less versatile in that it reshapes all knives into a 15-degree edge, regardless of whether it came that way.
With the Trivor XV, you can turn your American 20-degree knives into 15-degree knives with ease. I do realize that not everyone wants to work with a 15-degree edge. The Chef's Choice 1520 has bevel angle control, so you can safely use it with both 15 and 20 degree edges.
Slot number 1 is for 15-degree Asian knives, while slot 2 is for sharpening 20-degree Euro/American knives. Slot 3 is used for stroping and polishing the knife after sharpening to provide a nice finish to your knives. You can also use slot 3 to sharpen serrated blades.
The slots are marked with numbers, so you don't want to forget which one to use. As an additional feature, the Chef's Choice 1520 has patented, flexible stropping and polishing discs that put a "gothic arch" edge on your knives.
Read more about the gothic arch edge. The gothic arch edge is said to be much stronger and longer lasting than the traditional edge.
Unlike many manual and electric knife sharpeners, the Chef's Choice 1520 can sharpen single edged knives, so if you've been trying to find a way to sharpen your single-sided Japanese knives, this is the machine that will do it.
What type of guiding technology and abrasives are used?
Other features that are important to look for in a knife sharpener are the type of guiding technology and the type of abrasive used.
The Chef's Choice 1520 has an advanced spring-loaded guide system that gives tight control for the knife as it glides through the chamber. This guide system allows more accuracy over the blade's sharpening angle and eliminates the need for the user to know or determine the proper angle. While most electric sharpener guides don't allow for thick knives or cleavers to be run through, the Chef's Choice does.
The 1520 uses all diamond abrasives to create an ultra-sharp edge on your knives. The 1520 can also be used to restore damaged blades and can recreate the 15 or 20-degree edge on any knife, so don't be afraid to run your old, beat up knives through the machine. With a little patience, the diamond abrasive wheels will buff out any nicks or dips in the blade.
Final Thoughts
If you're looking for a really versatile electric knife sharpener that will restore a better-than-factory blade on your knives, you'll find just that in the Chef's Choice 1520.
It can be used with just about any knife, so there's no need to have multiple sharpeners lying around. It's one of the best all-around knife sharpeners.
With any electric knife sharpener, you need to know what you're doing before using it and be very careful as you place the knife into the guided slots. You could damage your knives by not pulling the knife through quickly enough, or by using too much pressure.
---
PROS
CONS

Uses only 100% diamond abrasive
Can be adjusted to work with 20 or 15-degree edges
Can sharpen single-sided blades
Has a stroping and polishing feature
Can sharpen thicker knives

More expensive than other electric sharpeners
More difficult to learn how to use
Slots are only marked with numbers
Other Chef's Choice Electric Knife Sharpener Options
(Disclaimer: This post contains affiliate links for which we receive a small commission.)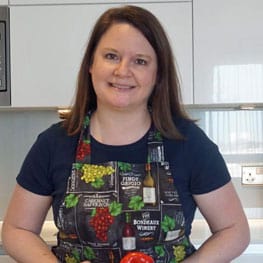 Laura is a home cook who loves making new recipes and finding new favorite things to eat, whether at home or abroad. She also runs a popular travel blog and spends a lot of her time traveling for food.