If you've been searching for the best knife sharpener, you've likely come across the Chef's Choice brand and noticed that it has a lot of positive reviews. That's because Chef's Choice offers a large variety of manual knife sharpeners with cutting-edge technology.
Once you use a Chef's Choice manual knife sharpener, you'll likely never go back to another brand, because the reliability and design of their products are good.
There are many manual knife sharpener options from Chef's Choice, but we've done the research and we've narrowed it down for you. Here is our review of the Chef's Choice 4643 Manual Knife Sharpener.
If you find that this knife sharpener doesn't meet your needs, check out our guide to finding the best knife sharpener. We'll include a few more manual sharpener choices at the bottom to check out.
Chef's Choice 4643 Manual Knife Sharpener Review
Manual knife sharpeners are a good way to go when you don't have a lot of space for a bulky machine, you don't want to have to use a power outlet, or you just want to have a fast and easy way to quickly sharpen your knives.
The Chef's Choices 4643 fulfills all of those wants. It's very lightweight and portable, but it is also sturdy and works well on many different types of knives, so it is a useful tool to have around.
If you don't use any other method for sharpening your knives, you can be satisfied that you're getting a good edge with this sharpener. (You can see our favorite electric knife sharpener here.)
What Type of Knives Does it Work With?
The Chef's Choice 4643 manual knife sharpener works on European/German and Japanese knives, giving you a great deal of flexibility. In many kitchens today, you'll find a variety of knives.
Perhaps you have a set of standard 20-degree American knives, as well as a 15-degree Japanese knife or two, plus a Santoku knife. If that's the case, it's best to find one sharpener that can work with all of your knives.
The Chef's Choice 4643 can sharpen all of those knives, as well as serrated, pocket and sports knives. It cannot be used with ceramic knives, however.
Can be used with:
European/American 20-degree edge knives
Japanese 15-degree edge knives
Serrated knives
Pocket and sports knives
Since some Japanese knives are single-sided blades, be aware that the Chef's Choice 4643 does not have the capability to sharpen single-sided blades, due to the criss-cross technology that sharpens both sides of the knife at the same time.
What Degree Edge Does it Sharpen?
Another option on this knife sharpener that makes it our top choice is the bevel angle control, so you can safely use it with both 15 and 20 degree edges. Slot number 1 is for 15-degree Asian knives, while slot 2 is for sharpening 20-degree Euro/American knives.
Slot 3 is used to hone the knife after sharpening to produce a burr-free smooth edge. You can also use slot 3 to sharpen serrated blades. The slots are clearly marked so you won't forget which one to use.
What Type of Guiding Technology and Abrasives Are Used?
Other features that are important to look for in a knife sharpener are the type of guiding technology and the type of abrasive used.
The guiding discs will do the work for you to properly grip and guide the blade through.
As for abrasives, the Chef's Choice 4643 uses 100% diamond abrasive wheels to produce the strongest, most exact edge on the knife. Many lower cost manual knife sharpeners use carbide abrasive on the sharpening wheels, which is not as hard or strong as diamond.
The Chef's Choices 4643 uses criss-cross technology that allows the user to run a knife through the guides without worrying about additional manual input. The criss-cross technology uses two diamond discs that work at the same time to sharpen the blade.
Final Thoughts
If you follow the included Chef's choices knife sharpener instructions, the sharpness you'll achieve from using this knife sharpener is very good. Without spending more money on an electric sharpener, this Chef's Choice sharpener is an easy-to-use solution for kitchen knife sharpening.
One of the drawbacks to this knife sharpener is that it's meant for use by right-handed folks only. In my kitchen, that produces a bit of a problem, as one of us is left-handed. You can make it work as a lefty, but it's certainly not as easy.
There are other models of this sharpener available that will suit your needs better if you only have one type of knife to sharpen. For instance, if you'll only be sharpening 20-degree angle knives, the Chef's Choice 464 costs a bit less and doesn't include the extra slot.
PROS
CONS

100% diamond knife sharpener wheels
Works on both 15- and 20-degree knives

Higher priced than competitors
Not for left-handed users
Other Manual Knife Sharpener Choices
(Disclaimer: This post contains affiliate links for which we receive a small commission.)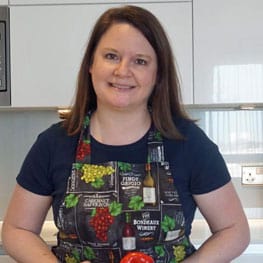 Laura is a home cook who loves making new recipes and finding new favorite things to eat, whether at home or abroad. She also runs a popular travel blog and spends a lot of her time traveling for food.