A basic apple cider vinaigrette can be used to dress a wide variety of salads. It's extremely versatile, easy to make at home, and brightens up every salad.
>> You might also like this Homemade Blue Cheese Dressing or Easy Green Goddess Dressing.
If you don't like the idea of buying vinaigrette at the store and consuming all the preservatives and extras they put in it, you should definitely start making your own at home. It's very easy, and best of all you can adjust it to suit your tastes.
One of the biggest complaints people have about vinaigrette is that it's either too vinegary or not vinegary enough. The tang of this dressing can easily be adjusted to fit your preference. You can also adjust the level based on what you're serving it on. Some dishes just need an extra punch of acid.
It's also great to have the option of adjusting the flavoring of the vinaigrette to suit the dish you're putting it on. You can make infinite variations of this dressing, just by using a different vinegar, thickening agent, or sweet element. We'll give you a few ideas for variations below. You might also like this Easy Aromatic Toasted Spice Vinaigrette.
Ingredients Needed for a Basic Vinaigrette
Let's start with the basics. Every vinaigrette needs four basic things:
oil
vinegar
sweetness
a thickener
The most basic version uses olive oil, apple cider vinegar, honey, and Dijon mustard. If you get these ratios correct, your vinaigrette will have just the right consistency, it won't break (meaning the oil and vinegar won't separate) and it will have a nice punchy tang to it.
This basic apple cider vinaigrette is what I make most often. It's incredibly simple, and I always have the ingredients on hand. However, there are dozens of other variations you can make.
Vinaigrette Variations – Mix & Match
The easiest variations to make use different types of vinegar.
Balsamic vinegar
Champagne vinegar
Red wine vinegar
Another easy variation is to use citrus juice instead of vinegar.
Lemon
Orange
Lime
Grapefruit
Try changing the taste of your vinaigrette with different types of oil. The best to use are:
Olive oil
Sesame oil
Walnut oil
Avocado oil
You can change the taste of your vinaigrette by using a different sweetener. While honey is the most likely sweetener you will have on hand, you can also use these sweeteners in its place:
Agave syrup
Maple syrup
Molasses
Dijon mustard is arguably the best thickening agent to use in vinaigrette, but you can substitute others like these:
Miso paste
Mayonnaise
Tahini
Ricotta cheese
Finally, you can add additional flavor to any basic vinaigrette by adding herbs or fruit. Try these:
Basil
Fennel
Italian herbs
Shallots
Sesame seeds
Lemon Thyme
Raspberries
Strawberries
Pomegranate
How to Make a Basic Vinaigrette
Basic Vinaigrette needs four ingredients, as we said above. All you need to do is combine these ingredients in the correct ratios, then whisk them all together, and you're done.
I like to make small batches of vinaigrette, when I need it, so it's always fresh and tasty. For this, I use a small container (like these) that holds 1/2 cup. If you use a container with a lid, you can just add the ingredients to the container, put on the lid and shake it vigorously to combine. Super easy.
If you want to make a 2-3 serving batch, use just 3 tablespoons olive oil and 1 1/2 tablespoons of vinegar.
If you're using a bowl, add the ingredients and whisk it all up until it's thoroughly combined and doesn't break.
Another great way to emulsify vinaigrette is with a portable blender or stick blender – either in a bowl or in the chopping attachment.
I use this simple vinaigrette on a lot of different dishes. It's the perfect addition to the Roasted Asparagus with Cranberries and Feta Salad above. You can also add it to this Pear & Gorgonzola Salad.
Once you make this salad dressing, you won't go back to store bought vinaigrette. There's just no comparison. It's easy to make, economical, and it takes so much better than store-bought.
Other Recipes to Try
Like this recipe? We'd love for you to share it on your Pinterest board! Click to follow our Pinterest boards so you can find all our recipes!
Instagram it! If you try this recipe please tag #AFoodLoversKitchen on Instagram or Twitter. We love to see your photos of our recipes! Also follow us on Instagram, Twitter and Facebook to keep up on what we're cooking up.
Easy Apple Cider Vinaigrette
A basic apple cider vinaigrette can be used to dress a wide variety of salads. It's extremely versatile, easy to make at home, and brightens up every salad.
Print
Pin
Rate
Ingredients
1/4

cup

olive oil

1/4

cup

apple cider vinegar

1

teaspoon

honey or agave syrup

1

teaspoon

dijon mustard

1/8

teaspoon

salt

1/8

teaspoon

pepper
Instructions
Combine all the ingredients in a bowl and

whisk

together rapidly until well combined. Alternatively, put off the ingredients into a container with a lid and shake vigorously to combine.
Notes
This recipe makes only 1/2 cup of vinaigrette – the amount needed for most recipes. So there will be very little leftover after using for one dish. If you want to make more, just double the recipe.
Nutrition
Calories:
64
kcal
|
Carbohydrates:
1
g
|
Protein:
1
g
|
Fat:
7
g
|
Saturated Fat:
1
g
|
Polyunsaturated Fat:
1
g
|
Monounsaturated Fat:
5
g
|
Sodium:
44
mg
|
Potassium:
7
mg
|
Fiber:
1
g
|
Sugar:
1
g
|
Vitamin A:
1
IU
|
Vitamin C:
1
mg
|
Calcium:
1
mg
|
Iron:
1
mg
Pin it for later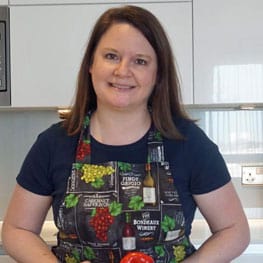 Laura is a home cook who loves making new recipes and finding new favorite things to eat, whether at home or abroad. She also runs a popular travel blog and spends a lot of her time traveling for food.