This Pear and Gorgonzola Salad mixes the fresh, sweetness of pear with the tangy, sharpness of gorgonzola – a classic pairing.
If you're looking for a salad to serve with a special meal, this one is a really great choice. The flavors are bold and work so well together. It feels like a special occasion every time I make it.
When pears are in season and are perfectly juice and ripe, that is when this salad shines the most.
If you can't find pears that are sweet and ripe, you can substitute apple for the pear. It also goes very well with the cheese.
The cheese in this recipe is gorgonzola, but it can be substituted with any blue cheese you like. Gorgonzola often has a more mild flavor than blue. You can find it in a soft, creamy version or a firmer version. For this salad, the firm version is better.
If you don't like gorgonzola or blue cheese, you can also substitute it with feta cheese, which has a rich acidity similar to gorgonzola.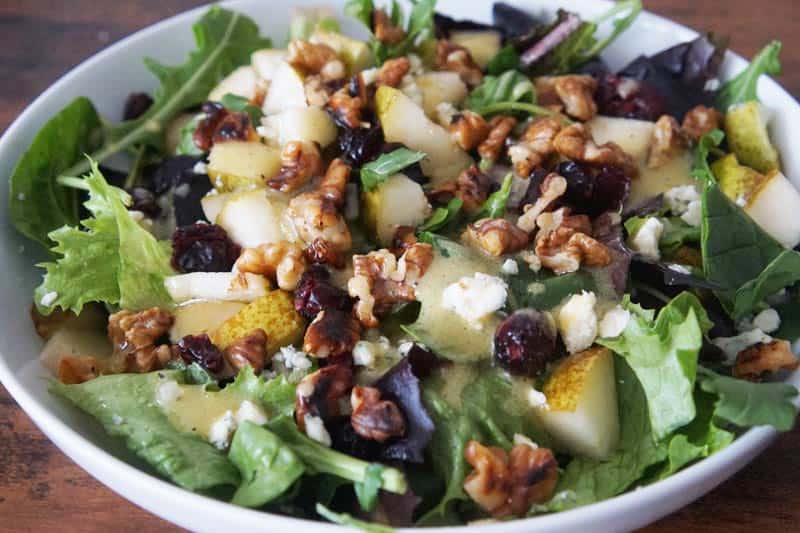 Toasted walnuts are the other important ingredient in this dish. They don't have to be fancy candied walnuts, but be sure not to put them in the salad raw. Raw walnuts have a bitterness that can be overwhelming in this salad. They just need a light toast. Here's a guide on how to do it properly.
I always make my own vinaigrette dressing. It ends up so much better than any store-bought dressing. And it's so easy to make. I always have the ingredients on hand so I can whip up a dressing when I need it.
If you have a food processor or handheld blender, they're perfect for blending up salad dressings. You can also do it with a whisk or by putting the ingredients in a jar and shaking vigorously.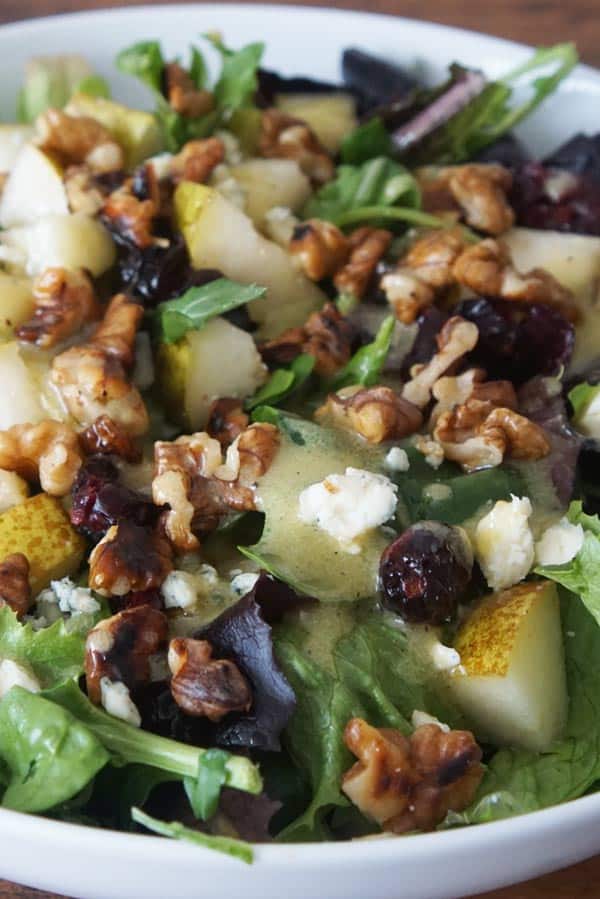 Once you make this salad, you'll be addicted, believe me. It has so many competing flavors that you'd think they'd clash, but they don't. In fact, they go together so well, it's almost hard to believe.
Find a great wine that pairs with these flavors and you have the perfect light meal or dinner salad.
Like this post? We'd love it if you would share it on your Pinterest board! Click to follow our Pinterest boards so you can find all our recipes!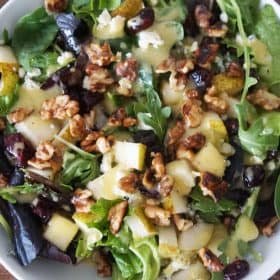 Pear & Gorgonzola Salad
This pear and gorgonzola salad is combines crispy lettuce leaves with the sweetness of pear and the acidity of the cheese to reach the perfect bite.
Print
Pin
Rate
Ingredients
For the salad dressing
6

tbsp

olive oil

2

tbsp

apple cider vinegar

¼

tsp

Dijon mustard

¼

tsp

oregano

¼

tsp

honey or agave

salt and pepper to taste

Squeeze of lemon juice
For the salad
1

pear

diced

2

cups

arugula or wild lettuce mix

3

tbsp

crumbled gorgonzola or blue cheese

2

tbsp

walnuts

chopped, toasted

2

tbs

cranberries

dried
Instructions
Toast the walnuts on a griddle over medium heat for 4 minutes per side. Mix all salad ingredients together in a large salad bowl.Mix up the salad dressing.Top the salad with half the salad dressing. Mix well, but gently. If the salad requires more dressing, add one tsp at a time until the desired dressing is reached.Serve immediately.