Summer is the perfect time to get out your cocktail shaker, your special glassware, and those little cocktail umbrellas.
As the weather heats up, you'll want to have a cold drink in your hand. These are 6 of our favorite refreshing and easy summer cocktails that are not your typical gin and tonic.
Fresh fruit is one of the best ways to jazz up your summer cocktails. Add anything from lemons to mangos and watermelon to make a fun, creative cocktail. All you need is a good blender, a cocktail shaker, and a serving glass.
» Looking for a non-alcoholic fruity summer drinks? Try this Blackberry Mint Green Iced Tea recipe. Or one of these cold and refreshing iced teas.
Mint Grapefruit Mimosas
Serves: 4
1/2 cup honey
1/2 cup water
1/4 cup fresh mint leaves, torn and bruised
2 large pink grapefruit, peeled, pith removed
1 bottle prosecco, chilled
4 sprigs fresh mint, for garnish
Directions:
Combine the honey and water in a small saucepan set over medium heat. Add the mint leaves. Reduce heat to medium low and simmer for 5 minutes.
Remove from heat and strain, discarding the mint leaves.
Place the peeled grapefruit in a high-speed blender and blend until completely liquefied, approximately 1 minute.
Fill four champagne flutes 1/3 full with the grapefruit puree. Add a spoonful of the syrup. Stir briefly to combine, and then top off each glass with chilled Prosecco.
Dark Cherry & Mint Gin Fizz
This fruity and refreshing beverage isn't overly sweet thanks to the natural tartness of the cherries and fresh lime juice. A touch of honey adds just the right amount of sweetness to balance out the more tart flavors, while fresh mint adds a bright note to bring it all together.
Serves: 4
2 cups dark cherries, pitted (fresh or frozen)
2 tbsp honey
1 cup water
1/4 cup fresh lime juice
1 cup fresh mint leaves, washed and torn
2 cups club soda
4 oz gin
Directions:
Combine cherries, honey, and water in a small saucepan over medium heat. Cook, stirring frequently, for 4-5 minutes or until the mixture is bubbly and the cherries release their juices.
Remove from heat. Transfer the cherry mixture to a blender or food processor and blend until smooth. Pour into a pitcher and let cool at room temperature for 10-15 minutes.
Add gin, lime juice and mint leaves.
Fill four glasses with ice then top with ¼ cup cherry puree and ½ cup club soda.
Pink Grapefruit Martini
This light and refreshing cocktail is sure to be a hit at your next gathering. For an equally delicious alcohol-free version, replace the vodka and orange liquor with 1 cup sparkling water and 1/4 cup fresh orange juice. Pour all ingredients into a pitcher filled with ice, rather than a cocktail shaker, to combine before serving.
Serves: 4
Ice to fill shaker
1½ cups fresh pink grapefruit juice
1/4 cup fresh lime juice
6 oz vodka
2 oz orange liquor, such as Cointreau or triple sec
1 large lime, cut into slices
Directions:
Fill cocktail shaker with ice and all other ingredients. Cover and shake vigorously to blend.
Pour into martini glasses. Garnish with lime.
Frozen Mango Margarita
This delicious, refreshing frozen slushy does not require any added sweetener thanks to a healthy dose of fresh (or frozen) mango and orange juice. A small amount of fresh lime juice adds just the right amount of tanginess to balance out the sweeter flavors.
» We think you should also try this Peach Mezcal Margarita. It's delicious!
Serves: 4
2 ripe mangoes, peeled and cubed (or 2½ cups frozen mango)
1/4 cup fresh lime juice
3/4 cup fresh orange juice
1/2 cup water
4 oz 100% agave tequila
8-10 large ice cubes
Directions:
Add fresh or frozen mango, lime juice, orange juice, and water to a blender and pulse to combine. Add the tequila and ice and pulse for a few seconds, until the ice is crushed into small pieces. Do not over-blend.
Jalapeno Cucumber Lemonade
A hint of heat adds an unexpected twist to this refreshing summertime favorite. The key to striking the right balance with this recipe is to start with small amounts of jalapeno and gradually add more until you find just the right level of spice to suit your tastes.
It's a lot easier to add more than it is to adjust everything else to compensate for too much heat.
Serves: 4-6
3 cups water
3/4 cup fresh lemon juice (6-8 medium lemons)
1 large cucumber, peeled and cut into chunks
1 jalapeno pepper, seeds removed, finely minced
1/3 cup vodka
1/3 cup honey
Optional Garnishes: Rosemary sprigs with lower leaves removed Cucumber chunks or slices Jalapeno chunks or slices
Directions:
Add water, lemon juice, cucumber, jalapeno, vodka and honey to a blender and blend until completely liquefied. Taste and add more jalapeno and/or honey, if desired.
Pour liquid through a fine mesh strainer to remove any larger particles and transfer mixture to a large pitcher. Chill in refrigerator for at least 1 hour before serving.
To serve, pour over ice and garnish with slices of cucumber and/or jalapeno.
Watermelon Mint Lemonade
This refreshing watermelon mint lemonade is super quick and easy to prepare. This is one of those recipes you'll want to tinker around with to find the right flavor combination for your tastes.
For example, the amount of water you need to add will vary depending on how juicy the watermelon is and how strong you want the flavor to be.
Prep time: 15 minutes
1/2 cup granulated sugar
1/2 cup water
1/4 cup tightly packed fresh mint leaves, stems removed and crushed
6 cups fresh watermelon, rinds removed and cut into chunks
3/4 cup fresh lemon juice (6-8 medium lemons)
1/2 cup citrus-flavored vodka
1/4 cup cold water, (plus more, if needed)
1/2 cup fresh mint leaves, tightly packed with stems removed
Directions:
To make the simple syrup, add the sugar, water and crushed mint leaves to a small saucepan over medium-high heat. Stir until the sugar dissolves completely. Reduce heat to low and simmer for 10 minutes. Remove from heat and discard mint leaves. Cool completely before using.
Add watermelon chunks, lemon juice and ½ cup cold water to a blender and blend until liquefied. Pour through a fine mesh strainer. Sweeten with mint-infused simple syrup.
Bruise ½ c. fresh mint leaves with fingers to release oils and add to the bottom of a large glass pitcher or jar. If serving immediately, add ice cubes to the container and pour in the watermelon mixture.
One More!
Here's one more cocktail that we love with Mezcal. It's one of our favorite go-to cocktails.
What You Need to Make Easy Summer Cocktails
It doesn't take a lot of supplies to make these easy summer cocktails. You'll need a cocktail shaker, plenty of ice, a good blender that can easily blend up ice, a cocktail stirrer, and some nice cocktail glasses to serve them in.
We like to pick whatever fruit is in season at the farmer's market and make a version of these cocktails with the fruit we have. They are all very interchangeable for whatever happens to be in season.
Like this recipe? We'd love for you to share it on your Pinterest board! Click to follow our Pinterest boards so you can find all our recipes!
Instagram it! If you try this recipe please tag #AFoodLoversKitchen on Instagram or Twitter. We love to see your photos of our recipes! Also follow us on Instagram, Twitter and Facebook to keep up on what we're cooking up.
Pin it for later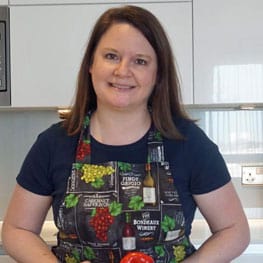 Laura is a home cook who loves making new recipes and finding new favorite things to eat, whether at home or abroad. She also runs a popular travel blog and spends a lot of her time traveling for food.