This article has links to products and services we recommend, which we may make commission from.
Crispy Pork Knuckle – known in Germany and Austria as Schweinehaxe) is one of the dishes that I can't wait to eat whenever we're traveling to Germany.
While this is definitely a hearty dish that's best served with roasted vegetables in the fall, it doesn't have to be relegated to October. We make it at home year-round.
Just looking at it might make you think it's got to be difficult to make properly at home. But once I finally tried it, I realized that couldn't be further from the truth. It's actually incredibly easy to make.
You'll find more involved recipes for pork knuckle that include many more ingredients and techniques, but I keep mine simple. The pork knuckle should be allowed to shine, and there's no need to over complicate it. A little bit of salt and pepper is all that's needed to bring out the unctuousness of the knuckle.
Watch this YouTube video of Chef Uwe from GermanDeli.com make his Schweinehaxe. He uses a much larger pork shank, and he adds beer to his roasting pan, but he follows the same cooking method as this recipe does.
After moving into an apartment with very little kitchen space, I've really embraced one-pot cooking. This recipe is made even simpler by cooking the side dish and the knuckle together in the same roasting pan. I use a 2-qt oval roasting pan and it's just the right size.
Roasted vegetables is one of my favorite comfort foods. For this dish, you can choose the vegetables you prefer. Sometimes I make it with potatoes and onions. But I also like to mix it up and use fennel bulb, celeriac, parsnips, carrots or cabbage. Pretty much any root vegetable will work in this recipe.
What is Pork Knuckle?
If you've been to Germany, Austria or pretty much anywhere in that general area of the world, you've seen pork knuckle (or Scheinshaxe) on the menu. I can't pass up pork knuckle when I see it, especially during Oktoberfest in Munich.
The pork knuckle is located at the end of the leg, before it becomes the ankle. It contains a lot of connective tissue and collagen, which adds all the wonderful flavor and melt-in-your-mouth texture when the meat has been slow roasted.
It can be a bit difficult to find pork knuckle in the grocery store, so you most likely will have to ask for it from the butcher. If you don't have a specialty butcher nearby, try asking at the grocery meat counter to see if they ever stock it, or know where you can get it. Be sure to look for it under different names like ham hock and pork hock.
How to Make Crispy Pork Knuckle
I've seen a lot of recipes that involve brining or simmering the pork knuckle in water for an hour or so before roasting it, but I personally don't thing that extra step is necessary.
You'll want to rinse and pat dry the knuckle, then lightly score the skin, taking care not to pierce through to the meat. Then rub salt and pepper into the groves.
Place the pork knuckle with the skin side up onto the bed of chopped vegetables in your roasting dish. I don't add any additional water. Place the dish in the oven at 325F for 3-4 hours.
Cooking time will vary depending on the weight of your pork knuckle. You'll want to check it every 10 minutes near the end to see how it's progressing. Once the meat has pulled back from the bone and can be jiggled free easily, it's nearly ready.
Once the meat is done, I put it under the broiler for a few minutes to crispy up the skin. Don't put it too close to the heating element, and watch it like a hawk once you put it in so you don't burn it. It'll only take a few minutes to start to puff up.
The meat should easily come off the bone with a fork. It can be served as is over the roasted vegetables, like green beans & mushrooms or roasted cauliflower steaks, or with mashed potatoes. You can make a quick gravy from the roasting liquid to pour over the top.
» If you like this recipe, you'll also like our short rib recipe.
Most pork knuckles you'll find at the grocery are around 2-3 pounds, sometimes more. This size will easily feed two people. It's great to have leftovers too, though!
When possible, I like to purchase organic, farm raised pork knuckle so I can use the bones to make bone broth. It's a great bone for this purpose, because of all the collagen.
You can get Pork Knuckle from FarmFoods, which is an online distributor of high-quality meat from local farmers, with 100% transparency as to where the meat comes from and what the animals were fed. It's not a subscription program. You can pick what meats you want, from whichever farms you wish.
Other Recipes to Try
Like this recipe? We'd love for you to share it on your Pinterest board! Click to follow our Pinterest boards so you can find all our recipes!
Instagram it! If you try this recipe please tag #AFoodLoversKitchen on Instagram or Twitter. We love to see your photos of our recipes! Also follow us on Instagram, Twitter and Facebook to keep up on what we're cooking up.
Crispy Pork Knuckle
Pork Knuckle is easy to make and produces an impressive looking and decadent dish that's great to serve year round.
Print
Pin
Rate
Ingredients
1 1/2

lb

pork knuckle

Find one with skin covering at least half the knuckle.

1/2

tsp

salt

1/4

tsp

ground black pepper

2

medium

potatoes

1

small

onion
Instructions
Pre-heat your oven to 325F.

Poke the skin of the pork knuckle a dozen times with a sharp knife. Rub salt and pepper into the skin.

Cut the potato and onion into chunks and put them into a roasting dish. Place the pork knuckle with skin side up on top of the vegetables.

Put the roasting dish in the oven and cook at 325F for 4 hours. You'll know it's ready when the meat can easily be separated from the bone.

To crisp up the skin, turn the oven to broil and place the roasting pan within 1 ½ inches from the heating element. Watch carefully to avoid burning. Remove from the oven when the skin looks blistered.
Nutrition
Calories:
817
kcal
|
Carbohydrates:
3
g
|
Protein:
58
g
|
Fat:
75
g
|
Saturated Fat:
30
g
|
Cholesterol:
228
mg
|
Sodium:
807
mg
|
Potassium:
51
mg
|
Fiber:
1
g
|
Sugar:
1
g
|
Vitamin C:
3
mg
|
Calcium:
28
mg
|
Iron:
2
mg
Pin it for later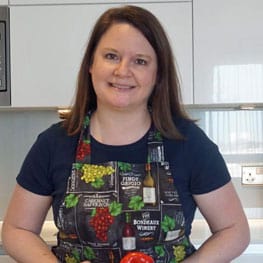 Laura is a home cook who loves making new recipes and finding new favorite things to eat, whether at home or abroad. She also runs a popular travel blog and spends a lot of her time traveling for food.