This article has links to products that we may make commission from.
These slow-cooker beef short ribs will reach fall-off-the-bone tenderness with very little work on your part. The sauce/gravy turns out so rich and flavorful, you'll be shocked you can do this in the slow cooker.
>> Also try these easy Instant Pot short ribs or Instant Pot Beef Brisket.
When you're craving something warm and rich, this is the best dish. I love how easy it is to make and how amazing it turns out in the end. It's nearly foolproof.
I used to not want to make beef short ribs at home because it's something I enjoy so much at restaurants. I figured there was no way I could make them nearly as good at home. I'm glad I eventually tried it because I was so wrong.
These slow-cooker beef short ribs are way easier than I ever imagine it to be. Turns out it's not that difficult to achieve fall-off-the-bone short ribs at home. In fact, the sauce that results from this dish is so incredibly good, I even surprised myself.
The process of slow cooking these short ribs creates the most amazing red wine sauce. You will impress yourself with your cooking skills once you've made this.
» If you like this recipe, you'll also love our Beef Ragu and Pappardelle Pasta.
You probably already know that short ribs are one of the best cuts of beef for braising. The meat can become incredibly tender, and the marbling helps to keep it moist and succulent.
On a side note, if you're looking for high-quality ground beef and meat, check out Butcher Box. It's a subscription meat box with 100% grass-fed beef, free-range, organic chicken, heritage breed pork, and wild caught Alaskan salmon. All the meat is humanely raised and never given antibiotics or added hormones ever.  See our full review of the service.
I'm super impressed with the quality of the meat from ButcherBox and won't go back to purchasing meat at the grocery. Plus, it's way easier to have it delivered to your door.
Keep in mind when purchasing your short ribs that you don't want to get Asian or Korean short ribs, which have quite a bit less meat on them. The cut of beef short ribs you want are thick pieces of meat on a short bone, like the picture below.
You'll want about 1.5 pounds for 2 people, because the bone is very heavy. So, 3 pounds to serve 4 people. I like to use my flavorful dry rub seasoning on these short ribs rather than just salt and pepper.
It adds an extra depth of flavor. If you don't want to mix up a quick batch of dry rub, salt and pepper will do.
Hamilton Beach 6 Quart Slow Cooker. ONLY $19.99 (while supplies last.
How to Make Slow Cooker Beef Short Ribs
You start this recipe by searing the ribs on all sides on high heat, to lock in the flavor and begin the maillard reaction that will infuse incredible flavor into the sauce.
Next, saute the vegetables in the same pan, to start creating a depth of flavor. Saute the vegetables for around 10 minutes, until they become tender.
Add the tomato sauce, beef stock and red wine into the pan and whisk all the delicious fond off the bottom of the pan.
Now you can combine it all in the slow cooker (or dutch oven, if you're putting it in the oven).
Put in the meat, the sauce, and the bay leaves. Cook on low for 6-8 hours. After 6 hours, you can test the doneness of the meat with a fork. If it comes apart easily, it's done.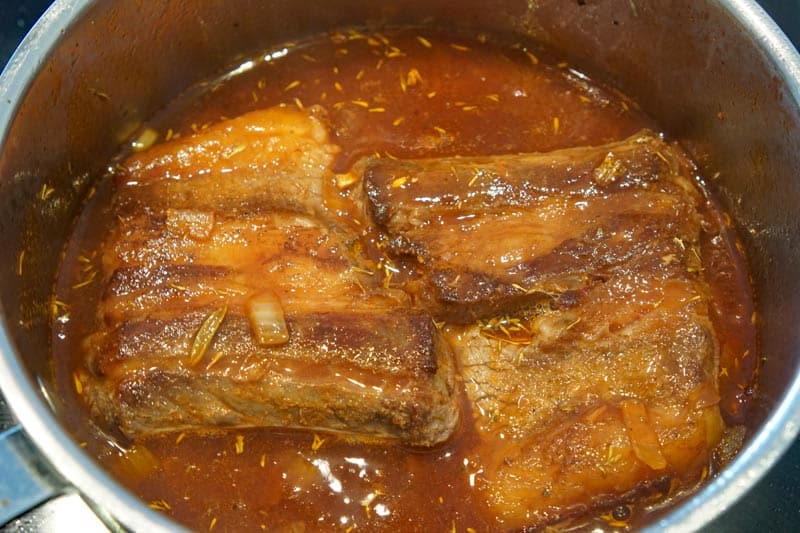 Strain the sauce through a strainer/sieve to remove the chunks of vegetables from cooking. This will give you a nice thick glaze to pour over the meat and potatoes.
If the sauce isn't thick enough for your liking, you can put it back into a saucepan on medium and reduce it to the thickness you want.
What to Serve With Short Ribs
I like to serve this with mashed potatoes or polenta. Both have the ability to soak up the amazing sauce, which you're going to want to spoon directly into your mouth.
If you're looking for a veggie side dish, try Parmesan roasted asparagus, Golden Beet Salad with Toasted Spice Vinaigrette or Roasted Green Beans & Mushrooms.
If you have leftover sauce, it goes really well with Steak Frites, Poutine, or even French Dips.
Also try these recipes:
Like this recipe? We'd love for you to share it on your Pinterest board! Click to follow our Pinterest boards so you can find all our recipes!
Instagram it! If you try this recipe please tag #AFoodLoversKitchen on Instagram or Twitter. We love to see your photos of our recipes! Also follow us on Instagram, Twitter and Facebook to keep up on what we're cooking up.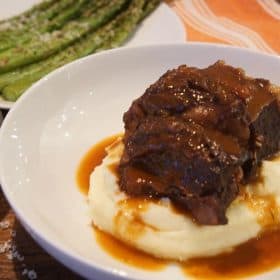 Slow Cooker Beef Short Ribs
These slow-cooker beef short ribs will reach fall-off-the-bone tenderness with very little work on your part.
Print
Pin
Rate
Ingredients
2

beef short ribs

appox. 1.5 pounds

1

tbsp

cooking oil

Salt

Pepper

1/2

onion

chopped

1

stalk

celery

chopped

1/2

carrot chopped

1

clove

garlic

minced

1

cup

beef broth

1

tbsp

tomato paste

1/2

cup

red wine

1/4

tsp

thyme

2

bay leaves
Instructions
Heat the cooking oil in a large saucepan over high heat. Sprinkle the beef ribs with salt and pepper. Add the ribs, meat-side down, to the pan and brown on all sides (about 3 minutes per side).

Remove from pan. Lower the heat to medium. Add the onion, celery and carrot and saute for 10 minutes. Add the garlic and stir.

Add the beef broth and use a whisk to get up all the browned bits from the bottom of the pan. Add the tomato paste, red wine and thyme. Stir well.

Place the beef ribs in the

slow cooker

. Pour the sauce over the top. Place the lid on the pot.

Set the slow cooker to low for 6-8 hours.

When the meat is done, remove it. Then strain the sauce through a sieve and serve over the meat. Best served with mashed potatoes or polenta.
Pin it for later!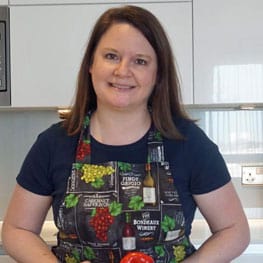 Laura is a home cook who loves making new recipes and finding new favorite things to eat, whether at home or abroad. She also runs a popular travel blog and spends a lot of her time traveling for food.