This Popcorn Soup is so creamy, buttery and velvety. It's the fine-dining equivalent of eating a bowl of fresh buttery popcorn.
» If you love this soup you should try this Instant Pot Caramelized Carrot Soup, Vegetable Orzo Soup, or Instant Pot Potato Leek Soup.
I first had popcorn soup at Art Restaurant – a fine-dining spot in the Four Season Hotel in Seattle – headed by Executive Chef Kerry Sear. It was a true revelation. It was served in a tiny bowl, as fine-dining soups are, and I loved it so much I asked for a second bowl.
After trying a few popcorn soup recipes online, I was never satisfied. It always turned out sort of bland and boring. Missing that incredible roasted buttery flavor of the one I'd had at Art. So there was no choice. I had to develop a recipe myself, based on what I remembered about the soup.
The thing is, to get the intense corn flavor that the original soup had, you need to make your own corn stock. That involves roasting ears of corn, then shaving off the kernels that you'll use in the soup, then simmering the stalks with a few other aromatic ingredients for about 2 hours to extract all the flavor.
Using corn stock in this soup makes the flavor outrageously good. It's a soup you won't soon forget. I promise.
The best thing about this soup is that everyone loves it. I made it for my family for Christmas dinner one year and they all loved it, especially my nephew, who at the time liked very little to do with food.
Yes, I cook to please my nephew a lot. I also developed this creamy mac and cheese just for him. It was one of the other three things he would agree to eat when he was little.
Do I Have to Make Corn Stock?
There are two ways you can make popcorn soup. One is with homemade corn stock (yum, but time consuming). The other is to use pre-made chicken or vegetable stock instead.
This recipe uses homemade corn stock, because it's so amazingly good, but you can just as easily skip that step and add pre-made stock instead. The choice is yours. Not having to pre-make the corn stock cuts down on prep time and creates less dishes (which is always a good thing, in my book).
However, if you have an Instant Pot, you can make the corn stock in a fraction of the time as on the stovetop, so maybe that option is back in play for you now!
To make the corn stock on the stovetop, follow the instructions below. To make it in the Instant Pot, just add all the ingredients to the pot and cook on full pressure for 30 minutes.
How to Make Popcorn Soup
1. Make the Corn Stock
Chop all the vegetables.
Remove the kernels of corn from the cobs.
Add the corn and vegetables, with the water, to a large enough pot to hold everything.
Heat to a boil, then reduce heat to a simmer and cook for 2 hours.
2. Prepare the Soup Base
Add the butter to a medium-sized saucepan over medium heat. Once it's nice and melted and bubbly, add the chopped onions and saute for about 8 minutes. You can then add the garlic and allow it to become fragrant, about 1 minute.
Add the corn, the corn broth and the salt and let it simmer for 10 minutes. Then put it all in the blender and blend it up as smooth as possible. It will still have considerable chunks in it.
Return the soup to the stock pot and add the popcorn. It's fun to watch it melt into the soup. Give it about 5 minutes to cook. Then add it back to the blender for another go.
Strain the soup though a fine mesh strainer back into the soup pot. Add the desired amount of cream. To be honest, the soup turns out quite creamy on its own, without the cream. You can leave it out entirely, if you wish.
Otherwise, add it slowly and taste along the way so you don't overdo it. Blend the soup one last time to get a perfectly velvety consistency.
3. Serve the Soup
To serve the soup, add it to the bowls, then just before eating, top it with a few kernels of popcorn. They sink into the soup quickly, so it's really just for dramatic effect.
Whoever has the pleasure of eating this soup with you is really super lucky. It's incredible.
Looking for a main dish to serve with this Popcorn Soup? Here are a few options:
Like this recipe? We'd love for you to share it on your Pinterest board! Click to follow our Pinterest boards so you can find all our recipes!
Popcorn Soup
This popcorn soup is so velvety and buttery. It's like eating an elegant version of a bag of popcorn.
Print
Pin
Rate
Ingredients
For the corn stock
2

cobs

corn

husks removed

5

cups

of water

1

stalk

celery

1

carrot

1

bay leaf

1

clove

garlic

smashed

1/2

onion

cut into quarters
For the soup
1/2

cup

butter

(one stick)

1/2

onion

chopped

4

cups

corn stock (from recipe above)

or chicken stock

1 1/2

cup

corn shaved from the cob

Or 10 oz can of corn with liquid

1/4

tsp

salt

4

cups

popped popcorn

divided

6

oz

heavy cream
Instructions
For the corn stock
Remove the corn kernels from the ears of corn and keep for later.

In a medium saucepan, combine the corn cobs, water, celery, carrot, bay leaf, garlic and onion.

Bring to a boil over high heat, then immediately reduce to a simmer.

Let the broth simmer for 2 hours. Remove from heat and let cool, then strain.
For the soup
In a medium stock pot, melt the butter and add the onions. Saute onion until tender, about 5 minutes.

Add the corn from the cob, corn broth, and salt. Allow to simmer for 10 minutes.

Put the soup in a blender and blend until as smooth as possible. Remember to let the hot air escape as it blends.

Return the blended soup to the pot. Add the popcorn. Simmer for 5 minutes. Return the soup to the blender and blend again until as smooth as possible.

Strain the soup through a fine mesh strainer back into the stock pot. Add the cream to taste.

For a velvety smoooth soup, blend the soup a third time.

Serve with kernels of popcorn on the top.
Notes
If you like buttery things, you'll want to use buttered and salted popcorn for this soup. If you want less buttery flavor, use plain popcorn.
If you can't or don't want to make your own corn stock, you can use store bought vegetable or chicken broth instead.
Nutrition
Serving:
1
cup
|
Calories:
357
kcal
|
Carbohydrates:
26
g
|
Protein:
4
g
|
Fat:
27
g
|
Saturated Fat:
16
g
|
Cholesterol:
80
mg
|
Sodium:
884
mg
|
Potassium:
173
mg
|
Fiber:
4
g
|
Sugar:
3
g
|
Vitamin A:
2952
IU
|
Vitamin C:
2
mg
|
Calcium:
33
mg
|
Iron:
1
mg
Pin it for later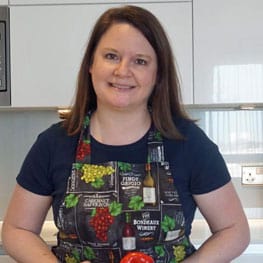 Laura is a home cook who loves making new recipes and finding new favorite things to eat, whether at home or abroad. She also runs a popular travel blog and spends a lot of her time traveling for food.