Cooking is a much-loved hobby for so many people, including me. I spend countless hours in the kitchen, cooking dinners, trying difficult gourmet techniques, and whipping up a delicious breakfast on the weekends. It's something we love to do, and a skill we've greatly improved over the years.
Cooking is something that you can learn to do well, even if you currently know nothing about cooking. Knowing how to cook will serve you well for your entire life and bring great enjoyment to your family and your stomachs!
» You might also be interested in 9 Best Substitutes for Cilantro and the Best Substitutes for Cream Cheese.
Below you'll find our 15 favorite tips for making cooking just a little bit easier, so you will enjoy it even more, and stop thinking of it as a task that has to be done, but as something you want to and love to do.
15 Tips & Tricks to Make Cooking Easier
By following these tips, you will soon become a pro in the kitchen.
1. Don't Be Afraid to Improvise
If you don't have all of the ingredients for a particular recipe, it is fine to alter it to the ingredients you do have. Cooking is creative – don't be afraid to improvise.
If the recipe calls for ground beef, you can usually use ground pork or chicken in its place.
If the recipe calls for rice wine vinegar, typically any other type of vinegar can be used in its place.
If the recipe calls for milk, in most cases you can use water instead (unless you're baking). You can also mix cream and water together to make "milk".
If the recipe calls for butter, you can almost always substitute with oil or bacon grease or shortening.
Add your own special twist to a recipe to make it your own. That's how some of the best recipes were made. The only time you really can't get away with substituting ingredients is when baking, as it requires more specific measurements and ingredients.
2. Make Clean Up Easy
When cooking things on a baking sheet in the oven, use parchment paper or tin foil to cover the sheet. The foods will be easier to remove from the pan, and you won't have as much messy cleanup to do when you're done.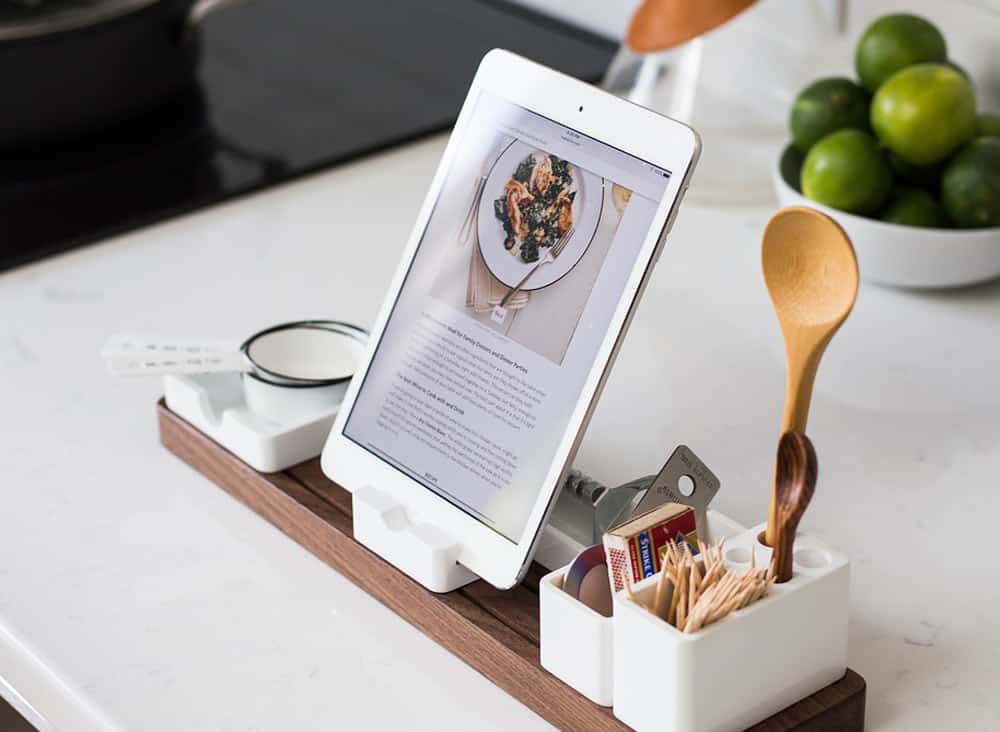 3. Store Recipes on a Tablet or Smartphone
Keep your recipes in digital format so you can pull them up on a tablet or phone while you're cooking. It's much easier to store recipes this way, and you can make notes right on the tablet if you decide to make changes to a recipe (believe me, next time you make it, you won't remember what you did to make it so good).
I like to use Yummly, which is an online platform where you can make collections of your favorite recipes from around the internet. You can organize them into categories and even create shopping lists from the ingredients.
4. Use a Sharp Kitchen Knife
One of the most important tools to have in the kitchen is a sharp kitchen knife. If you don't already have one, purchasing a good chef's knife is the right way to set yourself up for success as a home cook.
It doesn't have to be an expensive knife, you just don't want to be cutting up ingredients with a dull knife, which makes every task harder than it needs to be and can lead to accidents when the dull knife slips from the food rather than slicing through it.
If you don't own a knife sharpener, and/or don't know how to use it properly, you should get your knives professionally sharpened at least once a year. Sharp knives are very important for safety in the kitchen, and you don't want to ruin good knives by trying to do it yourself.
5. How to thicken sauces and soups
One of the best tips I learned as a new cook was how to thicken watery soups and sauces. This works especially well for Asian sauces like soy sauce or teriyaki sauce, that you might want to thicken before pouring over chicken and rice or stir fry.
Mix 1 tablespoon of cornstarch with 1-2 tablespoons of cold water. While the sauce is at a light boil, add the cornstarch mixture and whisk it into the sauce. Wait to see if it thickens enough before adding more.
Try beef and broccoli noodles with its savory sauce, its one of our favorite stir fry dishes.
6. Use a digital thermometer when cooking meat
When roasting meat in the oven or cooking a steak on the grill, it's incredibly easy to overcook it, leading to dry and bland-tasting meat that no one enjoys. Keep on top of the temperature by using a digital food probe thermometer.
7. Rest meat before serving or slicing
Always take the meat out of the oven 5-10 degrees under what you want, as it will continue to cook for a few minutes outside the oven or grill. Allow it to rest will bring it up to the proper temperature and ensure that it keeps its juiciness and flavor. Try this delicious oven-roasted tri tip steak.
8. Make sure you taste it regularly
One of the best ways to get better at cooking food that always tastes great is to taste it all along the way. Make sure your sauce is good by tasting it before adding it to other ingredients. If something doesn't taste right, you can fix it before moving on.
One of our favorite dishes to make is stovetop mac & cheese. This is a good example of a dish that needs to be tasted often during the cooking process. You need to taste the noodles to make sure they're cooked through properly. You need to taste it again once you've combined the cheese and other ingredients. Then add seasoning and taste again as it warms to see if you need to add more salt, or even more cheese.
9. Properly season the food
The flavor and spirit of a dish is often greatly enhanced by adding proper seasoning. Salt is an integral part of the cooking process and can really boost the flavor. Don't shy away from it.
If you're cooking meat, always season it while cooking, then add it to the rest of the dish, taste test it, and add more, if necessary.
I never depend on a recipe to tell me how much salt to add to a dish. In fact, if a recipe calls for a set amount of salt, I often ignore it in favor of adding my own preferred salt level.
Also, kosher salt and sea salt have a much better flavor than regular table salt. Make the switch and you won't regret it.
» Check out our favorite salt & pepper grinders, so you can add freshly grated seasoning.
10. Saute vegetables before adding to soups
If you've ever wondered how people make amazing soup, it often comes down to properly cooking the vegetables before adding them to the soup.
A lot of soup recipes call for carrots, celery, and onion – the trinity of cooking. These three veggies sauteed together make an immensely aromatic and flavorful blend. If you were to add those vegetables raw to the soup, the flavor wouldn't develop as it does with sautéing. This chicken rice soup gets its satisfying flavor from this technique.
You don't want to over do it, however, so keep a close eye on the vegetables. They should soften, but not cook through and become soggy. Make sure you cook them on a low enough temperature so they don't burn.
11. Don't crowd the pan
Allow enough space in the pan is the number one way to make sure your food gets sauteed properly, rather than steamed. For instance, if you're cooking meatballs in a skillet and you crowd them in, they won't brown well because there isn't enough room around them for steam to escape.
This happens with all types of meat – steak, ground beef, chicken wings, beef strips, etc. It also applies to vegetables like mushrooms and carrots. Food needs space in the pan to brown well.
12. Measure doneness by sight and touch
Recipes give cooking times as a guide, because you need to know about how much time it takes to cook, but cooking times can vary drastically based on oven and altitude. That's why you need to start to learn to measure the doneness by sight and touch, rather than relying completely on the recipe.
A good example of this is our oven-baked baby back ribs. They take anywhere from 2-3 hours to cook in the oven, based on how big they are. It's not possible for the recipe creator to know the exactly size and density of the ribs you buy, so only a guideline can be given.
Instead of taking the ribs out at 2 hours, when they might not yet be cooked, you need to test the doneness by looking at them and pulling on a rib to see how much give there is to the meat.
For a steak, you can tell the doneness by pushing on the meat with your thumb. Make a loose fist and press your thumb onto the flesh between your thumb and forefinger. That is what the meat should feel like for a medium-rare steak. Now make a firm fist. That is what the meat should feel like for well done.
13. Toast nuts before adding them
Some nuts, especially walnuts and pecans, are quite bitter when raw. They might be okay to eat whole that way, but they aren't very good when added to salads raw. Toasting them slightly before adding them to a salad gives them a better crunch and flavor. Toasted walnuts give this pear and gorgonzola salad a great crunch.
14. Create a meal plan
Cooking for every meal can get tedious if you don't have a plan. You can save yourself a lot of trouble by creating a week-long dinner menu (add 7 dinner ideas, if you eat at home each night). You can add some of these easy comfort food dishes to the plan, or look through our entire recipe collection for ideas.
This will save you the hassle of trying to figure out what to eat each day. It will also enable you to create a shopping list, so you have all of the ingredients you need on hand.
If you create 4 of these weekly menus, you can swap them out each week, so you always have a plan and a ready-made shopping list. The work you put into making the 4 lists can last a whole year, and you'd only repeat the same meal a maximum of 12 times.
15. Sunday Meal Prep
Spend one Sunday a month making a large batch of something and freezing it in small batches for weeknight meals. Casseroles and stews are great for this. You can also make a big pot of carnitas or beef barbacoa in the slow cooker and use it as the protein in various recipes throughout the week.
Conclusion
I'm sure these tips will come in handy as you acquire new skills in the kitchen. Cooking can be very rewarding and is well worth the effort. Putting these tips into action will help you become a better and more efficient cook.
🥧 If you're interested in more great recipes, I share all my favorite Instant Pot recipes over at A Pressure Cooker Kitchen, air fryer recipes at Air Fry Anytime, and cocktails and drinks at Savored Sips. Check it out today!
Like this post? We'd love for you to share it on your Pinterest board.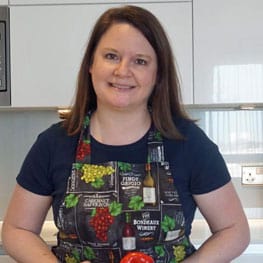 Laura is a home cook who loves making new recipes and finding new favorite things to eat, whether at home or abroad. She also runs a popular travel blog and spends a lot of her time traveling for food.