Whether you're an everyday cook, or the kind to only eat at home once a week, having a decent salt and pepper grinder set is always a must.
It's one of the most important parts of any kitchen arsenal, if not the most important – since we eat salt and pepper on just about everything. If you're shopping for a modern salt/pepper grinder, you're going to be spoiled for choice.
They come in seemingly endless shapes and sizes, with too many mechanisms to count. Some are electric, while others remain manual, and it can be really hard to tell which is better or which will work best in your kitchen setup.
As such, we've rounded up our five best salt and pepper grinders, from big to small, electronic to manual, and simple to confusingly complex. We've reviewed each one below, as well as chosen our favorites from a few categories.
We've even drawn up a handy comparison table to help you easily see why each one stands out. Just looking for reviews? Jump down to our full reviews.
How to Choose the Best Pepper Mill / Salt Grinder
It's hard to choose the best pepper or salt mill when you're shopping for a new set – they've all got their own little gimmicks and features that make them special, and it can be hard to find one that's going to do everything you need it to without sacrificing one cool feature that you've seen in another.
We've put together a small guide here on how to pick the best salt and pepper grinders for your kitchen, and your everyday use. Let's look at the top five things you want to look for in a salt/pepper grinder, and why.
Electronic or Manual Grinders
Let's start with the most important: Do you want an electronic grinder? Well, since they're so cheap these days, we can't see why you wouldn't. If you're going to be using yours all day, every day, you're going to want something quick and easy – so go electronic.
Otherwise, if you're a purist or an artisan, you would probably prefer something a bit more classic like a twist or hand-cranked grinder.
One-Handed or Two-Handed Mills
Secondly, you're going to want to decide whether you're okay with a standard grinder, or if you're looking for that extra bit of mobility or flexibility that one-handed grinders offer. In reality, it's more about the feel than the time saved – and lots of these require a fair bit of effort when they're one-handed.
Two-in-One Grinders
Do you want separate salt and pepper grinders, or a two-in-one? There are lots of cool two-in-one mechanisms out there – our favorite being the kind that lets you twist in one direction for salt, and the other direction for pepper.
This isn't an essential feature, but pretty neat nonetheless, and if you're living somewhere cramped and small then you might enjoy the benefits of one of these.
Size & Shape
Some of us prefer the style of large, wooden classic pepper and salt grinders, while others prefer something smaller, in the size and shape of a shaker. This is all really down to personal preference, and most of us will be able to tell on impulse whether the set is the right shape and size.
What Kind of Salt and Pepper Should I Use?
This is largely down to opinion – there are hundreds of varieties of salt all around the world, as well as a myriad of ways to prepare pepper for grinding.
How easy they are to find is very location-dependent, and the question of which one is the best can only really be answered in specifics regarding the dish that's being prepared.
Nonetheless, we're going to share some of our favorites with you.
Our favorite salt is Pink Himalayan rock salt. It's some of the healthiest salt available, thanks to the trace minerals found in it which aren't filtered out – it's pretty much just impure salt, unrefined, bottled and sold. You don't get much cleaner than that. It goes well on everything from roasted potatoes to crispy carnitas.
However, if you can find it, Grey Salt or Celtic Sea Salt is a lovely variety – it's quite moist and thick, and comes hand-raked from Brittany, France. It gets its name from the clay where it's harvested, which gives it a grey color, and is simply delicious. Our favorite pepper comes from black tellicherry peppercorns.
They're spicy and aromatic black peppercorns and can be used universally. You may want to try a blend of peppercorns. This is called a rainbow mix and uses black, green, white and pink peppercorns for a more rounded and flavorful profile. This blend can be used with most dishes too.
I'm personally not a fan of white peppercorns because of the slightly hay-like aroma and taste, but it is popular nonetheless.
A white peppercorn is essentially a black peppercorn, only they have their skin removed, which makes them taste a little more subtle, great for light-colored dishes, where the color would mar the look of the dish.
Green peppercorns are under-ripe black peppercorns, and they are often sold in a brine and are slightly chewy. They're delicious, but not something you'd use in your grinder, unless they're sold dried.
Very rare, but very tasty, are pink peppercorns. They're actually a South American berry not related to pepper trees, but have a similar flavor, as well as some fruity flavors and floral smells.
These would be especially interesting to use in a dish where you want a peppery bite, contrasted with some sweet notes, for example on a medium-rich fish or gamey cut of meat. You can use pink pepper in your grinder, but it's more typical to just put the whole corn in.
Are you a kitchen gadget lover? Check out our
favorite air fryers
to help you cook healthier at home.
Our 5 Favorite Salt & Pepper Grinders
We've done a round up of our five top picks for salt and pepper grinders. We've added a little list of pros and cons to each, so you can easily see the benefits and shortfalls of each one, as well as a few pointers about any interesting features, or notes about the set that stand out.
★ Best Manual Salt and Pepper Grinder
The OXO Salt and Pepper Grinder set is a great example of a simple, useful modern grinder. It's not over the top in terms of frill or design, but has some really handy and useful features, as well as a great price point. They use a ceramic grinding mechanism, which is a must as far as we're concerned, and come in three metallic shades.
With the OXO Grinders, the salt and pepper come out from the top of the grinder, in an effort to cut down on spill and mess. Just below the lip where the seasoning comes out, there's an adjustment ring that can be slid back and forth to adjust the coarseness of the grind (so you can have some extra coarse salt for your next margarita).
To grind it, you flip it upside-down and use the soft non-slip grips on the bottom of the grinders. Even with a wet hand, the grip is easy to twist, due to the grooves.
If you're looking to make cooking easier, these will certainly help. After five years of constant use, these OXO Good Grips grinders are still working like a machine. I've never had a single problem with them. Oxo also has a tall, slim design for this salt and pepper grinder that I really like. You can check them out here.
Features:
Rubber Grip Cranks
Best used with black peppercorns and sea salt
Overall a quality 'standard level' grinder
PROS: Ceramic grinding; spill-free mechanism; coarseness adjustment
CONS: Could be a bit small for those used to bigger grinders
---
★ Best Affordable Salt & Pepper Mills for Everyday Use
Features
Easily adjustable ceramic grinder
Manual grinding, so no batteries necessary
Non-corrosive grinder, comes with lids to keep the spices fresh
High quality, food-grade stainless steel and glass
Easily refillable with a funnel included
PROS: It's easy to use and refill, lightweight, and they look nice
CONS: Some reviewers had problems with the grinders on course salt and peppercorns, saying they would get stuck and not grind. The stainless steel lids don't fit well and come off easily.
---
Class and style come at a price. Everyone knows that. But the price for this Cole & Mason set is well worth it. These grinders are made from clear acrylic, with a stainless steel finish.
Instead of having a vague coarseness adjustment, it's got six preset levels for pepper, and three for salt so you can set it to give you exactly the grain size you want. Instead of a simple ceramic grinding mechanism, it's got a diamond sharpened ceramic grinding mechanism for the salt and a carbon steel for pepper – a level above other grinders.
These two features alone make these some of the best grinders available. They won't let you down. For anyone who has gone through multiple grinders looking for the one quality set, you know what I'm saying. These would make a great 'just bought my first house' kind of gift.
They have a lifetime mechanism guarantee, incredible build quality, and are perfect for the gourmand who's more focused on 'the aromatic oils being released by the pepper' than just the salt and pepper itself.
Features:
Standard Size
Diamond-sharpened ceramic grinders
Mechanism guarantee
PROS: Various grinding settings; one-step refill; classic look
CONS: Mechanism could use some fine-tuning, more expensive than other models
---
If you're looking for something a little bit futuristic and a little bit nifty, try this Gravity Grinder by Chew Fun. Complete with a ceramic grinding mechanism, stainless steel body, adjustable coarseness and easy refill mechanisms; what really sets this grinder apart is the gravity activation. Simply upend the grinders over your food, and watch as the gravity sensor activates, turning on the blue LED light and starting to grind.
We can't say for sure that this is a huge improvement over a push-button activated grinder, but we can say that the gravity activation is a very cool way around it. To boot, they look very sleek.
Features:
Battery Powered
LED Illuminator
Quite a sizeable chamber
PROS: Gravity activated; LED illuminator; standard height
CONS: Pepper sometimes comes out too coarse, despite settings. Electronic mechanism is not 100% reliable.
---
The Grind Gourmet Thumb Push Button set is our top pick for one-handed salt and pepper grinders. We all know, as foodies, that you need as many free hands as possible when preparing a delicate or complex meal.
A one-handed salt/pepper grinder can really help when you're stirring, kneading or have your attention elsewhere. These push-button grinders make it as easy as taking a pinch of salt, as you simply press the button repeatedly until you've got your desired seasoning.
They come with a mess-free stand, and have a rubber accented handle for easy grip. They're simple to refill, and are made to last thanks to their solid stainless steel construction. The only drawback of these is that it can be quite difficult to grind a lot of salt or pepper with just your thumb. You may find that for larger amounts, it's best not to use these.
Features:
Core is solid steel, not plastic
Mess-free stand
Easy to refill
No-questions-asked customer service policy
PROS: Even, fine grinding, they look very nice and sleek.
CONS: Can be difficult to push down. not able to adjust grind size, can take a very long time to grind a lot of salt or pepper.
---
★ Best Electronic Salt and Pepper Grinder
They're simple, but efficient, and they come with a mess-free stand to keep your kitchen counters free of debri. We find them to be a quality, sturdy set. If you're looking for a smaller set to keep clutter to a minimum, they're an inch shorter than the Russell Hobbs (which stands at 9").
One of the top features of these grinders is the fine & coarse adjustment knob that allows you to regulate the size of the grind. Like many of the electric grinders, this set also has an LED illuminator so you can see how much you're dispensing.
They feature a durable ceramic grinding mechanism that will last longer than typical metal grinders and will deliver a more consistent grain. Did you know that ceramic grinders are preferable when grinding oily and aromatic spices and herbs, like Himalayan sea salt?
Features:
Courseness adjustment knob with two settings
LED illuminator
Ceramic grinding mechanism
Stand and tray included
PROS: The grinding mechanism is sturdy, the design and build is quality
CONS: Stand isn't very sturdy, louder than other electric grinders
FINAL THOUGHTS
You should now be more than ready to make your pick. A quality salt and pepper grinder set is a purchase you'll be thankful for, for years to come – the very slight addition of ease and smoothness they bring to any kitchen setup is second to none.
If you're still undecided, we'd recommend the OXO Grinder Set, as it's plain and simple – yet sturdy, efficient and quality-built. It's a great set that fits in with the look and feel of almost any kitchen, and the grinders are also nice and compact on any table.
Like this post? Save it to your Pinterest board!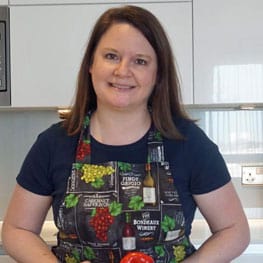 Laura is a home cook who loves making new recipes and finding new favorite things to eat, whether at home or abroad. She also runs a popular travel blog and spends a lot of her time traveling for food.