This delicious Pesto Tagliatelle features thick strands of pasta coated in an aromatic and flavorful homemade basil pesto sauce.
» You might like this Homemade Butternut Squash Ravioli or Homemade Beet Gnocchi.
When it comes to pasta, the long, thick strands of toothsome tagliatelle and pappardelle are my favorites. These are the perfect pastas to toss with a basil pesto, pistachio pesto, or sun-dried tomato pesto because they have a larger surface area to hold onto more sauce.
I always make basil pesto myself (using this recipe). There's a happy little basil plant growing in my front window as we speak. I love the smell of fresh basil, and we use it in so many different preparations. This cavatappi pasta is another great recipe to try with pesto. The pasta shape holds on to the pesto really well.
Making your own pesto takes very little effort. You'll need a food processor or stick blender with a chopper to blend it up properly. Once it's blended, you can keep it in the refrigerator for a few weeks in an airtight container.
What Ingredients You Need
Basil – 1 bunch of basil will yield about an ounce. Washed, dried and stems removed.
Parmesan cheese – Crumbled or shredded. Typically used in classic pesto. You could use Pecorino Romano as well. It has a slightly stronger flavor.
Pine nuts – Toasted. The edible seeds of pine trees. They can be quite expensive. If you can't find pine nuts you could substitute walnuts.
Olive oil – The quality of the olive oil is very important because it's one of the main ingredients. A low-quality or flavorless olive oil won't add the amazing character and flavor.
Garlic – Garlic contains antioxidants. One clove is all you need though if you really like garlic you could sneak more in.
Salt – To taste
Tagliatelle Pasta – Homemade or store bought pasta. The long, thick strands of toothsome tagliatelle or pappardelle are perfect pastas to toss with a basil pesto because they have a larger surface area to hold onto more sauce.
There are many uses for it, beyond this pesto tagliatelle and pesto pappardelle. It makes a great sauce for this shaved asparagus salad and this zucchini noodles and shrimp dish. It's also lovely on potato gnocchi.
One of the best things about this recipe is how simple it is to make. The most difficult thing to mix up is the pesto, and that's a breeze. Then you just have to boil the pasta and toss the two together.
Making Your Own Pasta
If you want to try your hand at making your own pasta, I can't recommend it enough. It's not difficult or scary to make your own pasta.
Here is an incredibly easy homemade pasta recipe that only requires you to mix flour with eggs and knead the dough.
2 large eggs
200g of 00 flour, plus extra for dusting
Make a mound out of the flour (reserving about 20 grams to use only if necessary). Swirl a whole in the middle of the mound with your fingers. Crack the eggs into the center of the mound.
Using a fork, beat the eggs gently, then start to incorporate the surrounding flour, slowly, until fully combined. Add the extra flour only if the dough is too sticky. Then knead the dough until it's smooth and elastic.
Rolling the Pasta
There are two ways to roll your fresh pasta. You can knead it and roll it out with a rolling pin. This takes a bit of muscle and time, but it's not difficult. Or you can use a pasta maker. There are three different types of pasta makers.
A manual pasta roller won't make the pasta for you; it'll just help with rolling out or cutting shapes. The second option is an attachment for the KitchenAid that rolls out the dough for you.
There is a third, even easier option. If you've ever wanted to make fresh pasta, but didn't want to do the work, you need this.
How much homemade pasta per person?
I recommend a 2 ounce serving of fresh pasta per person. Once the pasta is cooked it equals around 1 cup of pasta, which is a decent serving. The recipe above makes 4 servings.
The Pesto can be stored in the refrigerator for up to a week, if you don't use it all right away. It's a great way to make a fresh pasta for lunch with very little effort.
Pesto can also be frozen. I like to fill a large ice cube tray (like this one) with pesto and freeze them. Each individual cube is enough for two servings. When frozen like this it is easy to add to soups for a little extra flavor.
» You might be interested in What are Egg Noodles?
Frequently Asked Questions?
What is tagliatelle?
It is a type of pasta made from egg dough. It is popular in the north of Italy. The shape is similar to fettuccine. It is cut into long, thick bands. The larger the surface area the more sauce it can hold on to.
How do I heat the pesto?
You shouldn't heat the pesto itself. Heating the pesto will change the color, texture and taste of the fresh basil. Cook the pasta and drain it then toss with the pesto. The heat from the pasta will warm the pesto. Reserve some pasta cooking water to stir into the pesto if it is too thick.
What basil is best to use in pesto?
The most commonly used basil for pesto is Italian basil or sweet basil. It has smooth, bright green leaves and has a robust, sweet and slightly spicy flavor.
Like it, Love it, Want Some More of It? Subscribe to our newsletter and follow us on Pinterest, Instagram and Facebook. We really love it when you save our recipes to Pinterest 😊
Pesto Tagliatelle Pasta
This Pesto Tagliatelle features thick strands of pasta coated in an aromatic and flavorful homemade basil pesto sauce.
Print
Pin
Rate
Ingredients
4-6

ounces

fresh tagliatelle pasta

1

ounce

fresh basil leaves

1

ounce

Parmesan or Pecorino Romano cheese

crumbled

2

tablespoons

pine nuts

toasted for extra flavor

3

tablespoons

extra virgin olive oil

1

small clove garlic

Salt

to taste
Instructions
Boil a pot of water on the stove top and cook the pasta for 3-5 minutes, if fresh (10-12 minutes if dried). Drain and return the pasta to the pot.

Add the basil, Parmesan, pine nuts, olive oil and clove to a

food processor

or chopper attachment. Blend until ingredients are mostly blended. Pesto should still be slightly chunky, not smooth.

Add the pesto to the pasta. Stir well to coat. Warm the pasta over medium heat. Serve.
Nutrition
Calories:
524
kcal
|
Carbohydrates:
45
g
|
Protein:
14
g
|
Fat:
32
g
|
Saturated Fat:
6
g
|
Cholesterol:
10
mg
|
Sodium:
232
mg
|
Potassium:
228
mg
|
Fiber:
2
g
|
Sugar:
2
g
|
Vitamin A:
858
IU
|
Vitamin C:
3
mg
|
Calcium:
205
mg
|
Iron:
2
mg
Pin it for later!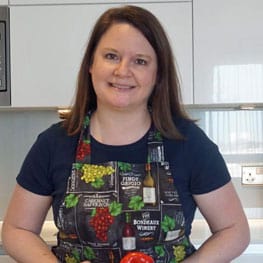 Laura is a home cook, with 25 years experience behind the stove, who spends an extraordinary amount of time in the kitchen cooking. She loves making new recipes and finding wonderful new things to eat, both at home or abroad. She spends a lot of time researching, crafting, and perfecting her recipes and currently has a cookbook in development.