We've got a lot of favorite comfort foods that bring us joy when we eat it, whether it be due to the sinfully good ingredients or because it invokes a memory that makes us happy. No matter what the reason, it's important to add a few of your favorite comfort foods to your weekly menu.
Our favorite comfort foods come in the form of creamy mac & cheese, amazing baked lasagna and chicken wings drenched in sauce. You really can't go wrong with these comforting dishes.
So below we are sharing our 10 favorite comfort food recipes that you can make right now. We hope these will bring you the same joy we get while eating them.
Comfort Food Recipes
Easy & Delicious Homemade Lasagna
This homemade lasagna recipe uses homemade sauce, ricotta, and loads of mozzarella for a soul satisfying dish.
See the recipe
Creamy Stovetop Mac & Cheese
This creamy stovetop macaroni and cheese is incredibly easy to make and turns out so creamy and cheesy.
See the recipe
Meatballs & Mashed Potatoes
Meatballs & Mashed Potatoes is straight up comfort food. The rich gravy brings it all together for one satisfying meal.
See the recipe
Chicken Fettuccine Alfredo
A creamy alfredo sauce is added to fettuccine and topped with chicken in this wonderful Italian-American dish.
See the recipe
Farfalle alla Vodka
Farfalle pasta with a rich, creamy tomato vodka sauce.
See the recipe
Taco Pizza
This easy Taco Pizza is loaded with refried beans, seasoned ground beef, cheese, tomatoes, and lettuce.
See the recipe
Baked BBQ Chicken Wings
One of the easiest and best ways to make BBQ chicken wings is in the oven. These foolproof chicken wings are tender and delicious.
See the recipe
Easy Homemade Sloppy Joes
You'll never buy another can of sloppy joe sauce after you taste the healthy, zingy tomato sauce that makes these Sloppy Joes a weekday favorite.
See the recipe
Delicious and Authentic Carnitas Recipe
This authentic carnitas recipe can be used to make many different dishes, including these crispy pork carnitas tacos.
See the recipe
Slow Cooker Beef Ragu with Pappardelle
This slow cooker beef ragu is serious comfort food. The tender beef develops incredible flavor alongside the red wine and tomatoes.
See the recipe
Check out these other resources from our sister sites that might be useful to you right now:
FINAL THOUGHTS
I hope you enjoy these recipes as much as we do. Most of them use very easy to get ingredients and don't take a lot of time to make. They are just comfort food recipes that might make it a little easier to get through tough times.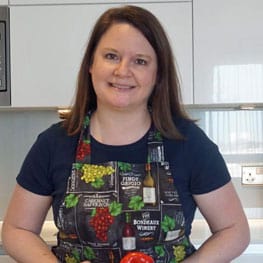 Laura is a home cook who loves making new recipes and finding new favorite things to eat, whether at home or abroad. She also runs a popular travel blog and spends a lot of her time traveling for food.