In this quick and easy Chicken Fettuccine Alfredo, fresh fettuccine pasta is tossed with a creamy and decadent sauce of cream and Parmesan cheese, then topped with flavorful grilled chicken.
» You should try this Beer Braised Short Rib recipe and these 12 Comfort Food Recipes to Make Right Now.
It might not be the lightest meal you could eat, but this creamy dreamy pasta dish will put a smile on your face, for sure. Add grilled chicken or leave it out for a satisfying vegetarian meal.
We eat this pasta dish almost as often as this Chicken & Potato Pasta and Cajun Chicken Pasta. Both are serious comfort foods for us.
If you can boil noodles and simmer a sauce, you've already won at making this recipe. It's so simple.
I could never quite figure out why jarred alfredo sauce was so bad. After tasting it just one time, I was convinced never to buy it again. And once I found this recipe, there was no longer any reason to subject myself to it.
Is it truly Italian, no. But that doesn't detract from how tasty it is. Just don't expect to sit down at an Italian restaurant in Rome and find this dish on the menu. It's distinctly American-Italian.
Ingredients You'll Need
Fettuccine noodles – Fettuccine noodles are a classic choice but you can really use any kind of pasta. Try your hand at making your own fresh pasta.
Chicken – Use boneless skinless chicken breast, cut in half
Olive oil
Italian seasoning
Heavy cream or half and half – Use either. The heavy cream will make a thicker, richer sauce than the half and half.
Parmesan cheese – Parmesan cheese is a type of Italian cheese that has a hard texture. It usually comes in blocks. Parmesan cheese has a nutty yet fruity flavor and is very refreshing. This is what will give your sauce it's delicious flavor. If you can, shred your own.
If you want to use seafood, try this Lobster Fettuccine version. You could also use shrimp in this recipe.
I think it's a great idea to make your own fettuccine for this recipe, if you've got the time. It's not as hard to make as you might think.
Making Your Own Pasta
If you want to try your hand at making your own pasta, I can't recommend it enough. It's not difficult or scary to make your own pasta.
Here is an incredibly easy homemade pasta recipe that only requires you to mix flour with eggs and knead the dough.
2 large eggs
200g of 00 flour, plus extra for dusting
Make a mound out of the flour (reserving about 20 grams to use only if necessary). Swirl a whole in the middle of the mound with your fingers. Crack the eggs into the center of the mound.
Using a fork, beat the eggs gently, then start to incorporate the surrounding flour, slowly, until fully combined. Add the extra flour only if the dough is too sticky. Then knead the dough until it's smooth and elastic.
Rolling the Pasta
There are two ways to roll your fresh pasta. You can knead it and roll it out with a rolling pin. This takes a bit of muscle and time, but it's not difficult. Or you can use a pasta maker. There are three different types of pasta makers.
A manual pasta roller won't make the pasta for you; it'll just help with rolling out or cutting shapes. The second option is an attachment for the KitchenAid that rolls out the dough for you.
There is a third, even easier option. If you've ever wanted to make fresh pasta, but didn't want to do the work, you need this.
How much homemade pasta per person?
I recommend a 2 ounce serving of fresh pasta per person. Once the pasta is cooked it equals around 1 cup of pasta, which is a decent serving. The recipe above makes 4 servings.
Steps to Make Chicken Fettuccine Alfredo
Step One: Boil the fettuccine until al dente. Don't overcook the pasta or it will become one big mess when combined with the sauce. Reserve some of the pasta water.
Step Two: Season and grill the chicken, then slice or dice it. It an be added to the top of the pasta, or incorporated into it, based on your preference.
Step Three: Simmer the heavy cream until slightly thickened. Add the Parmesan cheese and whisk together. Toss in the fettuccine and stir well to coat the pasta. If too thick, add a bit of the pasta water.
That's all there is to it!
Tips and Notes
If your alfredo sauce isn't thick enough cook it for a few more minutes. If it is too thick, add some pasta cooking water to thin it down. Just be careful not to add too much.
Chicken to should reach 165°F to be safe to eat.
Not a fan of chicken? Try adding shrimp instead.
Frequently Asked Questions
What is alfredo sauce made of?
Alfredo sauce is a simple and irresistible cream sauce that is comprised of butter, cream and parmesan cheese. In this recipe instead of butter we are using the olive oil and chicken juices. It is an easy sauce to make and it wonderful over fettuccine or vegetables.
Is alfredo the same as fettuccine?
No. Alfredo is the name of the sauce while fettuccine is the name of the pasta. They are typically served together.
What to Serve with Chicken Fettuccine Alfredo
Now that you've got your main dish sorted you need a couple of great side dishes to serve along side. This classic wedge salad or pear and gorgonzola salad are always crowd favorites. Roasted cauliflower with rosemary and parmesan is quick to make and has so much flavor.
Like this recipe? We'd love for you to share it on your Pinterest board! Click to follow our Pinterest boards so you can find all our recipes!
Instagram it! If you try this recipe please tag #AFoodLoversKitchen on Instagram or Twitter. We love to see your photos of our recipes! Also follow us on Instagram, Twitter and Facebook to keep up on what we're cooking up.
Chicken Fettuccine Alfredo
A creamy alfredo sauce is added to fettuccine and topped with chicken in this wonderful Italian-American dish.
Print
Pin
Rate
Ingredients
4

ounces

dry fettuccine

5

ounces

boneless chicken breasts

halved

1

tablespoon

olive oil

1/2

teaspoon

Italian seasoning

3/4

cup

heavy cream or half and half

1/4

cup

Parmesan cheese

finely grated

1/8

teaspoon

salt
Instructions
Set a pot of water to boil on the stove top. When the water is boiling, add the fettuccine and cook for 10 minutes, until al dente.

Meanwhile, set a skillet on medium-high heat on the stove top. Add olive oil. Sprinkle Italian seasoning over both sides of chicken breast. Add it to the hot pan. Cook for 8 minutes per side, or until juices run clear when poked.

Add the fettuccine to the sauce and stir to coat. Cut the chicken into strips. Fill the plates with fettuccine, topped with chicken slices, and drizzle any remaining sauce over the top.
Nutrition
Calories:
760
kcal
|
Carbohydrates:
44
g
|
Protein:
29
g
|
Fat:
52
g
|
Saturated Fat:
26
g
|
Cholesterol:
224
mg
|
Sodium:
436
mg
|
Potassium:
361
mg
|
Fiber:
2
g
|
Sugar:
1
g
|
Vitamin A:
1504
IU
|
Vitamin C:
1
mg
|
Calcium:
242
mg
|
Iron:
2
mg
Other Comfort Food Recipes To Try
Click for Even More Comfort Food Recipes
🥧 If you're interested in more great recipes, I share all my favorite Instant Pot recipes over at A Pressure Cooker Kitchen, air fryer recipes at Air Fry Anytime, and cocktails and drinks at Savored Sips. Check it out today!
Pin it for later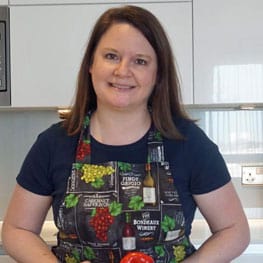 Laura is a home cook who loves making new recipes and finding new favorite things to eat, whether at home or abroad. She also runs a popular travel blog and spends a lot of her time traveling for food.