It can be really difficult to choose the right knife set for use at home. Most people end up choosing based on price, rather than looking into the best features of each set and fully understanding what to look for in the first place.
We've tried many different types of knives and our recommendations are based on experience. We've held the knives in our hands, used them for chopping and dicing in our own kitchen, so you don't have to spend any more time looking for the best knife block set. Just keep reading.
From the start you've made a good decision to purchase a kitchen knife block, especially if you're the type that just throws all your kitchen knives into one drawer. Not only is it dangerous to store your knives that way, it's not a great way to care for them. They will need more frequent sharpening and maintenance from being in a drawer full of other utensils.
A knife block will protect your knives, and keep them sharper longer. But the best thing about a knife block set is that all the knives you need are packaged together, so you don't have to buy them one-by-one, nor do you have to look for a knife block to hold them all. This will save you both time and money.
→ Don't forget to purchase the right type of cutting board to keep your knives sharp!
If you don't have time to read all the reviews below, we've put together a quick-pick list for you, so you can make a fast decision based on our top recommendations. See below for full reviews.
What You Use Your Knives For
When purchasing knives for your kitchen, you need to first give some thought to what you typically use your knives for.
In most cases, a home cook uses only a few knives for all tasks, so purchasing extra knives that you don't ever use is costly and pointless.
In my kitchen, I use a utility knife and paring knife the most often. I use a chef's knife occasionally for larger cuts of meat and chopping large vegetables, like carrots.
And I have a good set of steak knives. Steak is one of my true pleasures and it can be ruined by a dull or ineffective steak knife.
Speaking of steak, I cooked the best steak of my life from a subscription meat plan with ButcherBox. If you haven't tried it yet, I highly recommend it. This filet was so thick and tender.
One other knife you should consider purchasing is a bread knife. A serrated bread knife is imperative for cutting a baguette. Without it, you will spend a lot of time hacking away at the loaf.
Best Knife Block Sets
Since many purchase decisions are based on pricing, we've chosen a knife block set from a variety of price ranges, to fit everyone's needs. The block sets listed here are all top quality, reliable knives.
Victorinox 8-Piece Knife Block Set
8-piece Forschner cutlery set, hand-finished in Switzerland
Includes: 4-inch Paring; 6-inch boning; 8-inch chef's; 8-inch bread; 10-inch slicing; 10-inch sharpening steel; kitchen shears; slant hardwood block
High-carbon stainless steel blade provides maximum sharpness and edge retention
Ergonomic black Fibro handles minimize wrist strain
Wash by hand; Lifetime
This is our favorite kitchen knife block set for many reason. Victorinox is often the first choice for professional chefs and they are often chosen by experts as some of the best knives on the market.
The blades are made with high carbon stainless steel, so they are sturdy and sharp. They have excellent edge retention, so you don't have to worry about them going dull quickly or needing to sharpen them frequently.
I particularly like the handles of these knives because they are easy to grip and hold on to, thanks to their ergonomically designed shape and fibrox handle. They won't slip out of your hand. These knives are also lightweight and well balanced to make cutting easier.
In this 8-piece set, you'll get a 4-inch paring, 6-inch boning, 8-inch chef's, 8-inch bread, and 10-inch slicing, plus a sharpening steel, shears and the hardwood block. These are all the kitchen knives you really need to get the job done.
See on Amazon
---
Calphalon Contemporary Self-Sharpening 15-Piece Knife Block Set with SharpIN Technology, Black/Silver
Set includes 8-in. Chef's knife, 8-in. Bread knife, 7-in. Santorum knife, 6-in. Utility knife, 4.5-In. Purer, 8 steak knives, kitchen shears and a richly stained Maple wood knife block
Built-in ceramic sharpeners automatically sharpen knives with every use
Fully forged, high-carbon, no-stain German steel (steak knives made from stamped Asian steel)
Labeled handles for easy identification in the block
Full tang design for strength and balance with contoured ergonomic handles for a secure grip
This Calphalon Classic knife set is the first nice set of knives I ever purchased. I really like the weight of the knives and the sturdy feel they have in your hand.
The handle on these knives has improved a lot over the years and now have a good contour, so they are now very easy to grip and hold. Plus, the knives are labeled at the end of each handle so you don't have to hunt around for the right one.
The blades are made with forged, high-carbon, stainless steel. One of the major benefits of this knife set is the build-in ceramic sharpeners, so every time you put the knife away, it's being honed for you. This feature greatly cuts down on the time and energy you have to spend on honing your knives.
In this 15-piece set, you'll get a 4-1/2-inch paring knife, 6-inch utility knife, 6-inch serrated utility knife, 7-inch Santoku, 8-inch, chef's knife, kitchen shears, 8 steak knives, and the sharpening knife block.
With so many useful knives in the set, it's a really good value for the money. Do note that the set doesn't include a bread knife.
---
ZWILLING HENCKELS Statement Razor-Sharp White Handle Knife Set, Chef Knife, Bread Knife, German Engineered Knife Informed by over 100 Years of Mastery, Stainless Steel, 14-Piece
ULTRA-SHARP BLADES: Superior professional-level sharpness that ensures precision cutting.
THE LAST KNIFE YOU'LL EVER NEED TO BUY: German Engineered Knife Informed by over 100 Years of Mastery. HENCKELS knives are built to last.
EFFORTLESS CUTTING: Enjoy easy cutting with minimal effort with this lightweight, easy-to-use knife.
SET INCLUDES: 3-inch paring knife, 5-inch serrated utility knife, 5-inch prep knife, 7-inch santoku knife, 8-inch bread knife, 8-inch chef's knife, 6 x 4.5-inch steak knives, kitchen shears, and self-sharpening block
QUICK CLEAN UP: No-fuss cleanup, in the dishwasher or by hand. Stain and rust-free blades.
Made with high-quality stainless steel, the J.A. Henckels knives have been trusted by chefs and home cooks since 1895. They have very fine edged blades that are honed for long-lasting sharpness.
They have a single-piece, stamped blade construction, so they are lighter than forged blades, and they have a full tang. The sleek-looking triple rivet handle is made to be easily gripped, so you don't lose control of the knife while cutting.
We really like this knife block set because of the value for the money it offers. The addition of the bread knife make it a complete set that you won't have to add to. The quality of the blades will mean that you don't have to sharpen them repeatedly.
The set includes a 3″ paring knife, 5″ serrated utility knife, 7″ Santoku knife, 8″ chef's knife, 8″ bread knife, and six 4.5″ steak knives, plus a sharpening steel, kitchen shears, and a hardwood block.
Read more about German knives and why they provide great value and reliability.
---
Sale
Chicago Cutlery Malden (16-PC) Kitchen Knife Block Set With Wooden Block & Built-In Sharpener, Contoured Handles and Sharp Stainless Steel Professional Chef Knife Set & Scissors
16 PIECES: Set includes: (1) 8" Chef Knife, (1) 6.75" Serrated Bread Knife, (1) 6" Santoku Knife, (1) 4.75" Utility Knife, (8) 4.5" Steak Knives, (1) 3.25" Paring Knife, (1) Shears / Scissors With Opener, (1) Block.
BUILT IN SHARPENER: With a unique built-in sharpener in the acacia wood block, the Insignia knife set makes it easy to keep your knives sharp and ready for any cutting task.
26 DEGREE TAPER: The signature blades on all the knives are made with a 26 degree taper grind edge, providing optimal sharpness and precision for effortless cutting through meats, vegetables, fruits and more.
CONTOURED HANDLES: Each handle comes with a well-balanced contoured handle that is designed to sit comfortably in the hand. The stainless steel handles perfectly match the stainless steel blades and allow for effortless cleaning.
STRONG & STURDY: Excellent craftsmanship in each knife, which provides added strength and durability to the knife's construction, ensuring it can handle even the toughest cutting tasks with ease.
If you don't want to spend a lot of money on a knife set, you really need to be sure you're still getting high-quality knives for the price. I've bought a few low-cost knife sets only to find they are flimsy and nearly useless.
This Chicago Cutlery set contains 16-pieces, at a low price. But they come with a full lifetime warranty, which should give you peace of mind when taking a chance on this set.
The knives are made with high-carbon stainless steel, and the blades are made with a special 26-degree taper grind edge, which gives them a great deal of sharpness and precision. The stainless steel handle gives the knives a very contemporary, modern look.
They have a full metal tang, so they are easy to wash and re-sharpen. The handle has a curved design to make them easier to hold onto.
This 16-piece set includes an 8" chef knife, a 6-3/4" bread knives, two 4-3/4" utility knives and two 3-1/4" paring knives, eight 4-1/2" steak knives, shears, a sharpening steel, and a neutral wood block.
---
Sale
CUISINART Block Knife Set, 15pc Ultra Ultra- Sharp Cutlery Knife Set with Steel Blades for Precise Cutting , Lightweight, Stainless Steel, Durable & Dishwasher Safe, C77SS-15PK
Superior Performance: Experience precision and accuracy with Cuisinart's 15-piece Superior high-carbon stainless steel blades, allowing for precise slicing, carving, and chopping.
Total Control: The knives feature a strong, durable bolster that provides perfect stability and control during use. Their lightweight design makes them easy to handle and clean.
Well Built: Enjoy the benefits of precision-tapered ground blades that gradually narrow to an extremely sharp, fine edge. The ergonomically designed stainless steel handle offers comfort and stability for effortless cutting.
Comprehensive Set: The set includes essential knives for versatile cooking tasks, such as an 8-inch Chef Knife, 8-inch Slicing Knife, 7-inch Santoku Knife, 5.5-inch Serrated Utility Knife, 3.5-inch Paring Knife, 3.5-inch Bird's Beak Paring Knife, 4.5-inch Steak Knives (6), 8-inch Sharpening Steel, All-Purpose Household Shears, and a Wooden Block for convenient storage.
Lifetime Warranty: Rest assured with Cuisinart's lifetime warranty. The cutlery is warranted to be free of defects in material and workmanship under normal home use from the date of original purchase throughout the original purchaser's lifetime.
As far as budget knife block sets go, this Cuisinart 15-piece set is reliable and user friendly, not to mention a very good value. The high-carbon stainless steel blades are build for stability and control.
The ergonomically designed handle was made for comfort and a good grip, so you can work with ease. I particularly like their sleek, modern design, which will fit in to any kitchen.
They have precision tapered blades to provide excellent sharpness that holds so you won't have to resharpen them often. And they come with a lifetime guarantee.
For the price, there's really not much more you can ask for in a knife set. This set includes an 8″ chef knife, 8″ slicing knife, 7″ Santoku knife, 5.5″ serrated utility knife, 3.5″ paring knife, 3.5″ bird's beak paring knife, 8″ sharpening steel, household shears and the block to hold them all.
Wusthof Classic 9-piece Knife Block Set (Acacia)
Wusthof Knife Set includes: 3.5" Paring Knife, 4.5" Utility Knife, 5" Serrated Utility Knife, 6" Kiritsuke Prep Knife, 8" Bread Knife, 8" Chef's Knife, 9" Triple Rivet Honing Steel, Come-Apart Kitchen Shears and 17 Slot Acacia Knife Block
Precision forged full tang, Fully forged, full tang high-carbon stain resistant stainless steel with bolsterhigh-carbon stain resistant stainless steel with bolster
PEtec edge enhances the sharpness 20% and lasts twice as long, 58 Rockwell hardness
Triple-riveted Polyoxymethylene (POM) handle resists fading and discoloration; Trident logo on the handle is permanent and wear-resistant
Made in Solingen, Germany; Lifetime Warranty
This knife set is quite expensive and out of range for many home cooks, but I can't leave it off the list, because it's truly one of the best knife sets on the market today. The knives are all precision-forged and full tang. They are made with high-carbon stain-resistant stainless steel that is a 58 Rockwell hardness.
The PEtec edge enhances the sharpness of these knives by 20%. The sharpness lasts twice as long as other knives so you don't have to sharpen them as often.
The triple-riveted Polyoxymethylene (POM) handle resists fading and discoloration. I find that the handle is very easy to grip and isn't too large for small hands, like some of the knife sets featured above.
These knives were made in Solingen, Germany, and have a lifetime warranty. Hopefully that makes you feel better for the splurge. There would be really no reason ever to have to buy another set of knives.
CONCLUSION
What do you think? Have you learned a lot about the different kitchen knives? And now you know how to put together your own set? I hope you find the right knives for you.
It does make working in the kitchen so much easier and enjoyable. And don't forget, you have to keep those knives sharp once you're using them regularly. Check out our guide to finding the best knife sharpeners.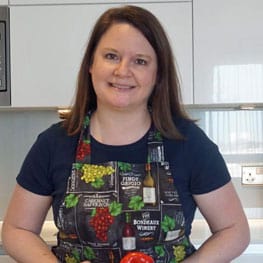 Laura is a home cook, with 25 years experience behind the stove, who spends an extraordinary amount of time in the kitchen cooking. She loves making new recipes and finding wonderful new things to eat, both at home or abroad. She spends a lot of time researching, crafting, and perfecting her recipes and currently has a cookbook in development.