This Festive Christmas Charcuterie Board is perfect for your holiday get togethers and parties, where finger food is the best way to please a crowd.
» Learn how to make the Perfect Party Platter and these great variations: Bagel and Lox Sharing Board and Winter Hot Chocolate Sharing Board.
I love arranging a Christmas charcuterie platter like a Christmas tree. It gives it that extra holiday cheer and everyone swoons over it when they arrive. This herb goat cheese Christmas appetizer has a fun tree shape as well.
The best thing about this Christmas platter is that it can be refilled easily as people graze on it, and you really can include just about any cheese, meats, fruits, and nuts that you like.
» Enjoy this Holiday Antipasto Wreath Appetizer!
These appetizers are great to serve for just about any party – from an engagement party to a glitzy [...]
Read More
What to Include on a Charcuterie Board?
I like to make sure there are items from a few categories—cheese, cured meats, fruit, savory, nuts, and crackers.
This board includes:
3 different cheese: cheddar, gouda and cubed feta cheese
2 cured meats: salami and prosciutto
Crackers
Green olives
Almonds, walnuts, dried cranberries
Marinated artichokes
You'll want to include 2-3 types of each item, so guests have options to choose from. This also helps diversify the board and makes it visually appealing.
Here are a few other options that I haven't included, but that make a great addition of a charcuterie board:
Sauces and dips, like honey, jelly/jam, mustard, creamy dressing.
Fruits like pomegranate pieces, apple slices, dried fruits, and grapes.
A couple types of crackers, baguette slices, and cucumber slices (in case any guests are eating low-carb).
How Much Food to Include
Your Christmas Charcuterie board should be able to serve at least 3 ounces of meat and cheese per person, which is the optimal serving size amount if it's served as an appetizer.
Because guests will likely be grazing on other appetizers at a party, you can keep that in mind when building your board. It's unlikely that you'll exceed 3 oz per person.
Of course, not all of that food will fit on the platter at one time. Keep all the extras in containers or baggies to have at the ready when a section gets low.
How to Display Your Platter
One of the most important parts of a beautiful party platter is the board you put it on. It doesn't have to be something elaborate or fancy, but the board really does elevate the display.
A large wooden cutting board is perfect for the display of your foods. Depending on the size of the board you want to make, it will need to be a sizeable board to hold enough food.
This large maple cutting board is great because it doesn't have a lip around the edge.
Slate and glass boards also make a nice display.
There are some nice platter boards that you can buy on Amazon that have the space to display your foods, plus trays for dips and holders for cheese knives and spreaders.
Once you've got a great platter, half the job is done. What is left to do is to cut and arrange your foods.
Start with a line of crackers along the bottom.
Place a line of salami on top of the crackers for the next layer. I like to lay a full line of salami as a base, then scrunch up more pieces on top. That will make it last longer.
Cut the cheeses into cubes and arrange them in alternating lines with the remaining cured meat.
Add a line of artichoke hearts and/or olives.
Extras like nuts and olives can be interspersed throughout the plate to fill empty spots and scatter color across the board.
Sauces should be included in small bowls around the outside of the board. Don't forget to include spreaders and small serving spoons for each sauce.
Garnish with sprigs of rosemary.
Refilling the board
Prepare extra of each food item and have it at the ready to refill empty spots in the board as they get eaten.
If you want to mix it up, you can replenish empty spaces with different types of cheese and meats to keep it interesting.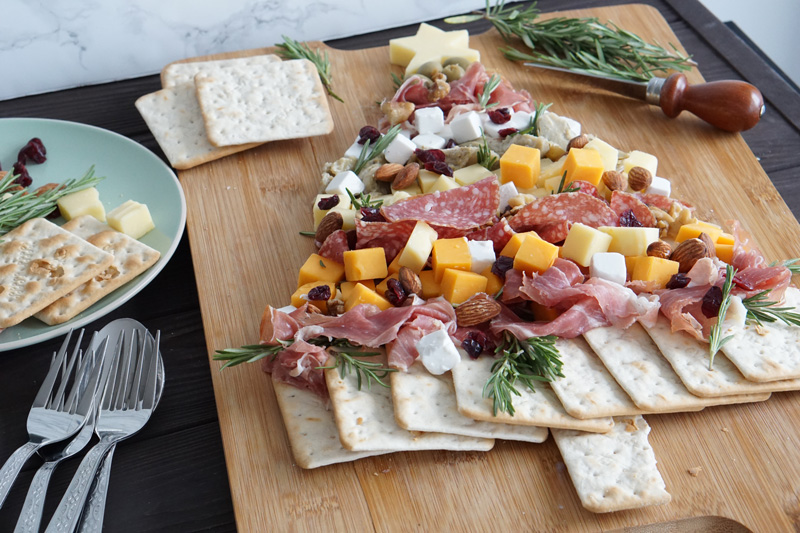 Get Creative and Have Fun
The fun part about putting together a holiday charcuterie tray is that you can be as creative as you want and just have fun with it. You don't have to use the same meats and cheeses.
You don't even have to display it like a Christmas tree. You could display it as a wreath or an ornament. There are dozens of options.
Frequently Asked Questions
What do you put on a Christmas charcuterie board?
The great thing about charcuterie boards are that there aren't any rules. You choose your favorites. There are a few guidelines to help ensure you have a good mixture of things. Make sure to include items from a few categories—cheese, cured meats, fruit, savory, nuts, and crackers. Sweet holiday treats would be a great addition along with a fun jam or jelly. There really aren't any wrong answers.
What should I put it on?
One of the most important parts of a beautiful party platter is the board you put it on. It doesn't have to be something elaborate or fancy, but the board really does elevate the display. Wooden cutting boards, slate, or glass boards are pretty. You can make it unique by choosing something special to you. A serving tray, a pizza pan, or even a baking sheet will work.
Can I make it up ahead of time?
You absolutely can! Make it up the night before of the morning of, cover it with plastic wrap, and pop it in the frig until you need it. Make sure to leave any crackers or bake goods off until you are ready to serve it so that they don't get soggy.
Like it, Love it, Want Some More of It? Subscribe to our newsletter and follow us on Pinterest, Instagram and Facebook. We really love it when you save our recipes to Pinterest 😊
Christmas Charcuterie Platter
This festive Christmas Charcuterie Board is piled up with cheese, meats, and nuts.
Print
Pin
Rate
Ingredients
3

ounces

(

85

g

)

cheddar cheese

cubed

3

ounces

(

85

g

)

gouda

or other hard cheese, cubed

3

ounces

(

85

g

)

feta cheese

cubed

3

ounces

(

85

g

)

Prosciutto

3

ounces

(

85

g

)

salami

1

jar

jar marinated artichoke hearts

1

jar

green olives

2

ounces

(

57

g

)

almonds

2

ounces

(

57

g

)

walnuts

2

ounces

(

57

g

)

dried cranberries

1

package

crackers

5

sprigs

rosemary
Instructions
Add a layer of crackers to a wooden cutting board as the base of the tree.

Alternate cheese cubes, meat, artichokes, and olives to form layers.

Intersperse the nuts and cranberries throughout. Garnish with rosemary.

Top the tree with a cheese star.
Notes
Substitute cheeses and meats as you wish to make your tree. There are no restrictions!
Nutrition
Calories:
355
kcal
|
Carbohydrates:
22
g
|
Protein:
12
g
|
Fat:
25
g
|
Saturated Fat:
8
g
|
Cholesterol:
39
mg
|
Sodium:
665
mg
|
Potassium:
165
mg
|
Fiber:
2
g
|
Sugar:
6
g
|
Vitamin A:
169
IU
|
Calcium:
219
mg
|
Iron:
2
mg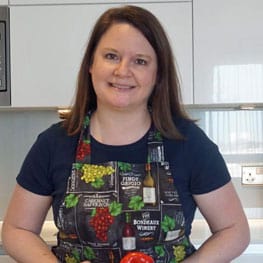 Laura is a home cook, with 25 years experience behind the stove, who spends an extraordinary amount of time in the kitchen cooking. She loves making new recipes and finding wonderful new things to eat, both at home or abroad. She spends a lot of time researching, crafting, and perfecting her recipes and currently has a cookbook in development.