For Thanksgiving dinner this year, you might find yourself wanting to make a smaller meal, perhaps even just for two people. This post will provide you with a fantastic way to make a small Thanksgiving dinner.
Thanksgiving is one of those meals that are often served for multitudes of people, but there's no rule that says you have to cook for more than two people.
With our recipes for turkey, stuffing, green beans, sweet potatoes, and pumpkin cheesecake mousse, you can have a wonderful meal without tons of work or too many leftovers.
Create a Streamlined Menu
One of the best things to do when creating a Thanksgiving menu for 2 is to focus on the dishes you really like and skip the rest.
A streamlined menu is important for not overdoing it. So pick your 4 top dishes and one dessert and focus on making those dishes spectacular.
I recommend you focus on the dishes below, but you can certainly add something new or different. Why not serve Rack of Lamb or a Pork Roast instead?
With just two people, it's not necessary to serve a large turkey, so we always make a roast turkey breast, instead. The recipe for this is below.
Turkey (a small turkey or a turkey breast)
Mashed Potatoes & Gravy
Stuffing
Green Beans
Pumpkin Cheesecake Mousse
Thanksgiving Menu for Two
This Thanksgiving dinner menu serves 2-4 people. We like to have some left overs from the meal that we can eat the next day, or to create other dishes from (like leftover turkey casserole).
Roast Turkey Breast
1 (3 pound) turkey breast with skin
2 tbsp butter, melted
1 clove garlic, minced
1 tsp paprika
1 tsp Italian seasoning
1/2 tsp salt
1/4 tsp ground black pepper
Preheat oven to 350 degrees F (175 degrees C).
Mix butter, garlic, paprika, Italian seasoning, salt, and black pepper in a bowl. Place turkey breast with skin side up in a roasting pan. Spread the rub over the turkey breast and underneath the skin. Tent turkey breast loosely with aluminum foil.
Roast in the preheated oven for 1 1/2 hours, until the juices run clear and an instant-read meat thermometer inserted into the thickest part of the breast reads 165 degrees F (65 degrees C). Let turkey rest 10 to 15 minutes before slicing.
Mashed Potatoes & Gravy
Mashed Potatoes
1 1/2 lb potatoes (yukon gold or russets)
2 tbsp butter
1/2 cup whole milk or cream
Salt & pepper, to taste
Bring a pot of water to a boil over high heat. Add the potatoes to the pot. Simmer until they are falling apart, about 10 minutes.
Drain the potatoes and return the pan to the stove over medium heat. Add the butter and milk and stir until fully incorporated. Mash the potatoes using a masher or a fork. Stir the potatoes until they are light and creamy. Season to taste with salt and pepper.
Gravy
1 tbsp turkey pan drippings or butter
1 tbsp all-purpose flour
1 cup turkey or chicken stock
Salt & pepper, to taste
Place skillet over low heat. Add the pan drippings or butter and flour to the skillet. Whisk to combine and cook for 1 minute. Whisk in the turkey/chicken stock until smooth.
Bring to a low boil, whisking constantly, until thickened.
Roasted Green Beans
I prefer roasting green beans because it gives them an extra bite of sweetness..
The good news is that this recipe requires very few ingredients. All you need are the beans, mushrooms, some olive oil, salt and pepper. This basic method will lead to the best green beans – where the flavor of the beans and mushrooms are allowed to shine.
For this recipe, you can really use any type of beans you want. The most popular choices are string beans or snap beans, Haricots Verts, long beans, purple string beans, Romano beans or wax beans.
1/2 lb green beans
4 oz mushrooms, sliced
2 tsp olive oil
salt & pepper to taste
Preheat the oven to 350 degrees F (175 degrees C).
Cut the stems from the green beans. Place the beans and the sliced mushrooms on a baking tray. Drizzle with olive oil, and sprinkle with salt and pepper.
Roast in the oven for 8-10 minutes. Remove from the oven and turn the vegetables on the tray. Roast for an additional 5 minutes.
Buttery Sausage & Cranberry Stuffing
This Sausage and Cranberry Stuffing is one of my favorite things to eat at Thanksgiving. It's buttery and crunchy in just the right way.
What makes this stuffing so good is the copious amount of butter. The butter creates a wonderful crunch to the bread as it cooks, and melts perfectly with the sausage and sweet cranberries. No other stuff can hold a candle to it, in my opinion.
2 cups cubed bread, preferably wheat or a mix of white and wheat approximately 5-6 slices of bread
1/4 lb ground pork sausage
1/4 cup chopped onion
1/4 cup chopped celery
1/2 tsp dried sage
1/2 tsp dried rosemary
1/2 tsp dried thyme
1/4 tsp salt
2 tbsp cup dried cranberries
6 oz turkey or chicken stock
1/4 cup melted butter (salted butter preferred)
Preheat oven to 350 degrees F (175 degrees C)
Spread the cubed bread in a single layer on a large baking sheet. Bake for 5 to 7 minutes, or until toasted. Transfer to an 8″x8″ baking dish.
In a large skillet on medium heat, cook the sausage, onions and celery until the sausage is cooked through. Add the sage, rosemary, thyme and salt. Stir to combine. Remove from heat.
Add the sausage mixture to the baking dish with the bread. Mix in dried cranberries, then drizzle the stock and butter over the top, making sure not to over-saturate one area. Stir to combine.
Cover with foil and bake for 30 minutes. Remove the foil, stir gently, and bake for an additional 10 minutes to crisp the top. Remove from the oven and serve.
No-Bake Pumpkin Cheesecake Mousse
There's no rule that pumpkin pie is the only pumpkin dessert allowed at the Thanksgiving table, so let's break with tradition and serve these delicious pumpkin cheesecake desserts instead!
This recipe makes 4 servings. It's so good that you'll be wishing you had more if you only make 2. You can either make 4 or double up and make 2 large servings.
For the mousse
1 cup heavy cream
1/4 tsp vanilla extract
4 oz cream cheese at room temperature
1/4 cup powdered sugar
1/3 cup pumpkin puree
1/2 tsp pumpkin pie spice
For the cookie crust
6 ginger snap cookies
2 tbsp butter, melted
1 tbsp granulated sugar
1/8 tsp salt
Instructions
Chill a large mixing bowl. Pour the cold cream and vanilla into the bowl and beat it until soft peaks form. Reserve 1 cup of the whipped cream in a pastry bag fitted with a small round tip. Place in the fridge until ready to serve.
In another bowl, mix the cream cheese, sugar, pumpkin puree, and pumpkin pie spice together. Beat until light and fluffy.Add in all but 1 cup of the whipped cream. Gently fold it in until fully incorporated.
Pulse the ginger snap cookies in a food processor until crumbled. Add the butter, sugar, and salt. Pulse to combine.
Add a scoop of the cookie crumble to each serving dish. Compact it with a spoon. Scoop the pumpkin cheesecake mousse into each dish. Top with the reserved whipped cream.
CONCLUSION
With this minimal Thanksgiving menu, you'll have more than enough food and variety, but not so many left overs. There's no need to do all the cooking and cleaning when it's just the two of you!
Share with us what your favorite Thanksgiving dish is, and give us your tips for a Thanksgiving for two in the comments.
Like this recipe? We'd love for you to share it on your Pinterest board! Click to follow our Pinterest boards so you can find all our recipes!
Instagram it! If you try this recipe please tag #AFoodLoversKitchen on Instagram or Twitter. We love to see your photos of our recipes! Also follow us on Instagram, Twitter and Facebook to keep up on what we're cooking up.
Like this menu? Save it for later on your Pinterest board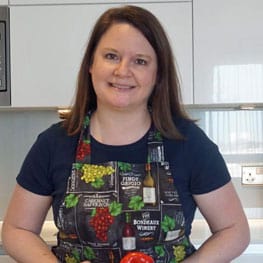 Laura is a home cook who loves making new recipes and finding new favorite things to eat, whether at home or abroad. She also runs a popular travel blog and spends a lot of her time traveling for food.