For Thanksgiving dinner this year, you might find yourself wanting to make a smaller meal, perhaps even just for two people. This post will provide you with a fantastic way to make a small Thanksgiving menu for two.
» You might also like these 25 Thanksgiving-Inspired Cocktails for the Holidays.
Thanksgiving is one of those meals that are often served for multitudes of people, but there's no rule that says you have to cook for more than two people.
With our recipes for turkey, stuffing, green beans, sweet potatoes, and pumpkin cheesecake mousse, you can have a wonderful meal without tons of work or too many leftovers.
Create a Streamlined Menu
One of the best things to do when creating a Thanksgiving menu for 2 is to focus on the dishes you really like and skip the rest.
A streamlined menu is important for not overdoing it. So pick your 4 top dishes and one dessert and focus on making those dishes spectacular.
I recommend you focus on the dishes below, but you can certainly add something new or different. Why not serve Rack of Lamb or a Pork Roast instead?
With just two people, it's not necessary to serve a large turkey, so we always make a roast turkey breast, instead. The recipe for this is below.
Turkey (a small turkey or a turkey breast)
Mashed Potatoes & Gravy
Green Beans
Stuffing
Pumpkin Cheesecake Mousse
Thanksgiving Menu for Two
This Thanksgiving dinner menu serves 2-4 people. We like to have some left overs from the meal that we can eat the next day, or to create other dishes from (like leftover turkey casserole).
Instant Pot Turkey Breast
This Instant Pot Turkey Breast comes out perfectly moist and delicious in just 35 minutes. It's the fastest and easiest way to cook a turkey breast for your holiday meal or even for a weekend.
See the recipe
The Ultimate Thanksgiving Turkey Sandwich
Wondering what to do with all the leftovers from your Thanksgiving dinner? You are going to love this ultimate Turkey sandwich, stuffed with brie cheese, turkey slices, stuffing, and cranberry sauce, then slathered with rich turkey gravy.
See the recipe
Instant Pot Mashed Potatoes
These creamy and smooth
Instant Pot
Mashed Potatoes can be made in as little as 13 minutes, smashing the record for how quickly you can make this dreamy side dish.
See the recipe
The Best Keto Mashed Cauliflower Recipe
This Keto Mashed Cauliflower is a great low-carb alternative to mashed potatoes. They have only 5 net grams of carbs per serving and are just as creamy and smooth as mashed potatoes.
See the recipe
Easy Keto Turkey Gravy
This Keto Turkey Gravy has just three ingredients but it turns out incredibly silky with a ton of taste, and without any carbs.
See the recipe
Roasted Green Beans and Mushrooms
Roasting green beans brings out the sweetness and heightens the natural flavors of the beans.
See the recipe
Low Carb Green Beans with Pesto and Feta
Low carb Green Beans with Pesto and Feta are a great side dish blending the bright flavor and aromatics of pesto with crunchy green beans and delicious feta cheese.
See the recipe
Easy Air Fryer Green Beans
Air Fryer Green Beans are so simple to make and they turn out perfectly crispy and tender when cooked in the air fryer. So why not save yourself a few steps and cook your green beans with a tasty seasoning in the air fryer.
See the recipe
Sausage and Cranberry Stuffing
You won't believe how good this stuffing tastes. The butter and cranberry meld with the pork sausage to create amazing flavor.
See the recipe
Best Keto Stuffing Recipe
You might think that on a keto diet you can't enjoy stuffing, but that's not true. This Keto Stuffing Recipe is buttery and delicious – just the way you expect it to be.
See the recipe
Pumpkin Cheesecake Mousse Desserts
These no-bake Pumpkin Cheesecake Mousse Desserts are a fun alternative to the typical pumpkin pie that you can serve at Thanksgiving.
See the recipe
Mini Personal Pumpkin Pies
Mini pumpkin pies have just five simple ingredients plus those aromatic spices we all love at the holidays. And they're just so darn cute! These pies are a great way to serve individual desserts.
See the recipe
CONCLUSION
With this minimal Thanksgiving menu, you'll have more than enough food and variety, but not so many left overs. There's no need to do all the cooking and cleaning when it's just the two of you!
Share with us what your favorite Thanksgiving dish is, and give us your tips for a Thanksgiving for two in the comments.
Other Recipe Compilations You Might Like
Like this recipe? We'd love for you to share it on your Pinterest board! Click to follow our Pinterest boards so you can find all our recipes!
Instagram it! If you try this recipe please tag #AFoodLoversKitchen on Instagram or Twitter. We love to see your photos of our recipes! Also follow us on Instagram, Twitter and Facebook to keep up on what we're cooking up.
🥧 If you're interested in more great recipes, I share all my favorite Instant Pot recipes over at A Pressure Cooker Kitchen, air fryer recipes at Air Fry Anytime, and cocktails and drinks at Savored Sips. Check it out today!
Like this menu? Save it for later on your Pinterest board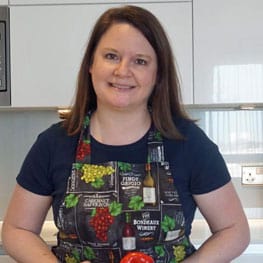 Laura is a home cook who loves making new recipes and finding new favorite things to eat, whether at home or abroad. She also runs a popular travel blog and spends a lot of her time traveling for food.