This article has links to products that we may make commission from.
Scalloped Potatoes are one of America's favorite side dishes. Who doesn't love this cheesy, creamy stack of tender potatoes?
Whether you call them scalloped potatoes, potatoes au gratin, or potatoes dauphinoise, there are literally hundreds of ways to cook them so they turn out just a little different each time.
We've compiled a list of great scalloped potatoes / gratin variations for you to try. There are subtle differences in the cheeses used and whether they use cream or not.
If you're looking for other potato recipes, check out these Crispy Roast Potatoes, 19 Delicious Potato Main Dish Recipes and these 23 Potato Side Dishes to Serve with Anything.
What's the Difference Between Scalloped Potatoes and Potatoes Gratin?
You might be wondering what the actual difference is between these two dishes and why they seem the same, but are called something different.
Everyone has wondered this. You're certainly not alone.
There are subtle differences in the dishes, but the biggest of them is just that one is an American dish and one is a French dish.
Both use thinly sliced potatoes, cream, and cheese. They are cooked the same way, in the oven. The difference is in the small details – the thickness of the potatoes, and the type of cheese used.
Gratin typical uses French cheeses like gruyere and gouda. Scalloped Potatoes typically use cheddar.
In the end, it doesn't really matter what you call it. It's very much the same thing.
Cheesy Sweet Potato Gratin
Cheesy sweet potato gratin is creamy, cheesy and crispy! A delicious side to any meal. This version is made with sweet potatoes, double cream, garlic, and cheddar cheese. » See the recipe
Hasselback Potato Gratin
Combining the very best of the hasselback potato with the potato gratin, please meet the ultimate crispy on top and creamy in the middle, cheese-y comfort food… the luxuriously decadent hasselback potato gratin! » See the recipe
The Best Scalloped Potatoes
We're told this is the absolute best scalloped potato recipe. This recipe uses a roux base with Yukon gold potatoes, Parmesan, and sharp cheddar cheese. The top is lightly browned for that perfect crispy crunch. » See the recipe
Garlic & Rosemary Scalloped Potatoes
This scalloped potato roast is simple to make, with no cheese base. It's made with just olive oil, garlic, rosemary and potatoes. The rosemary & garlic make it fragrant and delicious. It's a beautiful prepare-ahead side dish. » See the recipe
Potato Gratin with Aged Gouda Cheese
This Aged Gouda Cheese Potato Gratin gives a unique twist to a typical cheesy potato dish. aged gouda cheese has a distinctive flavor – stronger than unaged, and it's perfect for this dish. » See the recipe
Potato Gratin Stacks
Potatoes Au Gratin in easy to serve stacks! This recipe is everything you love about potato gratin made with thinly sliced potatoes, cream and gruyere – and it's in delicious little individual servings. » See the recipe
Potatoes Dauphinoise
Thinly sliced potatoes are baked in a creamy garlic sauce with Gruyere cheese. These Potatoes Dauphinoise are the perfect accompaniment to any meal. » See the recipe
Rustic Potato and Brussels Sprouts Au Gratin
Creamy cheese, tender potatoes and brussels sprouts, and a hearty addition of fresh rosemary makes the creamiest, most fragrant, and surprisingly easiest au gratin. This rustic potato and brussels sprouts au gratin dish is delicious for Sunday dinner or as a holiday side. » See the recipe
Instant Pot Scalloped Potatoes
Instant Pot Scalloped Potatoes are creamy, cheesy and taste absolutely heavenly. What makes them even better is that this is the quickest and easiest way to make them. if you have an Instant Pot, skip the oven and make these instead. » See the recipe
Vegan Scalloped Potatoes
Homemade vegan scalloped potatoes from scratch, made with cashews, nutritional yeast and a few other spices. Easy, creamy comfort food ready in less than 1 hour, NO Dairy, meatless, oil-free + gluten-free! » See the recipe
CONCLUSION
We hope you found something great in this list of recipes. Each variation of Scalloped Potatoes is different so be sure to try them all and find the one you like best!
Pin it for later!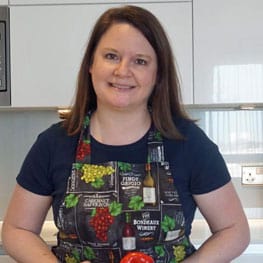 Laura is a home cook who loves making new recipes and finding new favorite things to eat, whether at home or abroad. She also runs a popular travel blog and spends a lot of her time traveling for food.