It is common for recipes not to specify the number of potatoes but rather the weight, or vice versa. That makes it difficult to know exactly the right amount to use, particularly if you don't have a kitchen scale to measure them with.
That often leaves home cooks like us wondering how many potatoes are in a pound, so we know how many to use in the recipe.
I can say that for Russet or white potatoes, which are used most often in recipes, there are 2 average sized potatoes in a pound. But the number changes based on the type of potato you're using.
Since this is something I've often wondered when cooking, I've created a guide to help you quickly choose how many potatoes to use in your recipe.
» Curious to know how many cloves of garlic are in a tablespoon and how much a gallon of milk weighs?
Common Potatoes and Their Sizes
A lot of the mystery is dispelled by looking at the common types of potatoes and how much they each weigh on average.
You can categorize potatoes into seven types: Russet, Fingerling, Red, Blue/Purple, White, and Yellow. While there are many dozens of varieties of potatoes, they all fall into one of these similar types and mostly average out to the same size.
Depending on the type of potato you use, the number of potatoes varies in a pound. For example, you may only need two Russet potatoes, whereas you would need three or four Yukon Gold potatoes, and up to eight fingerlings.
Average Potatoes in a Pound by Type
Given that not all potatoes grow to the same size, unless you weight your potatoes you can never know for sure how many are in a pound. However, you can start to eyeball it by knowing what the average potato looks like.
For instance, two medium sized russet potatoes each weighing 1/2 pound, will both just barely fit into an adult's hand. Thus it's a pretty good estimation that a pound of potatoes – no matter the type – will fill your hand full.
Russet potatoes – 2
Red potatoes – 7 to 9
Baby potatoes – 12 to 15
Fingerling potatoes – 10-12
Blue/Purple potatoes – 15-18
Yellow or Yukon Gold – 5
White potatoes – 3 to 4
Approximately How Much Does A Potato Weigh?
Farmers and grocery store potatoes according to size and proportion and they display them this way to make it easier for shoppers. Potatoes are often available in three sizes: large, medium and small.
A large potato would be a baking potato or sweet potato, which are usually sold individually. A large potato can weight .75 to 1 pound all on its own.
A medium potato, like a Russet, Yukon Gold, or white potato, can be sold individually or in a bag, and often weight around .45-.55 pounds each.
A small potato, like a baby red, fingerling, or new purple potatoes are most often sold in a 1 pound or 5 pound bag. They each weigh and average of .2-.3 pounds each or 2-3 ounces.
Recipes Using Potatoes
There are so many ways to serve potatoes of every type. You can make mashed potatoes, scalloped potatoes, dozens of different side dishes, and even main dishes using potatoes.
FAQ
How many Yukon potatoes are in a pound?
Yukon Gold potatoes can vary in weight, but only slightly. They are usually a very uniform size. So you can go with an estimate that 5 Yukon potatoes are in one pound.
How many baking potatoes are in a pound?
Baking potatoes can vary greatly in size, so it's hard to say with certainty, but a typical baking potato will weigh about one pound on its own. So there is – in general – just one baking potato in a pound.
How many pounds of potatoes are needed to serve 4 people?
A typical serving of potatoes in 1/2 pound per person. So you will need approximately 2 pounds of potatoes to feed 4 people. This amount will vary depending on whether it's a side dish or a main dish. If you're serving baking potatoes (jacket potatoes), you'll need one 1lb baking potato per person.
Conclusion
Having a general knowledge of the number of potatoes in a pound will allow you to purchase the right amount of potatoes to cook various delicious dishes for your family! We hope it's been helpful for you to know the perfect number potatoes to grab in the produce section of your supermarket using the information in this guide.
Like this recipe? We'd love for you to share it on your Pinterest board! Click to follow our Pinterest boards so you can find all our recipes!
Instagram it! If you try this recipe please tag #AFoodLoversKitchen on Instagram or Twitter. We love to see your photos of our recipes! Also follow us on Instagram, Twitter and Facebook to keep up on what we're cooking up.
🥧 If you're interested in more great recipes, I share all my favorite Instant Pot recipes over at A Pressure Cooker Kitchen, air fryer recipes at Air Fry Anytime, and cocktails and drinks at Savored Sips. Check it out today!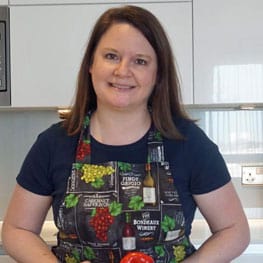 Laura is a home cook who loves making new recipes and finding new favorite things to eat, whether at home or abroad. She also runs a popular travel blog and spends a lot of her time traveling for food.