These easy Jerk chicken wings have a spicy, flavorful jerk seasoning and they turn out perfectly crispy and juicy in just 30 minutes in the oven.
>> Looking for more great chicken wings? You will love these 5 Tasty Sauces for Chicken Wings.
I'm a serious chicken wing fan, so I'm always creating new flavors and trying new ways to dress up chicken wings. I have to say that Jerk seasoning is one of the best ways to enjoy chicken wings.
The seasoning does all the work here. The outcome is amazing. If you've never had jerk seasoning – a robust seasoning that originates from Jamaica – you're definitely missing out. It's one of those iconic flavors you must try.
You can make your own jerk seasoning by following the spice blend in our original jerk chicken recipe. It's a pretty complex mix with lots of individual seasonings. For this reason, I tend to buy it more often than make it. It comes in different spice levels, so be aware of that when you buy. The hot version is really hot.
Ingredients You'll Need
Chicken Wings – plan for about 1/3 pounds of chicken wings per person.
Jerk seasoning – Buy it here, find a brand you like at the store, or make it yourself (see below)
Olive oil – This will help make the seasoning a wet rub so that it sticks to the chicken wings better and helps to crisp them up.
How to Make Your Own Jerk Seasoning
If you make it yourself, you'll need:
Ground thyme
Brown sugar
Ground allspice
Garlic powder
Onion powder
Chili powder
Dried ginger
Salt
Black pepper
Cinnamon
Soy sauce
White vinegar
This makes a jerk seasoning/marinade that you can mix with olive oil and coat the wings with. If you want to make this seasoning dried so you can store it, you would just need to leave the soy sauce and vinegar out and add those when you are ready to use the marinade.
Traditional jerk marinade is made with fresh ingredients and ground into a similar paste. It also uses scotch bonnet peppers to make the sauce spicy. If you want to make a really traditional wet jerk marinade with fresh ingredients, you can follow this recipe.
How to Cook Jerk Chicken Wings
First thing is to mix up the jerk marinade. You can do this in a bowl or in a food processor for a finer seasoning. Then coat the wings in the jerk seasoning, making sure to coat each piece. Put them in the refrigerator to marinate for at least 2 hours.
Marinating the chicken isn't strictly necessary, they will still have tons of flavor, but it is part of the jerk cooking technique to marinate the chicken in the spices to impart even more flavor.
There are a lot of ways you can cook chicken wings. Two of our favorite ways to cook them are baking and air frying.
You can also purchase quality meat raised on small farms from FarmFoods without a subscription. They have all the information for every farm on their website and you can choose what cuts you want and have it shipped free to your door.
Baking Chicken Wings
Baking leads to a tender and crispy wing, with a lot less fat than deep frying, and it's an easy way to make them without much mess.
Once the wings are coated, put them on a baking sheet to go in the oven for 30 minutes at 400 degrees F. After 15 minutes, turn the chicken wings over and continue to bake.
They'll become nice and crispy and browned. If they're not quite to that stage after 30 minutes total, leave them in a bit longer. In my opinion, these are so much better when the skin of the chicken has crisped up nicely.
Air Frying Chicken Wings
Another great way to cook chicken wings is in the air fryer. If you have one, you're going to love how quick these are to make. Just pop them in the air fryer for 20 minutes on 400 degrees. Give the basket a shake halfway through cooking. They're perfectly juicy and crispy.
Grilling Chicken Wings
If you have an outdoor grill, fire it up to 400 degrees F. When hot, add the chicken wings and grill for about 10-15 minutes per side. Chicken wings should reach the internal temperature of 165 degree F to be safe, so be sure to check the temp on an instant read thermometer before removing them from the grill.
Questions About Jerk Chicken Wings
What is Jerk Seasoning Made Of?
There are a lot of different spices that go into jerk seasoning. While it has a list of typical spices, everyone makes theirs slightly differently, so you'll likely find a variation of this spice when looking at recipes.
The typical Jamaican jerk seasoning is made with ground thyme, brown sugar, soy sauce, white vinegar, ground all spice, salt, black pepper, garlic powder, chili powder, dried ginger, and Scotch Bonnet peppers
Is Jerk Seasoning spicy?
It can be. That's because of the presence of the Scotch Bonnet peppers, which are always added to Jamaican jerk seasoning. However, you can make it less spicy by adding less peppers. You can also buy jerk seasoning in mild or hot.
What to Serve With Chicken Wings
For sides, serve these wings with a Bacon & Jalapeno Corn Salad, Chipotle Coleslaw or our favorite Classic Wedge Salad.
Since wings are total comfort food for me, I go right to Mac & Cheese as a side. They also go well with Baked Beans.
Like this recipe? We'd love for you to share it on your Pinterest board! Click to follow our Pinterest boards so you can find all our recipes!
Instagram it! If you try this recipe please tag #AFoodLoversKitchen on Instagram or Twitter. We love to see your photos of our recipes! Also follow us on Instagram, Twitter and Facebook to keep up on what we're cooking up.
Jerk Chicken Wings
These easy Jerk chicken wings have a spicy, flavorful jerk seasoning and they turn out perfectly crispy and juicy in just 30 minutes in the oven.
Print
Pin
Rate
Ingredients
1 1/2

pounds

chicken wings

3

tablespoons

olive oil

2

tablespoons

jerk seasoning https://amzn.to/3yx0KTa
To make your own jerk seasoning:
3

tablespoons

olive oil

1/2

tablespoon

ground thyme

1/2

tablespoon

packed dark brown sugar

1

teaspoon

ground allspice

1

teaspoon

garlic powder

1

teaspoon

onion powder

1/2

teaspoon

chili powder

1/2

teaspoon

dried ginger

1/2

teaspoon

salt

1/2

teaspoon

black pepper

1/4

teaspoon

cinnamon

1

tablespoon

soy sauce

1/4

tablespoon

white vinegar
Instructions
Pre-heat the oven to 400 degrees F (200 degrees C).

Rinse and pat dry the chicken wings. Put them in a large mixing bowl.

Add the jerk seasoning and olive oil to a small bowl and stir to mix well.

Pour the jerk seasoning into the mixing bowl and toss the wings to coat. Cover and refrigerate for at least 2 hours.

Place the chicken wings on a

baking sheet

lined with parchment paper, or tin foil that is lightly greased. Bake for 15 minutes, then flip the wings over and continue cooking for an additional 15-20 minutes, until the wings are crispy and browned.
Notes
Marinating the wings is not strictly necessary, but they will develop more flavor if you marinate for at least 2 hours. This is the process of jerk chicken.
Jerk seasoning can be bought in mild or hot. Choose which version suits you.
Nutrition
Calories:
401
kcal
|
Carbohydrates:
2
g
|
Protein:
17
g
|
Fat:
36
g
|
Saturated Fat:
7
g
|
Polyunsaturated Fat:
6
g
|
Monounsaturated Fat:
21
g
|
Trans Fat:
1
g
|
Cholesterol:
71
mg
|
Sodium:
133
mg
|
Potassium:
221
mg
|
Fiber:
1
g
|
Sugar:
1
g
|
Vitamin A:
1321
IU
|
Vitamin C:
1
mg
|
Calcium:
24
mg
|
Iron:
2
mg
🥧 If you're interested in more great recipes, I share all my favorite Instant Pot recipes over at A Pressure Cooker Kitchen, air fryer recipes at Air Fry Anytime, and cocktails and drinks at Savored Sips. Check it out today!
Like it? Pin it!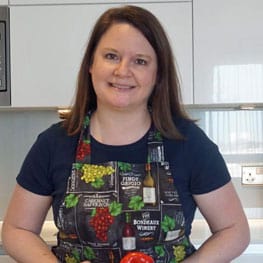 Laura is a home cook who loves making new recipes and finding new favorite things to eat, whether at home or abroad. She also runs a popular travel blog and spends a lot of her time traveling for food.