This taco lasagna recipe combines layers of tortillas with refried beans, ground beef and all the usual taco toppings, like cheese, cilantro, and salsa.
» You might also like these crunchy taco appetizers.
I love tacos and could probably eat them every day without losing interest, but once in a while it's fun to re-imagine it and combine the ingredients I love so much in a different way. Taco lasagna and taco casserole are two of my personal favorite taco fusion recipes.
It has all the ingredients you would stuff into a taco, but in the form of a lasagna, with layers of taco goodness. We love it at my house. The best part is you can use whatever ingredients you like most on a taco. Don't like cilantro? Skip it. Want more corn. Add it!
Whether you call this lasagna or casserole, it's one of the recipes you'll make again and again. It's so tasty, and makes a great dinner. You can even save some for other meals – it's great for lunch the next day.
Ingredients You Need
Corn tortillas – My favorite corn tortillas that you can usually find at the grocery is Guerreros.
Ground beef – Use a lean ground beef so you don't have to drain off excess grease
Taco seasoning – Use store-bought or go with this delicious homemade taco seasoning
Refried beans – Use canned beans or make your own homemade refried beans
Salsa – I like Trader Joe's Salsa Especial, but any brand you like will do.
Tomatoes – This is a great way to use those tomatoes from your garden, if you're so lucky.
Canned or fresh corn – Use whichever you like.
Shredded Mexican blend cheese – Monterrey Jack cheese or Mozzarella can be substituted
Optional toppings – Fresh chopped tomatoes avocado, cilantro, jalapeno, sour cream
Tortillas or Pasta Sheets?
This is taco lasagna with tortillas, not pasta sheets. I use corn tortillas in the place of lasagna noodles because I think it makes a really great combination, but you can use lasagna noodles if you like. You can also use flour tortillas instead of corn. It's up to you. I've tried to add crunchy tostada shells, but they inevitably become soggy and lose their crunch.
If you're going to use lasagna sheets, don't use the ones that don't need to be cooked first. There isn't enough water in this recipe to rehydrate the pasta as it cooks, so the sheets of lasagna turn out still slightly crunchy or, at best, crumbly.
What Kind of Cheese to Use?
This recipe calls for a Mexican cheese blend, which is fairly simple to find at the grocery store. You could also make your own shredded blend of Mexican cheeses. Other options like Monterrey Jack, cheddar, or mozzarella are fine too. As long as it's a good melting cheese, it will work well in this recipe.
How to Make Taco Lasagna
Start out by browning the ground beef and seasoning it with a taco seasoning packet or use this homemade taco seasoning recipe to make your own. You can add onions to the meat, if you want to. I don't include it in the basic recipe, because enough people don't like onions or can't eat them.
You can make your own refried beans for this dish, or used the canned version. I prefer to make them myself, because then I know exactly what's in them (plus it's a lot easier than you might think). But when I'm in a hurry, I always have a can of beans in the cabinet to make it easy. If you don't like refried beans, you can replace them with black beans.
If you're using an 8×8″ pan, the tortillas will overlap too much if you don't cut them. I use three tortillas for each layer – two full ones and one cut in half to fill in the spaces. How you do it will depend on the size of tortilla you use. Spread a layer of refried beans over the tortillas, layer on the salsa, sprinkle with seasoned ground beef, corn, tomatoes, and shredded cheese.
It takes three layers to fill up the casserole dish. Cover with foil and bake it for about 40 minutes at 350 degrees.
Once you've taken it from the oven, you can cut pieces and place them on plates. You can use any toppings you want. Keep it simple, or add fresh pico de gallo, guacamole, cilantro and sour cream. I also like to put jalapenos in my taco lasagna, for a little extra kick.
About the cheese…. I like to use Monterey Jack cheese, but you can also use a blend called taco cheese that you can find in most groceries, or just use mozzarella. The cheese is up to you.
Equipment Needed For Taco Lasagna
Just like with a typical lasagna, you will need a casserole dish. I use this 8×8" square casserole dish. This size makes a good amount for two people. This recipe is meant for an 8×8″ dish. A larger casserole dish would be needed to feed a family, if you want to double this recipe.
You will also need a spatula to spread the layers evenly in the dish and to serve the casserole in pieces after being cut. Pretty simple recipe.
How to Freeze Taco Lasagna
Freezing leftovers is a great way to extend the life of a casserole, especially when there are just two of you. It isn't always easy to make a small enough lasagna, so it's likely you'll have some left over. If you want to freeze it, it's actually quite easy.
Use an airtight container, or a freezer Ziplock bag, to avoid freezer burn. You can leave it in the freezer up to one month. After that, it will begin to degrade.
When you're ready to use it, take the container or bag out of the freezer. You can microwave the leftovers from frozen, but if you plan to reheat it in the oven, you'll want to allow it to thaw in the refrigerator for at least 12 hours. Reheat in the microwave for 5 minutes on high. Or reheat in the oven for 20 minutes on 350 degrees F.
Frequently Asked Questions
What to serve with taco lasagna?
When you're diving into a hearty dish like taco lasagna, a light and refreshing side can make all the difference. Consider serving a simple cucumber and tomato salad dressed with lime and cilantro for a zesty contrast. Alternatively, a roasted corn salsa can add a touch of sweetness and depth. And let's not forget a dollop of guacamole or a scoop of sour cream to bring in some creamy elements. Check out these great side dishes to serve with tacos.
What is Mexican lasagna made of?
Mexican lasagna is a fusion dish that combines elements from both Mexican and Italian cuisines. The core ingredients typically include layers of corn or flour tortillas instead of pasta sheets. The filling usually consists of seasoned ground meat (like beef or chicken), black or refried beans, and cheese. The whole thing is assembled in a casserole dish, baked, and often topped with additional ingredients like salsa, jalapeños, and cilantro.
What can I use instead of meat in lasagna?
For a meatless lasagna, you have quite a few options. Sautéed mushrooms can offer a meaty texture and deep flavor. Lentils, when cooked and seasoned properly, can mimic the filling nature of ground meat. If you're looking for something more off-the-beaten-path, you could go for grilled eggplant slices or even smoked tofu for a unique twist. These substitutes not only provide ample protein but also blend well with the overall flavor profile of lasagna.
Other Recipes You Might Like
There are lots of other Mexican favorites in our vault. Give one of these a try:
Like it, Love it, Want Some More of It? Subscribe to our newsletter and follow us on Pinterest, Instagram and Facebook. We really love it when you save our recipes to Pinterest 😊
Taco Lasagna
This taco lasagna recipe combines layers of tortilla with refried beans, ground beef and all the usual taco toppings.


Print
Pin
Rate
Ingredients
9

corn tortillas

1

pound

ground beef

1

package

taco seasoning

or substitute 3 tbsp homemade taco seasoning

12

ounces

can refried beans

12

ounces

jar salsa

2

medium tomatoes

chopped

6

ounces

canned or fresh corn

1 1/2

cups

shredded Monterey Jack cheese

Mexican blend cheese or Mozzarella can be substituted

Optional toppings: Fresh chopped tomoatoes

avocado, cilantro, jalapeno, sour cream
Instructions
Preheat the oven to 350 degrees F. Lightly grease an 8×8" oven-safe dish.

Brown the ground beef until cooked through. Add the taco seasoning and stir to combine.

Arrange the tortillas in the bottom of the dish. Cut them in half if necessary, so they don't overlap too much.

Spread a thin layer of refried beans over the tortillas, spread on the salsa, sprinkle with seasoned ground beef, corn, tomatoes, and shredded cheese.

Add another layer, to build 3 full layers. Don't place a final layer of tortillas on the top.

Cover with foil and bake it for about 40 minutes.

Remove from the oven. Divide into portions and top each portion with your desired toppings.
Nutrition
Calories:
724
kcal
|
Carbohydrates:
58
g
|
Protein:
40
g
|
Fat:
38
g
|
Saturated Fat:
17
g
|
Polyunsaturated Fat:
2
g
|
Monounsaturated Fat:
14
g
|
Trans Fat:
1
g
|
Cholesterol:
118
mg
|
Sodium:
2128
mg
|
Potassium:
930
mg
|
Fiber:
12
g
|
Sugar:
11
g
|
Vitamin A:
2251
IU
|
Vitamin C:
16
mg
|
Calcium:
445
mg
|
Iron:
5
mg
Pin it for later!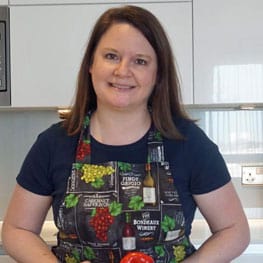 Laura is a home cook, with 25 years experience behind the stove, who spends an extraordinary amount of time in the kitchen cooking. She loves making new recipes and finding wonderful new things to eat, both at home or abroad. She spends a lot of time researching, crafting, and perfecting her recipes and currently has a cookbook in development.