You'll never buy pre-made BBQ sauce again. This Smoky Bourbon BBQ Sauce is irresistibly spicy, tangy and sweet. It's the perfect accompaniment to pulled pork, pork ribs and chicken wings.
» Want to try something a little different? We love this Alabama White BBQ Sauce and Homemade BBQ Ranch Dressing.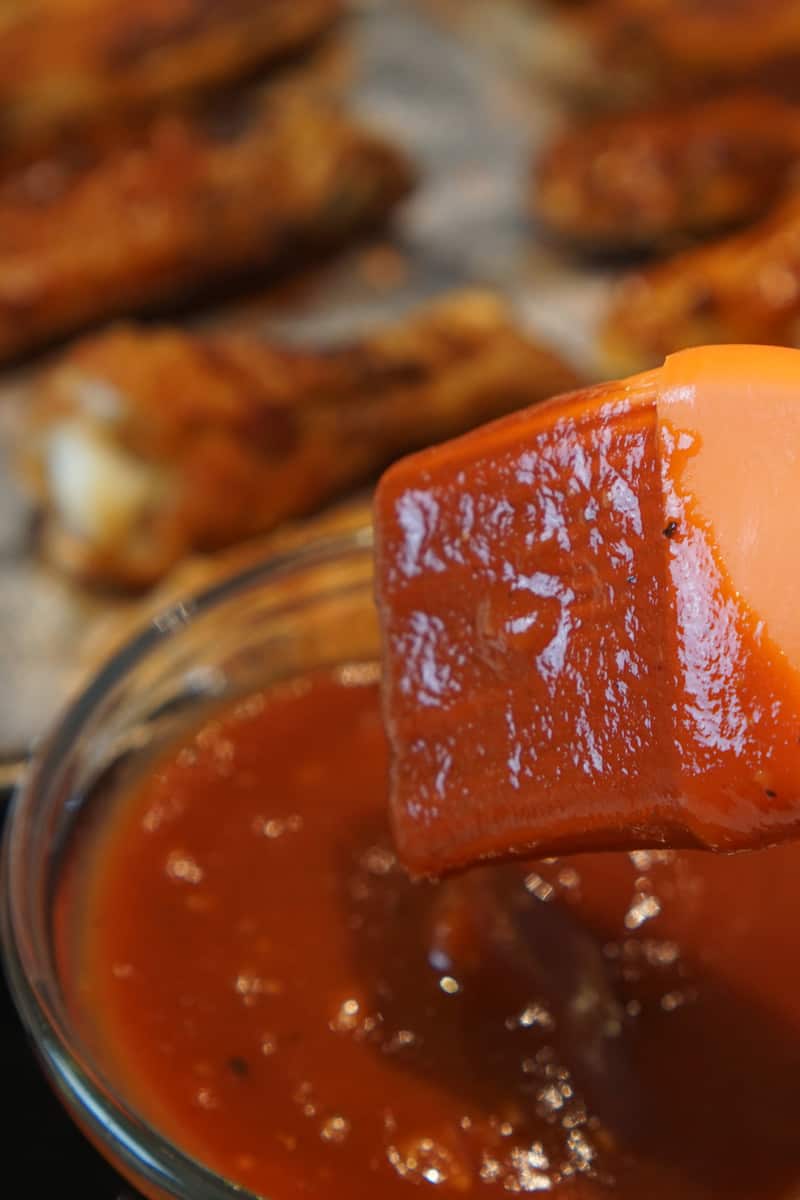 I'm a bit picky when it comes to BBQ sauce. I've tried many different sauces, looking for the perfect one, but until I made my own at home, nothing really wowed me.
This smoky bourbon BBQ sauce is so good I could almost eat it with a spoon. It's got the perfect level of sweetness, balanced with smoke and acid. The bourbon gives it a little extra oomph.
The benefits of making BBQ sauce yourself at home are that you can adjust it to suit your preferences. You can make only as much as you need, decide how spicy you want it to be, and set the level of salt and sugar to suit your tastes. Don't be afraid to adjust the measurements of this recipe to suit you.
I try to always keep the ingredients needed for this sauce on hand so I can make it any time I need barbecue sauce. It's only takes about 30 minutes to make and can be kept in the refrigerator for up to two weeks.
Why You'll Love It
This sauce has a ton of flavor and it's really well balanced, without too much acidity, too much sweetness, or too much Bourbon flavor. Somehow everything comes together just the right way.
It's easy – It doesn't take long to make this sauce and all you really need to do is chop the onions to get started. So you'll only use one pan and one cutting board.
It's delicious – This is m y absolute favorite BBQ sauce. I like that I can adjust it to my own liking as well. You can use it on so many things. It's very well balanced with flavor.
It's healthier – I don't love to buy sauces from the store because they come with a lot of preservatives so it doesn't go bad so fast, and usually way too much sugar. You can adjust the amount of sugar in this sauce and it has only the ingredients you put in it.
It's versatile – Whether you use it as a sauce for Baby Back Rib or Chicken wings, as a sauce for a Southwestern Burger or Salad, or on any of your BBQ favorites, it will be the star of the show.
Ingredients You Need
There are quite a few ingredients in this barbecue sauce, but it comes together quickly. You can leave out the onion and/or garlic if you want. The Bourbon doesn't have to be your most expensive bottle. I use low-sugar ketchup so it's not too sweet.
Onion
Garlic
Bourbon whiskey – I use Jim Beam or Bulleit. You can use whatever Bourbon you have on hand. It doesn't need to be a high-end one.
Ketchup – I like to use no-sugar-added ketchup to keep the sweetness level down.
Tomato puree
Apple cider vinegar – the apple cider vinegar gives the sauce a nice tangy flavor that helps to balance the sweetness.
Liquid smoke – I use the hickory one because I like the flavor. It doesn't need a lot!
Worcestershire sauce
Brown sugar
Hot sauce – This is optional, to add some heat. You could also add red pepper flakes for heat.
Salt & ground black pepper
How to Make Smoky Bourbon BBQ Sauce
The first step to this Bourbon BBQ sauce recipe is to chop the onions and throw them in a saucepan with the garlic and bourbon to cook down. Keep it on a low heat so the liquid is just simmering, not bubbling or boiling.
You can use any Bourbon you want. I tend to buy whatever cheap bottle of bourbon I can find. It doesn't have to be an expensive brand. I really like Bulleit Bourbon and we always have that around, so it gets used often.
I like to use hickory liquid smoke in this bbq sauce recipe, but I do experiment with other types. The last time I made this sauce, I used pecan liquid smoke. You might start out with hickory, then try out a few others if you want.
You might be wondering why the onions in the recipe are cut into wedges instead of chopped. If you want a smooth sauce at the end, leaving the onions in chunks allows you to remove them easily. If you use chopped onions, you'll have to strain them out or puree the sauce, unless you chop them very finely so they mix in.
After about 10 minutes, once the bourbon has dissipated by half, you can add the additional ingredients to the pan. Stir it well and leave it to simmer for about 20 minutes.
Remove the sauce from the heat and allow it to cool. You can strain it to remove the onions, or just pick them out. Then the sauce is ready to use.
How to Use Your BBQ Sauce
As you can imagine, this Bourbon BBQ sauce can be used on just about anything you want. I love it on:
Try it out. I know you're going to love it!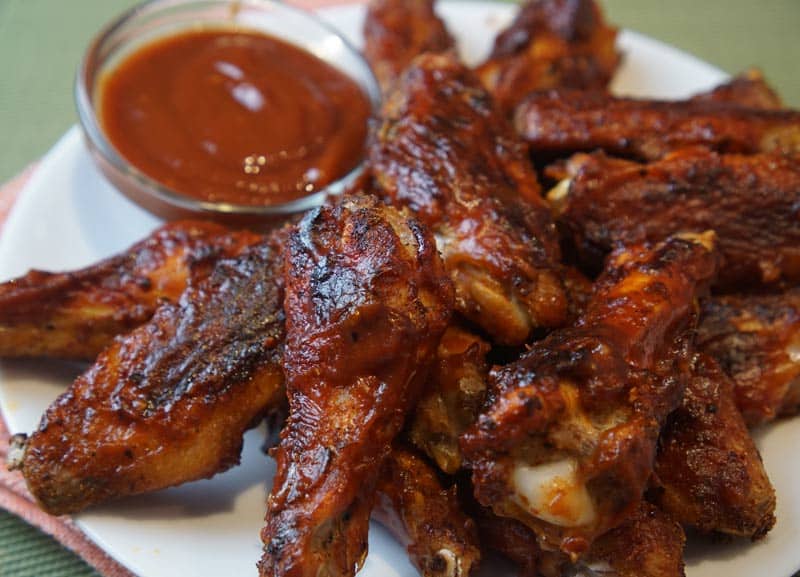 Do I Have to Use Liquid Smoke?
A lot of people don't like liquid smoke. That's understandable. I do like to add it to this sauce because it gives it a smokiness that you can't get without it. However, if you don't like it, you can leave it out. The only affect it will have is to make it less smoky flavored.
How Long Will it Keep?
This homemade Bourbon BBQ sauce will keep for about 7 days in the refrigerator if stored properly. You can make a lot of it and put it in an air tight container to use as often as you like.
You can also freeze the sauce in a container. When ready to use it, just take it out of the freezer and thaw it on the counter or in the refrigerator before use.
Other recipes to try
Like it, Love it, Want Some More of It? Subscribe to our newsletter and follow us on Pinterest, Instagram and Facebook. We really love it when you save our recipes to Pinterest 😊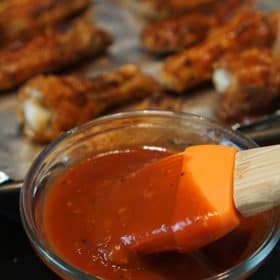 Smoky Bourbon BBQ Sauce
You'll never buy premade BBQ sauce again. This smoky bourbon BBQ sauce is irresistibly spicy, tangy and sweet. It's the perfect accompaniment to pulled pork, pork ribs and chicken wings.
Print
Pin
Rate
Ingredients
1/4

onion

cut into wedges

1

cloves

garlic

minced

1/2

cup

(

118

ml

)

bourbon whisky

1

cup

(

237

ml

)

ketchup

2

tablespoons

(

30

ml

)

tomato puree

3

tablespoons

(

44

ml

)

cider vinegar

2

tablespoons

(

30

ml

)

liquid smoke flavouring

3

tablespoons

(

44

ml

)

Worcestershire sauce

1/8

cup

(

28

g

)

brown sugar

1

teaspoon

(

5

ml

)

hot sauce

1/4

teaspoon

(

0.5

g

)

ground black pepper

1/4

tablespoon

(

5

g

) salt
Instructions
Add the onion, garlic and bourbon to a small saucepan. Simmer on low for 10 minutes until the bourbon reduces by half.

Add all additional ingredients and stir well.

Bring to the boil, then reduce to medium-low and simmer for 20 minutes.

Take the pan off the heat and allow to cool.

Strain the sauce into a bowl.

Use immediately or store in the refrigerator for up to two weeks.
Nutrition
Serving:
8
Servings
|
Calories:
91
kcal
|
Carbohydrates:
13
g
|
Protein:
1
g
|
Fat:
1
g
|
Saturated Fat:
1
g
|
Sodium:
577
mg
|
Potassium:
173
mg
|
Fiber:
1
g
|
Sugar:
11
g
|
Vitamin A:
174
IU
|
Vitamin C:
3
mg
|
Calcium:
14
mg
|
Iron:
1
mg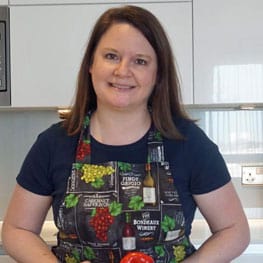 Laura is a home cook, with 25 years experience behind the stove, who spends an extraordinary amount of time in the kitchen cooking. She loves making new recipes and finding wonderful new things to eat, both at home or abroad. She spends a lot of time researching, crafting, and perfecting her recipes and currently has a cookbook in development.