This Smoked Tri Tip steak is coated with a delicious homemade rub that builds a flavorful crust as it smokes to a perfectly tender juicy meat in just 2 hours.
» This Pistachio Dukkah is wonderful on all kinds of meat.
You might also like this Easy Smoked Prime Rib or Smoked Brisket Buns.
If you love Tri tip steak and you have a smoker, you'll really love this recipe for Smoked Tri Tip. It's one of my favorite cuts of beef and smoked is a really great way to enjoy it.
Tri Tip is cut from the bottom sirloin and can be found in many grocery stores on the West coast of the United States, and often at Costco. It was made popular in Santa Maria, California, in the 1950s when the Santa Maria rub was also created.
The cut of meat alone is very tender and is best when cooked at low heat and served at medium rare. That's why a smoker does some a great job with this cut. It's a very low, slow way of cooking that imparts a lot of flavor.
If you don't have a smoker, you can also cook tri tip steak on the grill or in the oven. My preferred method is smoking or grilling. The smoked flavor along with the rub are unbeatable.
Ingredients You'll Need
Tri Tip – You can find a tri tip roast at the grocery if you live on the west coast, otherwise you'll probably need to ask for it from your butcher. I usually cook a 3-pound roast, which is the most typical size. At Costco, you can usually find tri tip as strip steaks, around 6-8 ounces each. You can still cook them on the smoker, but they will take a lot less time.
Seasoning rub (either store-bought or homemade) – My homemade rub includes brown sugar, paprika, salt, pepper, chili powder, onion powder, and garlic powder. It's easy to mix up and can last for a few months, so you can use it for lots of other things.
Yep, that's all you need! It's a super simple, but very delicious way to season tri tip that you'll roast in the oven.
What Size Tri Tip to Buy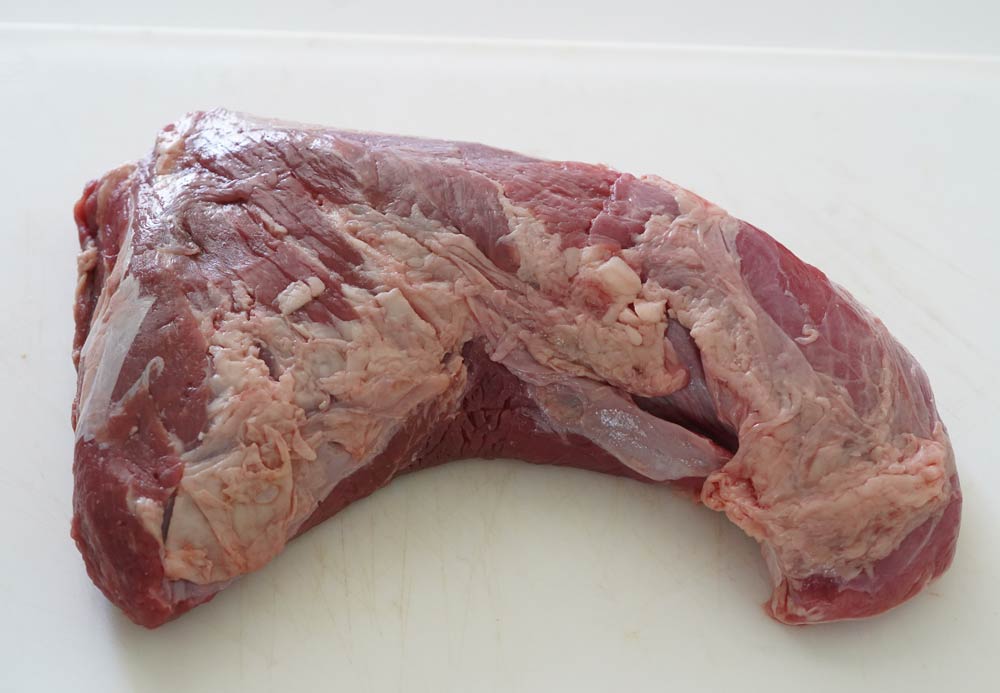 Tri-tip roasts range from 1 1/2 pounds to 4 pounds.
A 1 1/2 pound roast will serve around 3 people, depending on appetite.
A 3-pound roast will serve about 6 people.
A 4-pound roast will serve about 8 people.
I try to buy a 2 1/2 to 3-pound roast so there's some left overs for the two of us. It's great the first day as a main dish with a side dish like smoked cauliflower or smoked vegetables. The next day you can use it for steak sandwiches or steak quesadillas.
How Long to Cook a Tri Tip on the Smoker
The cooking time will vary based on the size of the roast. The best way to make sure the meat is cooked to your preference is to use a digital thermometer to test the meat, like this amazing Thermoworks one.
If you have a digital thermometer that can be left in the meat while it cooks, that's the best way to ensure it doesn't over cook. Most smokers come with an internal thermometer.
For medium-rare you want 135°F.
For medium it's 145°F.
I don't recommend going over 145°F for this cut, but if you like well done meat, it's 155°F.
Be sure to take into account the 5-10 degrees from carryover cooking (the amount the temp rises during resting).
» Reading in one second or less
» Accuracy of ± 0.5°
» 5-year warranty
» Auto-rotate display; motion-sensing
» Insanely long battery life (2000 hrs)
How to Make Smoked Tri Tip
Step One: Preparing the Tri-Tip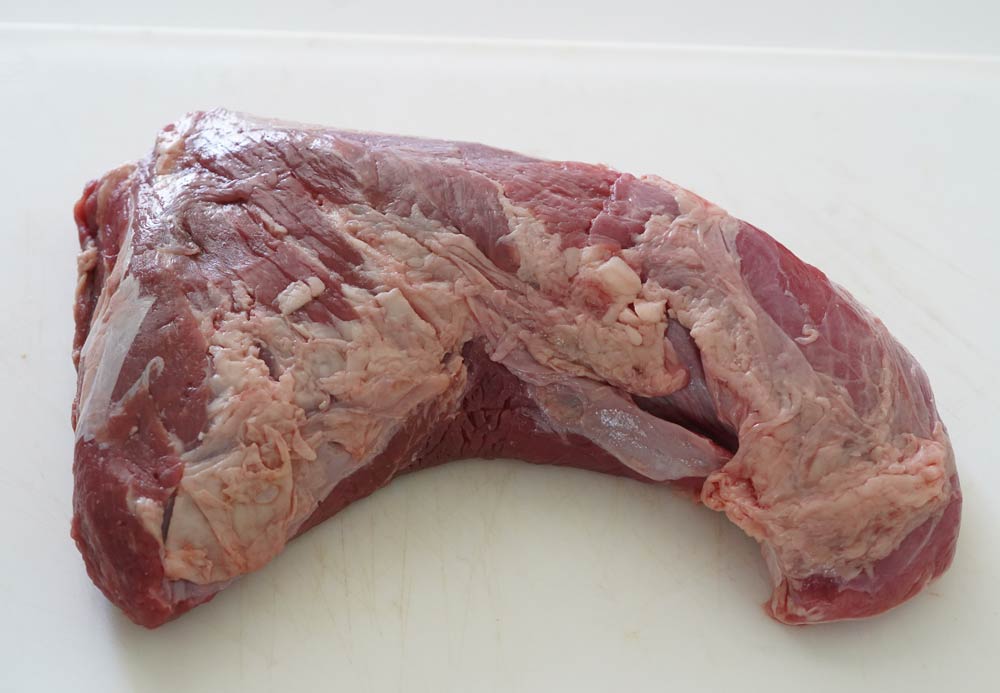 You might notice when purchasing Tri Tip that it can be prepared in a few different ways by the butcher. It will come either trimmed or untrimmed.
Untrimmed means it has a thick fat cap on one side that you can choose to leave on or remove.
Trimmed often has no fat at all.
If you are buying from your butcher, ask for one with fat on one side that has been trimmed down to 1/4 inch. The fat will keep it from drying out on the smoker.
If there's fat on both sides of the roast you've purchased, that's okay. You can trim it off yourself to how you want it. You'll also noticed that there is a silver membrane along one side of the meat that should be removed. It's a bit tough when cooked and makes the meat less tender.
To remove it, just grab one end and pull. It might come off easily. If not, you can use a paring knife to help peel it off. If you end up having to leave it on because it's being stubborn, that's okay too.
Step Two: Dry Rub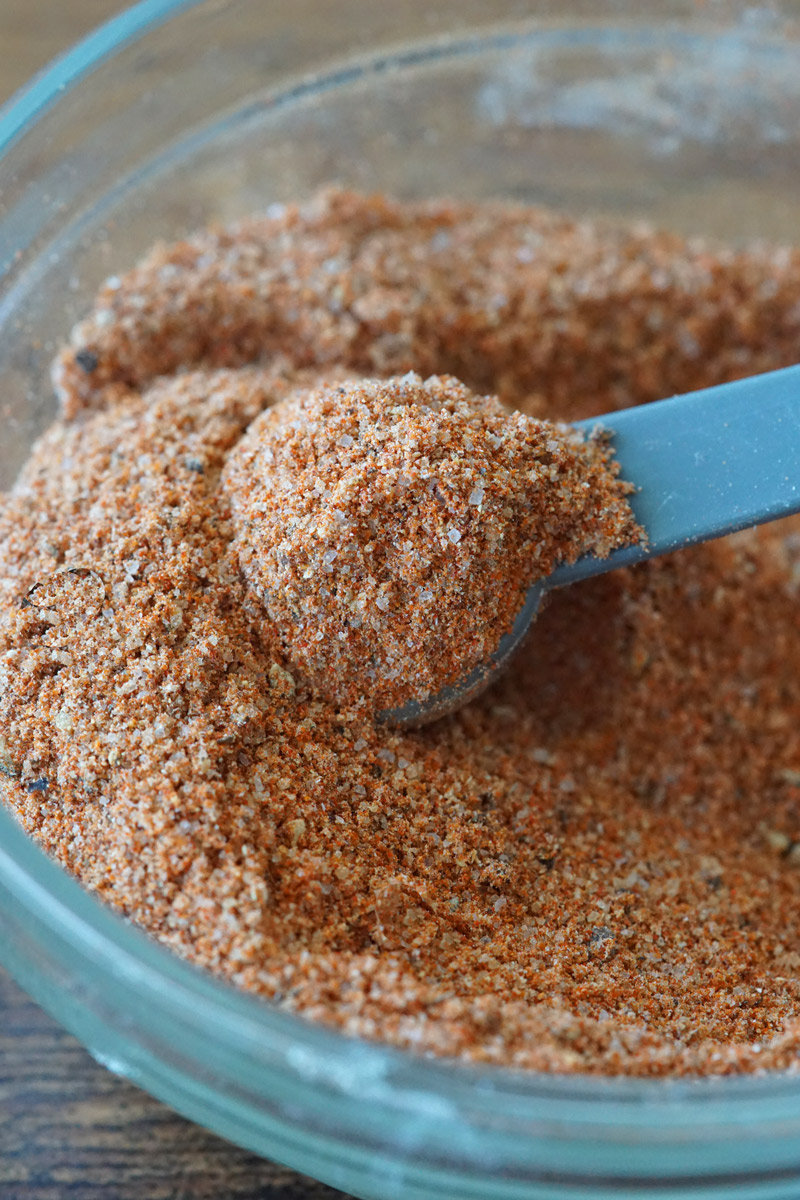 You can choose what type of rub you put on the tri tip. There are so many great store-bought seasonings and rubs you can use for beef. If you have a favorite one, stick with that. I personally prefer my homemade dry rub.
Homemade Dry Rub
This recipe makes a bit more than you'll use on one tri tip, but you can save it to use on something else if you have some leftover. How much you use will depend on the size of your roast and how flavorful you want it to be. I like a lot of flavor.
1 tablespoon brown sugar
1 tablespoon paprika
3 teaspoons salt
2 teaspoons black pepper
1 teaspoon chili powder
1 teaspoon onion powder
1 teaspoon garlic powder
Mix together these spices and rub it all over the tri tip to form a thick crust. Rest the meat in the refrigerator for at least 2 hours to over night to allow the rub flavors to sink into the meat.
Santa Maria Rub
The most "authentic" way to make tri tip is with a Santa Maria rub. It's just three ingredients: salt, pepper and garlic powder. Hard to believe that the original rub that has become so famous includes just 3 ingredients, but it's true.
1 Tbsp Kosher salt
1 Tbsp finely ground black pepper
1 Tbsp garlic powder or 2 tsp garlic salt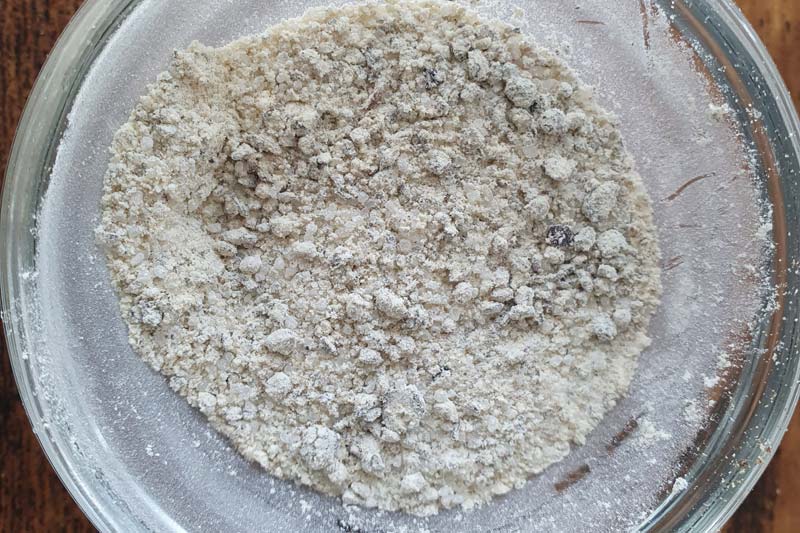 Step Three: Smoke the Tri Tip
You want to smoke your tri tip at a low temperature for the best results. It benefits from a slower cook.
I have a Z Grills Smoker (similar to a Traeger Grill), which has a Smoke setting. I preheat my grill using this setting, which fluctuates from 160°F to 225°F.
I let it preheat for 15 minutes, then smoke the tri tip on this Smoke setting for 50 minutes. Then I turn up the heat to 225°F for 1 hour and 15 minutes. During this time, I baste it with additional rub mixed with olive oil two times.
When the tri tip reaches your desired internal temperature, take it off the smoker and tent it under foil for 15 minutes so the carry-over cooking brings it up to 135°F.
If you don't have a smoke setting, pre-heat the grill and set it to 225°F. Smoking the tri tip at 225°F the entire time will likely take a bit less time, around 1 hour and 30 minutes. Always check the internal temperature with a digital thermometer to be sure.
You don't want the heat of the grill to go over 250°. This will keep the heat low enough to slow cook the tri tip and impart a lot of smoke flavor.
Once you've tented the meat for 15 minutes, it's ready to slice and serve. Be sure to slice the meat against the grain for the most tender slices.
What Smoker to Use
The 7002C2E is a new model featuring a digital PID control board and advanced technology for even temperatures and consistent results. With the built-in dual temperature probes, a huge pellet hopper, pellet cleanout system, and pellet view window, your grilling experience will be enhanced like never before. See this grill and more on the Z Grills site.
Traeger created the original wood-pellet grill as the ultimate way to achieve wood-fired taste. The Pro Series 22 is the one most people choose because it's compact, yet has plenty of space for cooking.
You can use any type of wood pellets you like. I prefer Hickory, which is great for naturally enhancing beef, chicken, pork, and veggies with full-bodied, bold flavor.
What to Serve Tri Tip With
😋 Looking for a quick dinner solution? 🥗😋
Want to get fresh, pre-portioned ingredients for delicious recipes delivered to your door? Add a few HelloFresh recipes to complete your weekly menu. Choose from 50 weekly menu curated by chefs! Sign up now to get 65% OFF your first box + your 1st box ships free.
Related Posts:
Like this recipe? We'd love for you to share it on your Pinterest board! Click to follow our Pinterest boards so you can find all our recipes!
Instagram it! If you try this recipe please tag #AFoodLoversKitchen on Instagram or Twitter. We love to see your photos of our recipes! Also follow us on Instagram, Twitter and Facebook to keep up on what we're cooking up.
Smoked Tri Tip
This delicious smoked Tri Tip is coated in a flavorful dry rub and slow smoked to perfection.
Print
Pin
Rate
Ingredients
For the dry spice rub
1

tablespoon

paprika

1/2

tablespoon

brown sugar

2

teaspoons

salt

1

teaspoon

ground black pepper

1

teaspoon

garlic powder

1

teaspoon

chili powder

1

teaspoon

onion powder

2

tablespoons

olive oil
Instructions
Trim fat on tri tip to 1/4″ and remove membrane, if necessary.

Mix the seasonings in a bowl. Season the tri tip with the dry rub, reserving 1 tablespoon for later. Wrap with plastic wrap and refrigerate for at least 2 hours, or overnight if possible.

Preheat the smoker to 225°F, set the tri tip directly on the grill and close the lid.

Mix the remaining dry rub with 2 tablespoons of olive oil.

Smoke the tri tip for about 1 hour 30 minutes to 2 hours, basting twice during cooking with the olive oil/rub mixture.

The roast is done when the internal temperature reaches 125°F for medium rare or 135°F for medium.

Take the meat off the grill and let it rest for 15 minutes wrapped with tin foil. This allows the meat to come up to the proper temperature.

To serve, slice the roast against the grain in thin slices.
Nutrition
Calories:
409
kcal
|
Carbohydrates:
3
g
|
Protein:
47
g
|
Fat:
22
g
|
Saturated Fat:
7
g
|
Polyunsaturated Fat:
1
g
|
Monounsaturated Fat:
12
g
|
Cholesterol:
147
mg
|
Sodium:
903
mg
|
Potassium:
776
mg
|
Fiber:
1
g
|
Sugar:
1
g
|
Vitamin A:
675
IU
|
Vitamin C:
0.1
mg
|
Calcium:
63
mg
|
Iron:
4
mg
🥧 If you're interested in more great recipes, I share all my favorite Instant Pot recipes over at A Pressure Cooker Kitchen, air fryer recipes at Air Fry Anytime, and cocktails and drinks at Savored Sips. Check it out today!
Pin it for later!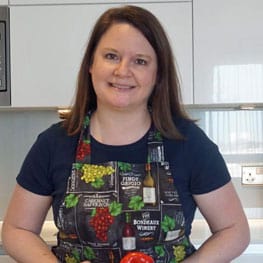 Laura is a home cook who loves making new recipes and finding new favorite things to eat, whether at home or abroad. She also runs a popular travel blog and spends a lot of her time traveling for food.