This brine for chicken wings is the secret to making super tender and tasty wings at home. Brining chicken wings before cooking them adds extra flavor and plumpness to your wings.
» You might also like this Sriracha Bacon Jerky or Perfectly-Balanced Homemade Dry Rub.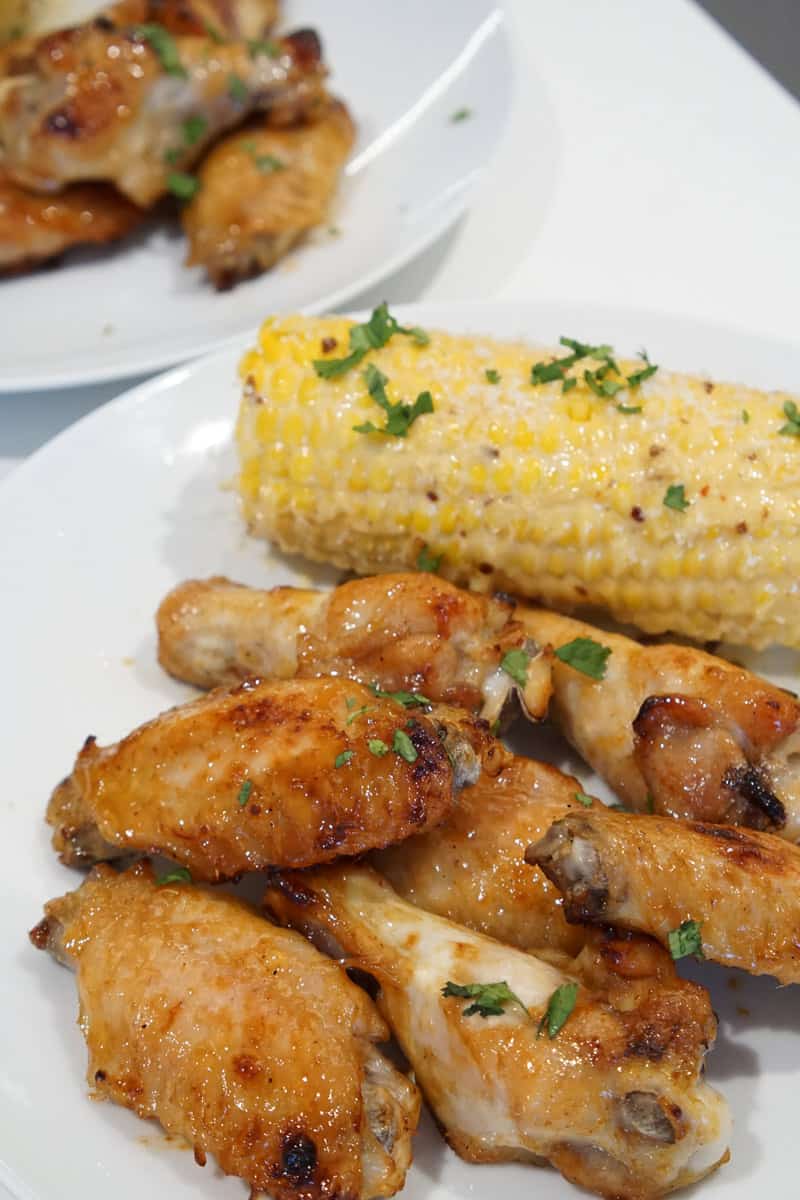 I love to grill chicken wings, but they often turn out a little dry when you cook them over an open flame if you don't brine them first. This leads to the need to slather them with copious amounts of BBQ sauce. While I love homemade BBQ sauce, I don't love dry wings.
There no reason for dry chicken wings when you brine them first. It doesn't take a lot of extra time. You can brine the chicken wings ahead of time and have them ready to go for your barbecue.
The brine packs in an extra layer of flavor that makes grilled chicken wings super tasty. It adds seasoning to the meat and plumps it up with juiciness.
>> Looking for a great side to serve with these wings? Try this delicious Mexican Street Corn, a Classic Wedge Salad, or this Fennel & Courgette Salad with Toasted Pine Nuts.
Why Brine Chicken Wings?
It might seem like brining chicken wings before cooking them is an extraneous step that just takes more time. But there is a good reason to take the extra time to brine chicken.
Brine is made up of sugar, salt and water. The sugar and salt breakdown the protein in the chicken meat that allows it to take on moisture and flavor from the brine. This keeps the meat from seizing up and expelling moisture while cooking, so they turn out juicy and flavorful as opposed to dry and bland.
This extra step isn't necessary when using an Instant Pot or baking chicken wings, where they don't have the propensity to dry out. But when you're cooking over an open flame on a barbecue or in a smoker, they really are so much better when brined.
How to Brine Chicken Wings
1. Prepare the Brine
The first step is to prepare the brine. You can mix up the brine in a ziplock bag to make things simple. This is my preferred method. You can also mix up the brine in a lidded container or in a large bowl that can be covered with plastic wrap. What you'll need:
Water
Sugar
Soy Sauce
Optional seasonings: black pepper, oregano, garlic, thyme, rosemary
Mix up the brine, making sure the sugar and salt are fully dissolved before adding the chicken.
2. Soak the Chicken in Brine
Put the chicken into the brine so that it is fully covered by the liquid. I use a ziplock bag that is large enough for my chicken and the brine (usually a 1qt bag is big enough), then I place the bag into a bowl so it doesn't accidentally break open in the refrigerator.
If you use a bowl, be sure to cover it with plastic wrap. Place the brining chicken in the refrigerator and let it sit for 2 hours. This is a salty brine, so it's best not to leave it for more than 6 hours total. Chicken wings don't need a long brine, like a whole chicken or turkey would. If you want to leave it overnight, I would suggest halving the salt.
3. Prepare the Chicken for Cooking
Once the time is up, remove the chicken wings from the brine and discard the rest of the brine. Rinse the wings and pat them dry with a paper towel. This helps them get crispy on the outside.
4. Cooking the Chicken Wings
There are many ways you can cook your chicken wings. Feel free to use the method you prefer most. They can be cooked on an outdoor grill, deep fried, baked in the oven or cooked in the air fryer.
My preferred method is either grilling or baking, to cut down on the oil. If you have an air fryer, it's a really great way to get crispy wings without the oil and without the hassle of baking in the oven.
How Much Salt to Use in a Brine
The optimal ratio of salt to water is 1 tablespoon of salt to 1 cup of water. I use 2 cups of water and 2 tbsp of salt per pound of chicken and brine for 2 hours.
If you want to brine more chicken wings than 1 pound, you can increase the amount of brine accordingly. For 2 pounds of chicken, use 4 cups of water and 4 tbsp or 1/4 cup of salt.
What if the Wings Are Too Salty
This can happen if you brine the chicken for too long. I suggest only brining for a few hours. Any more soaking can cause the chicken to be soggy or mushy, and it can lead to chicken that's too salty.
If you've soaked the chicken for too long and/or used too much salt in the water, you can draw some of the salt out before cooking by soaking the chicken wings in plain cold water for an hour.
If you need to brine the wings for longer, up to 20 hours ahead, I would suggest using half the salt in the brine. It's just not ideal to brine wings for that long.
To Sauce or Not to Sauce
I like sauce on my chicken wings. However, the whole purpose of the brine is to give the chicken wings extra flavor, so I want to stress that you don't need to add any sauce to these chicken wings. They hold up on their own.
However, if you're a sauce lover like me, you might want to slather your wings in this bourbon bbq sauce, a simple sweet and sour sauce (like pictured below), or season them. Check out these air fryer lemon pepper wings for inspiration.
» If you love chicken wings, you could also try our BBQ Baked Chicken Wings, Easy Jerk Chicken Wings or these delicious Sweet & Spicy Korean Chicken Wings.
What to Serve With Chicken Wings
Looking for a side to serve with these chicken wings? Here are a few options:
Like this recipe? We'd love for you to share it on your Pinterest board! Click to follow our Pinterest boards so you can find all our recipes!
Instagram it! If you try this recipe please tag #AFoodLoversKitchen on Instagram or Twitter. We love to see your photos of our recipes! Also follow us on Instagram, Twitter and Facebook to keep up on what we're cooking up.
Brine for Chicken Wings
This easy brine for chicken wings produces tender and flavorful chicken wings.
Print
Pin
Rate
Ingredients
2

cups

water

2

tablespoons

salt

2

tablespoons

sugar

1

tablespoon

soy sauce

1

pound

chicken wings
Instructions
Mix together the first four ingredients until the salt and sugar are dissolved. Add the chicken, making sure the brine fully covers the chicken. Cover and store in the refrigerator for at least 2 hours or up to 24 hours.

Remove the chicken from the brine. Discard the brine. Rinse the chicken wings under cold water. Pat dry with a paper towel.

Cook following your preferred method.
Notes
You can add optional seasonings to the brine for additional flavor. Try 1 tsp of black pepper, oregano, garlic, thyme, or rosemary. You can also replace the plain salt with a seasoned salt.
You can brine the wings as little as two hours, which is optimal, but you can brine for longer, if necessary, up to 8 hours. Mix up the brine in the morning before work and it will be done by the time you get home to cook dinner.
For more robust flavor, you can replace the salt with more soy sauce. Use 1/4 cup of full-sodium soy sauce instead of salt.
Nutrition
Calories:
272
kcal
|
Protein:
22
g
|
Fat:
20
g
|
Saturated Fat:
5
g
|
Trans Fat:
1
g
|
Cholesterol:
94
mg
|
Sodium:
89
mg
|
Potassium:
191
mg
|
Vitamin A:
180
IU
|
Vitamin C:
1
mg
|
Calcium:
15
mg
|
Iron:
1
mg
🥧 If you're interested in more great recipes, I share all my favorite Instant Pot recipes over at A Pressure Cooker Kitchen, air fryer recipes at Air Fry Anytime, and cocktails and drinks at Savored Sips. Check it out today!
Pin it for later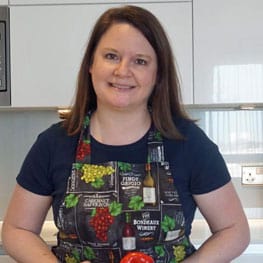 Laura is a home cook who loves making new recipes and finding new favorite things to eat, whether at home or abroad. She also runs a popular travel blog and spends a lot of her time traveling for food.