Did you know you can cook a whole chicken in the Air Fryer? Not only is it one of the easiest ways to make a chicken, it comes out with crispy skin and the juiciest chicken.
»You might also want to check out our Instant Pot Whole Chicken recipe.
Every time I make a whole chicken in the air fryer, I am astounded by how perfect it turns out. It's so easy to do that it makes me wonder why I'd cook it any other way. If you haven't done it, I definitely recommend giving it a try.
Cooking a whole chicken used to be this hour-long affair that involved roasting in the oven for at least an hour, along with a messy clean up. But I powered through because it's a delicious meal, it also ensures we have left over chicken for sandwiches and salads throughout the week.
Now, I'm thrilled to make a whole chicken, because the air fryer makes it so incredibly easy.
You will likely be very surprised by how little time it takes to make a whole chicken in the air fryer. Thanks to the circulating air and the small chamber in which it cooks, the chicken can be cooked in just 50 minutes with minimal clean up.
Not all air fryers will cook at the same rate, so it's very important to check the internal temperature of your chicken at regular intervals to ensure it gets cooked to the proper temperature. I use this handy instant read thermometer by Thermapen.
» Looking for more? Try air fryer bang bang shrimp and pork belly bites. See all our air fryer recipes.
How to Cook a Whole Chicken in the Air Fryer
There are two steps to making a whole chicken in the air fryer. It's actually very, very simple. It consists of seasoning the chicken and putting it into the air fryer. Seriously. Does it get any easier than that?
I also love how everyone raves about the chicken like I spent hours making it. Maximum kudos with minimal time! That's what we're going for here.
STEP ONE: PREP THE CHICKEN
Do note that you'll need to make sure whatever chicken you buy can fit into your basket. I have a 4.6 quart air fryer and it fits a 3 lb chicken, but would not be big enough for a 5 lb chicken.
Remove the chicken from the refrigerator around 30 minutes before you want to start cooking it, so it can come up to in temperature. It's okay if you skip this extra time, but it might mean cooking it for a minute or two longer.
Mix up your wet rub and brush it all over the chicken's exterior, making sure to get into the crevices.
STEP TWO: COOK IT!
I always find that it's best to let the air fryer pre-heat for a few minutes. It helps keep the food from sticking to the basket, and just like the oven, it helps keep the cooking time consistent.
So set your air fryer for a few minutes longer than you intend to cook it for. In this case, we'll set it for 60 minutes.
After a 5-minute warm up, place the seasoned chicken breast-side down in the basket and start the clock. There's no need to oil the basket, since the chicken is coated with butter.
After 30 minutes, turn the chicken over so it's breast-side up.
This can be a bit challenging, because you need to be careful not to upset the beautiful crisping skin. If you use tongs to grasp it around the center, the skin will likely break. Instead, I use 2 forks on either end to spear it and lift it out, then you can rotate it and put it back in.
FINISHED!
When you near the end of the cooking time, start checking the internal temperature of the chicken. The thighs will cook faster and will reach the correct internal temp faster, so be sure to check the breast, without touching the bone.
It should reach the internal temperature of 165 degrees F. Continue cooking and checking every 5 minutes until that temperature is reached.
When it's done, remove it from the basket to rest for 5-10 minutes before cutting into it. This will make sure all the juiciness doesn't run out the second you cut in.
Will the Chicken Have Crispy Skin?
When you take the chicken out of the air fryer, you won't believe how crispy the skin is.
The air circulation helps get it super crispy and crunchy. It's so delicious, especially with the rub on it. You won't be able to resist. The best part is that every part of the chicken gets crisped equally. No soggy spots like when you cook it in the oven.
A whole chicken is such a great meal to make because it keeps on giving. You can easily make multiple meals from the one chicken. Then you can use the left overs for other things, like chicken salad, these delicious chicken flautas or these chicken southwestern eggrolls.
Like this recipe? We'd love for you to share it on your Pinterest board! Click to follow our Pinterest boards so you can find all our recipes!
Instagram it! If you try this recipe please tag #AFoodLoversKitchen on Instagram or Twitter. We love to see your photos of our recipes! Also follow us on Instagram, Twitter and Facebook to keep up on what we're cooking up.
Easy Air Fryer Whole Chicken Recipe
Did you know you can cook a whole chicken in the Air Fryer? Not only is it one of the easiest ways to make a chicken, it comes out with crispy skin and the juiciest chicken.
Print
Pin
Rate
Ingredients
3

lb

chicken

1/4

cup

butter

melted but not hot

1/2

tsp

paprika

1/2

tsp

seasoned salt

1/4

tsp

ground black pepper

1/4

tsp

garlic powder

1/4

tsp

dried rosemary

1/4

tsp

dried sage
Instructions
Remove the chicken from the refrigerator 30 minutes before cooking.

Preheat the air fryer on 350 degrees F (180 degrees C).

Pat the chicken dry. Mix the olive oil and seasonings in a small bowl. Brush the entire chicken with the seasoning paste.

Set the chicken, breast side down in the air fryer basket. Cook for 30 minutes. Turn the chicken over and cook for another 20-30 minutes. (50 minutes is typically enough for a 3 lb chicken – cook less if your chicken is smaller and more if bigger). Confirm that the internal temperature of the chicken has risen to 165 degrees F (75 degrees C). If not, continue cooking at 5 minute intervals until done.

Allow the chicken to rest for 5-10 minutes before carving.
Nutrition
Calories:
303
kcal
|
Carbohydrates:
1
g
|
Protein:
20
g
|
Fat:
24
g
|
Saturated Fat:
10
g
|
Cholesterol:
102
mg
|
Sodium:
338
mg
|
Potassium:
206
mg
|
Fiber:
1
g
|
Sugar:
1
g
|
Vitamin A:
471
IU
|
Vitamin C:
2
mg
|
Calcium:
14
mg
|
Iron:
1
mg
🥧 If you're interested in more great recipes, I share all my favorite Instant Pot recipes over at A Pressure Cooker Kitchen, air fryer recipes at Air Fry Anytime, and cocktails and drinks at Savored Sips. Check it out today!
PIN IT FOR LATER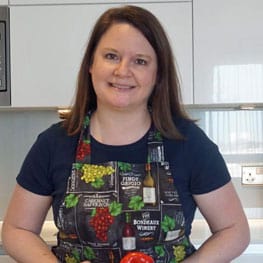 Laura is a home cook who loves making new recipes and finding new favorite things to eat, whether at home or abroad. She also runs a popular travel blog and spends a lot of her time traveling for food.