Looking for the perfect sweet potato fry recipe without a hassle of baking in the oven? The air fryer makes perfect, crispy sweet potato fries in a fraction of the time.
» Looking for a few other air fryer recipes to try? Jalapeno poppers are quick and easy and pork belly bites are one of our favorite things to snack on!
Sweet potato fries are definitely one of my favorite things. Any time we eat somewhere that I can substitute sweet potato for regular fries, I do. There's something so delicious about soft, yet crunchy, sweet potato fries. They rank right up there with crispy roast potatoes and air fryer wedge potatoes.
For as much as I love them, you'd think I'd make them at home more often, but I only ventured to make sweet potato fries at home twice before getting an air fryer. The air fryer is also great for crispy sweet potato chips.
Deep fried were good, but our house smelled like a grease for days afterwards! In the oven, they were a complete flop. You know what I mean if you've ever tried it before. The fries turn out limp and just not right.
That's why I love this recipe. It's simple, easy, and so tasty. The fries turn out perfect every time. Dipped in honey mustard dressing, they're perfection!
Ingredients You'll Need
Sweet potatoes – We used 2 medium sweet potatoes for this recipe. The important thing to remember is to cut all the fries the same thickness so that they cook the same.
Oil – This is for spraying the basket and sweet potatoes. It's best to use pure oil such as avocado, canola, or vegetable oil. Don't use a non-stick cooking oil spray, as it has other additives that can disrupt the air fryer.
Seasonings – These fries are great with just salt and pepper. Jazz them up a bit with garlic powder & paprika, cinnamon sugar, or this homemade dry rub.
How to Make Air Fryer Potato Wedges
To start, peel the skin, since the skin of sweet potatoes can be quite tough after cooking. Then wash the sweet potatoes and pat them dry.
Cut them into thin matchsticks. You can make them as thin or chunky as you like, but the thinner they are the crispier the end product will be.
Below is the size I make them, about a 1/4″ thick.
Spray the potatoes with oil, and also spray the bottom of the air fryer basket to help prevent sticking. (Remember, don't use a non-stick cooking spray! A reusable oil sprayer is the way to go!)
Place the potatoes in the basket, making sure not to crowd them so that they crisp on all sides. Air fry at 400°F for 8 minutes, flipping them half way through.
Add your desired seasoning after removing them from the basket. And you're finished. Simple and delicious sweet potato fries in the air fryer!
Seasonings to Try
You can season these fries any way you like. I use seasoning salt, or a blend of seasoning and garlic salt. Just plain salt and pepper is also good.
If you like them as the sweeter side, wait until after they're cooked, then sprinkle them with cinnamon sugar. They're so good that way.
Here are a few seasonings you could try:
Cinnamon Sugar
Garlic Powder & Paprika
Salt & Cayenne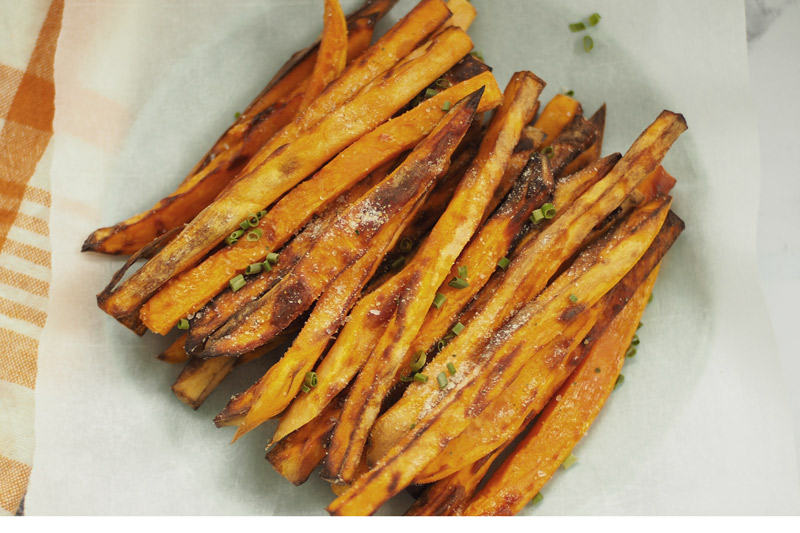 Why Use an Air Fryer
An air fryer is an incredibly easy way to cook just about anything. You place the food in a fryer-style basket and hot air rapidly circulates all around the food, making the food crisp – much like deep-frying, but without the oil. You can cook anything you'd make in the oven.
Tips For Making Air Fryer Sweet Potato Fries
When cutting your sweet potatoes, you can cut them thicker if you like your fries with a soft middle and less crispiness.
But keep in mind that cutting the fries thicker will change the cook time. It might take 10 minutes total to cook thicker fries. You can determine how much additional time is needed to trying one after the 8 minutes is up.
When spraying the potatoes and basket, make sure to use pure oil such as avocado, canola, or vegetable oil. Don't use a non-stick cooking oil spray, as it has other additives that can disrupt the air fryer.
Frequently Asked Questions
Why do my sweet potato fries seem soggy?
The main reason for soggy fries is moisture. It's best to pat them dry with a towel or paper towel to remove excess moisture before cooking. If you don't the oil traps the moisture in making them soggy.
Why don't my sweet potato fries get crispy?
The best way to get a crispy fry is to spread them out in the basket so that there is room for the air to circulate around them. If there isn't room for the air to circulate you end up steaming them rather than air frying. Spray the fries with a fine mist of oil to help them not stick to the basket but also get a crispy exterior. Flip them half way through cooking and apply another fine mist of oil. If they aren't crispy enough add another minute or two to the cooking time.
Should I soak the sweet potatoes before frying?
No, soaking isn't necessary. Sweet potatoes don't contain as much starch as a regular white potato.
Like this recipe? We'd love for you to share it on your Pinterest board! Click to follow our Pinterest boards so you can find all our recipes!
Instagram it! If you try this recipe please tag #AFoodLoversKitchen on Instagram or Twitter. We love to see your photos of our recipes! Also follow us on Instagram, Twitter and Facebook to keep up on what we're cooking up.
Air Fryer Sweet Potato Fries
Looking for the perfect sweet potato fry recipe without a hassel? Look no further. The air fryer makes perfect, crispy sweet potato fries in no time at all.
Print
Pin
Rate
Ingredients
2

medium sweet potatoes

oil, for spraying the basket and sweet potatoes

desired seasoning
Instructions
Wash and peel 2 medium sweet potatoes.

Cut into like size slices.

Spray air fryer basket lightly with oil and fill with sweet potato slices spraying them lightly with oil as well. Making sure to leave room between for air to circulate.

Cook at 400 degrees F for 8 minutes, flipping half way through. Once removed from the basket sprinkle them with desired seasoning.
Notes
All air fryers are different.  Make sure to consult your model instructions.
Nutrition
Calories:
194
kcal
|
Carbohydrates:
45
g
|
Protein:
4
g
|
Fat:
1
g
|
Saturated Fat:
1
g
|
Sodium:
124
mg
|
Potassium:
762
mg
|
Fiber:
7
g
|
Sugar:
9
g
|
Vitamin A:
32063
IU
|
Vitamin C:
5
mg
|
Calcium:
68
mg
|
Iron:
1
mg
🥧 If you're interested in more great recipes, I share all my favorite Instant Pot recipes over at A Pressure Cooker Kitchen, air fryer recipes at Air Fry Anytime, and cocktails and drinks at Savored Sips. Check it out today!
Pin it for later!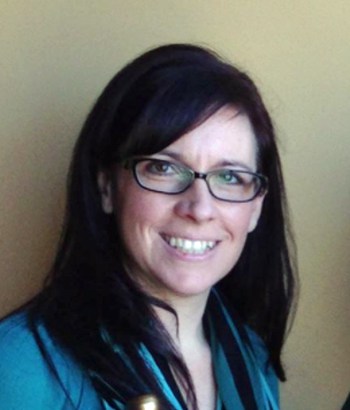 Hi! I'm Angela and I joined the team in 2020. I love to try new foods and recipes and look forward to passing them along to you. I live in a small town in Oregon with my two adult children who enjoy experimenting with food as well.