This article has links to products and services we recommend, which we may make commission from.
Sweet & Sour Pork Chops are doused in a delicious sauce made with balsamic vinegar and maple syrup that is so irresistible on pork and served with bell peppers and pineapple.
The thing I love most about this dish is how easy it is to make. The sauce is so good – a really "WOW" sauce – but it's really just two ingredients and some spices. (For another WOW sauce, check out this Honey Sriracha Sauce.)
Cook this dish up for dinner any night of the week. It takes just 20 minutes to cook. It's a great way to dress up your typical pork chops and give them tremendous flavor.
Also try these bacon-wrapped pork chops.
» If you like pork chops, check out our recipe for Tomahawk Pork Chops. These chops are next level!
We make this dish with bell peppers and pineapple to give it an extra boost of flavor and a built in side dish. You can serve it over white / brown rice or a bed of sautéed cabbage.
How to Make Sweet & Sour Pork Chops
Pre-heat oven to 400°F (204°C) and line a baking sheet with parchment paper or a silicon mat. Also, if you have an in-oven meat thermometer, get that out.
Cooking the pork chops
Season both sides of pork chops with salt and pepper.
Heat one tablespoon olive oil in a large skillet over medium-high heat.
Add the pork chops and cook for approximately 3 minutes per side.
Transfer the chops to the baking sheet, insert your in-oven meat thermometer.
Bake for 10-15 minutes, until internal temperature reaches 135°F (medium rare – 140°F (medium).
When you remove the pork from the oven, transfer it to a plate and let it rest for 5 minutes.
Making the Sauce
While you're cooking the pork, combine the balsamic vinegar, maple syrup, garlic and rosemary in a small saucepan over medium heat.
Season with salt and black pepper, to taste, and cook, stirring occasionally, until slightly thickened, about 4-5 minutes.
Reduce heat to low and continue to simmer, stirring occasionally, until ready to serve. It will thicken just a bit more while it cooks down, so don't leave it too long.
Cooking the Peppers and Pineapple
Meanwhile, add the remaining olive oil to the skillet used to sear the chops, over medium-high heat. When it's heated, add the peppers. Season with a sprinkle of salt and black pepper.
Cook, stirring occasionally, until the peppers soften and develop a bit of color, about 5 minutes.
Add the pineapple and cook until heated through, about 2-3 minutes. Stir in the green onion and parsley, and remove from heat.
Serving the Dish
To serve, pour the glaze over the pork chops and serve alongside the peppers and pineapple.
If you want to make a more robust meal, serve over white rice or sautéed cabbage.
Do I Have to Use Pork Chops?
We use pork chops in this dish, but there's no reason you can't use this sauce without preparations of pork.
You might try making a pork tenderloin, cubed pork or pork strips.
We've even used it on pork belly slices. The sauce is very universal and can be used on any cut of pork.
Like this recipe? We'd love for you to share it on your Pinterest board! Click to follow our Pinterest boards so you can find all our recipes!
Instagram it! If you try this recipe please tag #AFoodLoversKitchen on Instagram or Twitter. We love to see your photos of our recipes! Also follow us on Instagram, Twitter and Facebook to keep up on what we're cooking up.
Pin it for later!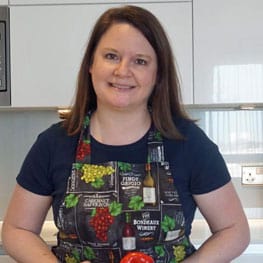 Laura is a home cook who loves making new recipes and finding new favorite things to eat, whether at home or abroad. She also runs a popular travel blog and spends a lot of her time traveling for food.