This article has links to products and services we recommend, which we may make commission from.
Authentic Jamaican Jerk Chicken that is rubbed with spicy and flavorful marinade and barbecued on the grill is a fantastic way to enjoy chicken.
After a trip to Jamaica a few years ago, I was enthralled with the spiciness of Jamaican Jerk Chicken. I'd had a bunch of different versions of this dish before going to Jamaica, but once I tried the real thing, I realized how off they were. Not really even close to the real flavor.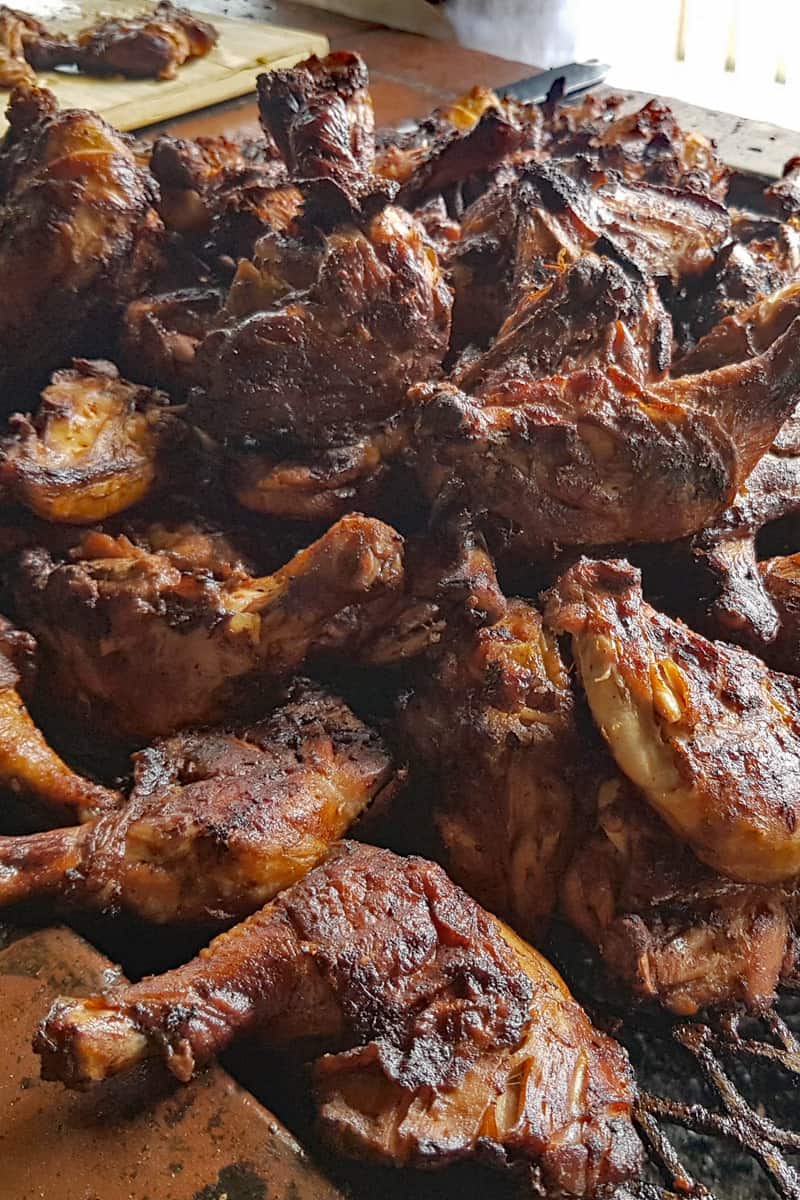 Making it myself at home, using the recipe I was given by a Jamaican cook, I could see why the other recipes often failed.
A huge part of this recipe is getting the Jerk seasoning right. There are a few key components that are absolutely necessary to get the right flavor combination.
Secondly, you need to allow the chicken to marinate with the rub for a long period of time (at least overnight), and finally you need to barbecue the meat over coals or on a gas grill on medium heat.
See how they do it at one of the most popular Jamaican Jerk roadside stands in Montego Bay?
They butterfly or spatchcock the chicken, rub it with their famous marinade, leave it on for a few days, then cook them up on a roasting pit. Then they cut the chicken into pieces.
If you don't want to cook an entire chicken, you can definitely still cook individual pieces with this recipe, but we highly recommend using the whole chicken, if possible.
Jerk Chicken FAQs
How is jerk chicken traditionally cooked?
In Jamaica, jerk chicken is cooked over coals, but not on a traditional grate. Jerk BBQ pits are covered in fresh wood from the pimento tree. The pimento tree is also where the allspice berries come from that are used in the marinade. While it's not really possible to replicate those conditions at home, the chicken should at least be cooked on a barbecue for best results.
Why is it called jerk chicken?
The term "jerk" is thought to have come from the Spanish word for dried meat, which translated as jerky in English.  It also refers to the process of cooking that required you to jerk around the chicken on the grill.
What does Jamaican jerk sauce taste like?
The major ingredient that you cannot make Jamaican jerk sauce without is scotch bonnet peppers. The other key components are cloves, allspice, thyme, and garlic.
Is Jamaican Jerk Chicken spicy?
This isn't a sauce for those who don't like heat. It's super spicy. That's what makes it truly Jamaican. The spiciness comes from the Scotch Bonnet peppers that are used.
How to Spatchcock a Chicken
Spatchcocking a chicken isn't as hard as it sounds. I was scared to do it for a long time because I thought it would surely involve a ton of steps, but I was wrong. It's actually quite easy.
All you need to do is cut down the back of the chicken on either side of the backbone to remove it, then flip the chicken over and press the legs out to open up, or butterfly, the chicken.
You can watch the video below to see the steps in action:
How to Make Jerk Marinade
Jerk seasoning is used throughout the Caribbean today, but the origin of it dates back to the end of the 17th century when African slaves fled into the woods to escape their British captors. Adapting to their new challenges, they used what was available to them for preserving the meat they caught, which led them to create the spicy sauce now known as jerk seasoning.
The marinade is a wet mix of spices, seasonings, and scotch bonnet chilis.
You can actually purchase Jamaican jerk marinade on Amazon, and it's the exact same brand that Jamaicans buy and use at home. I have it on good authority from a Jamaican that this is the closest you can get to making it yourself. If you don't want to make your own marinade, you can purchase this sauce. Now back to cooking!
This isn't a marinade for those who don't like heat. It's spicy. That's what makes it truly Jamaican. Yes, you can leave the peppers out, but it won't be as flavorful. Look at those delicious peppers!
If you can't get your hands on any scotch bonnets, you can substitute with habanero or jalepeno. Habanero chilis are actually very similar to scotch bonnets in heat, though scotch bonnets are a bit sweeter.
These peppers are screaming hot, of course, but you can tone down the spiciness by removing the veins and seeds.
All the ingredients in this jerk marinade are:
(Jump down to the recipe to see the quantities of each)
Scotch bonnets
All spice (called pimento in Jamaica)
Garlic
Thyme
Onion
Black pepper
Cinnamon
Nutmeg
Sugar
Ginger
Olive oil
Rum (optional)
Put all the ingredients into a blender and mix it into a ground paste. I've seen versions that aren't as ground up as mine is, but I prefer a finer grind because it spreads easier and doesn't burn.
Once you've mixed up the marinade, you are ready to spread it on the chicken. It's easy to brush the marinade on with a basting brush, which I recommend because you don't want to get the scotch bonnets on your hands.
Rub it liberally all over the outside and inside of the spatchcocked chicken. You can also rub it under the skin to get more flavoring on the chicken.
You can fold the chicken up and put it a storage container to put in the refrigerator. It's best to leave it for at least 24 hours, but 48 hours is even better. It takes time. If you can't wait that long, at least try to give it a few hours.
How to Make the Scotch Bonnet Sauce
The second star of the show with this dish is the Scotch Bonnet sauce that it's served with. In Jamaica, the chicken is always served with copious amounts of this sauce.
The easiest way to make this sauce is in a food processor or the chopping attachment to a stick blender. It's an incredibly spicy sauce, so a little bit goes a long ways.
In Jamaica, you'll often see locals mixing it with ketchup to tone it down. Since you're making it yourself, you can tone it down yourself by adding less peppers. I also always remove the seeds and ribs of the peppers, which takes quite a bit of the heat away.
The ingredients for the sauce are:
Scotch bonnets
Pineapple (or pineapple juice)
Onion
Garlic
White vinegar
Brown sugar
Lime juice
Salt
How to Cook the Chicken
The best way to cook this chicken is on an outdoor grill with an open flame. While you don't want to scorch the chicken, you definitely want it to get a little char on the edges, which just increases the flavor.
Heat up your grill to 325°F.
Place the spatchcocked chicken (rib bones down) on the grill and cook for about 50 to 60 minutes. The internal temperature should be 165°F when done.
The amount of time it takes to cook the chicken will vary depending on the size of the chicken. Be sure to monitor it closely after about 30 minutes. You also don't want the flames to be too aggressive, so they burn the chicken, so keep an eye on that too.
At the end of cooking, you can turn the chicken to the front side to get a bit of char on the edges. Don't leave it for long, though. You don't want the marinade to burn.
Once the chicken is done and you've let it rest for 10 minutes, you can cut it into pieces and serve it with the scotch bonnet sauce. The chicken itself is super flavorful, so you don't really need the sauce, but it's a nice accompaniment.
You can also cook this chicken in the oven, if you don't have access to a grill. It should be cooked at 375°F for around 45-60 minutes, again registering 165°F internal temperature when done.
It's still quite good in the oven, but as you can see from the picture above, it doesn't get the really juicy, crispy skin like it does on the grill. The meat is still super flavorful and delicious.
Sides to Serve It With
In Jamaica, you will always receive rice and beans as a side dish to Jerk Chicken. Cabbage salad or cole slaw is also a typical side dish.
Even though it's not Jamaican, we like this Cilantro Lime Rice. You could also try this Bacon, Corn & Jalapeno salad. It pairs really well with this spicy chicken.
Other Recipes to Try
Like this recipe? We'd love for you to share it on your Pinterest board! Click to follow our Pinterest boards so you can find all our recipes!
Instagram it! If you try this recipe please tag #AFoodLoversKitchen on Instagram or Twitter. We love to see your photos of our recipes! Also follow us on Instagram, Twitter and Facebook to keep up on what we're cooking up.
Jamaican Jerk Chicken
Authentic Jamaican Jerk Chicken that is rubbed with spicy and flavorful marinade and barbecued on the grill is a fantastic way to enjoy chicken.
Print
Pin
Rate
Ingredients
1

whole chicken

around 2 to 3 lbs, spatchcocked
For the jerk marinade
1

tbsp

olive oil

1

tbsp

ground thyme

1

tbsp

packed dark brown sugar

1

tbsp

soy sauce

1

tbsp

white vinegar

3

tsp

ground allspice

1

tsp

black pepper

1

tsp

ground sage

1

tsp

garlic powder

1

tsp

onion powder

1

tsp

chili powder

1/2

tsp

dried ginger

2

Scotch Bonnet peppers

chopped (reserve one for the sauce)
For the Scotch Bonnet sauce
1/2

onion

chopped

1/4

cup

pineapple chunks or 1/8 cup pineapple juice

1

clove

garlic

1/8

cup

white vinegar

1

tbsp

brown sugar

1

tsp

salt

1

lime

juiced
Instructions
Spatchcock the chicken and set aside.

Combine all ingredients (be sure to reserve half the scotch bonnet for the sauce) for the jerk marinade in a food processor or chopper attachment. Blend until a paste forms. Reserve 1/2 tsp jerk marinade for the sauce. Cover the chicken with the remaining spice rub. Coat the chicken well, even rubbing under the skin. Cover chicken and refrigerate preferably 24 hours..

Place all ingredients for scotch bonnet sauce, plus the 1/2 tsp of reserved jerk marinade, in a food processor and mix until your desired chunkiness. Transfer the sauce to a saucepan and simmer over low heat for 15 minutes. Transfer to a serving dish and allow to cool in the refrigerator until you're ready to serve the chicken.

Remove chicken from refrigerator at least 20 minutes before grilling. Preheat the grill to 325 degrees F, then place the chicken rib-side down on the grill. Cook until the internal temperature reaches 165 degrees F. Remove from grill and allow to stand for 10 minutes before chopping into pieces. Serve it with the scotch bonnet sauce.
Notes
The scotch bonnet peppers are quite hot, so start with a small amount and add more after tasting the seasoning and the sauce. It's easier to add more than to reduce the heat.
When you work with the peppers, be sure to wear gloves so you don't accidentally touch your face with your hands after cutting them.
If you don't like heat, you can leave the scotch bonnets out. It will still taste good!
Nutrition
Calories:
505
kcal
|
Carbohydrates:
16
g
|
Protein:
37
g
|
Fat:
33
g
|
Saturated Fat:
9
g
|
Cholesterol:
143
mg
|
Sodium:
981
mg
|
Potassium:
476
mg
|
Fiber:
2
g
|
Sugar:
9
g
|
Vitamin A:
500
IU
|
Vitamin C:
19
mg
|
Calcium:
58
mg
|
Iron:
4
mg
Pin it for later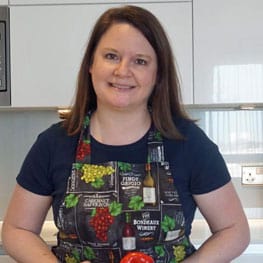 Laura is a home cook who loves making new recipes and finding new favorite things to eat, whether at home or abroad. She also runs a popular travel blog and spends a lot of her time traveling for food.