These Air Fryer Cottage Fries are so easy to make in the air fryer and the result is a potato with a satisfying crispy exterior and fluffy interior.
» We also love these Air Fryer Sweet Potato Fries and Air Fryer Breakfast Recipe.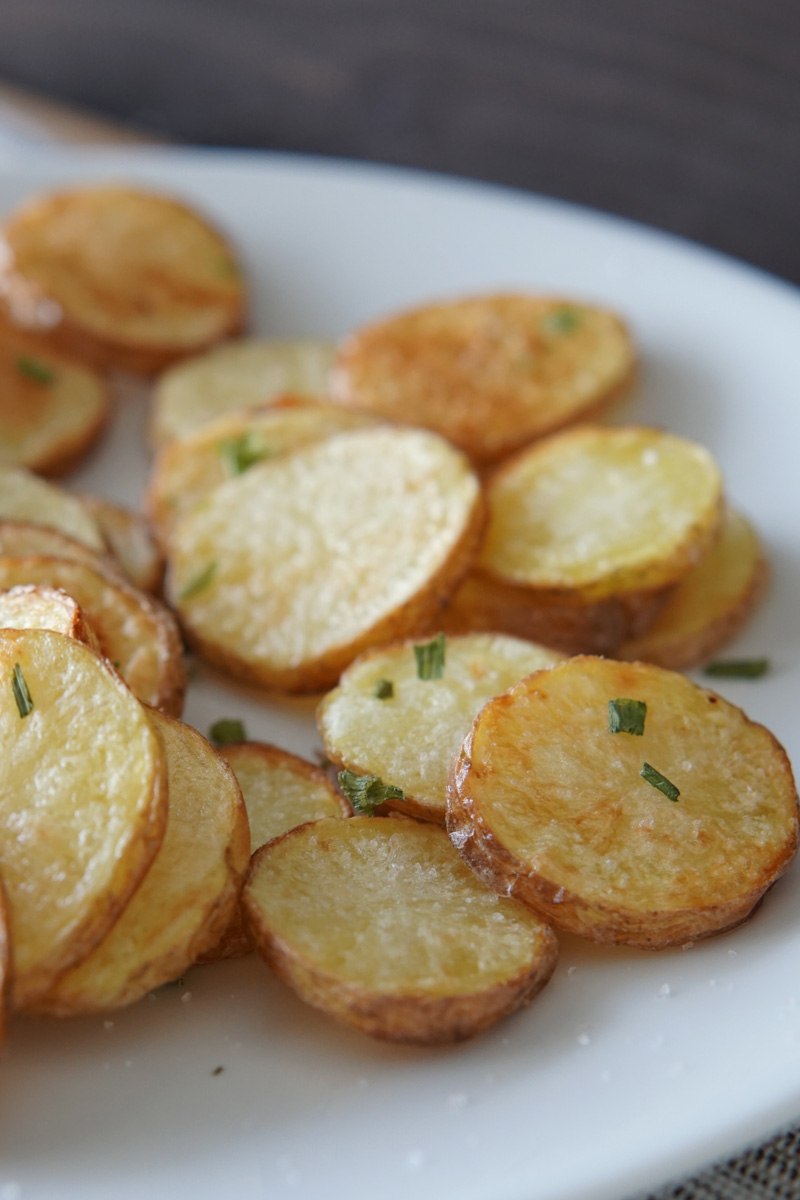 You can cook just about anything in the air fryer in under fifteen minutes. And cottage fries are one of those things. If you didn't know, potatoes cut into thick discs are often referred to as cottage fries.
Cottage fries are one of the easiest types of fries to make because they're so quick to cut. You don't need any special tools, just a sharp knife and a few seconds to cut slices.
You can use a mandolin to make perfect slices from any sized potato in just a few minutes, but I usually just cut them free-hand with a knife. You want to make the slices about 1/4″ thick. Any thinner and they'll turn into potato chips. You can also make potato wedges in the air fryer.
You want there to be some potato in the middle, which will become silky soft as it cooks.
I always leave the skin on the potatoes, but you can remove it if you like. It won't change the cooking time or preparation at all.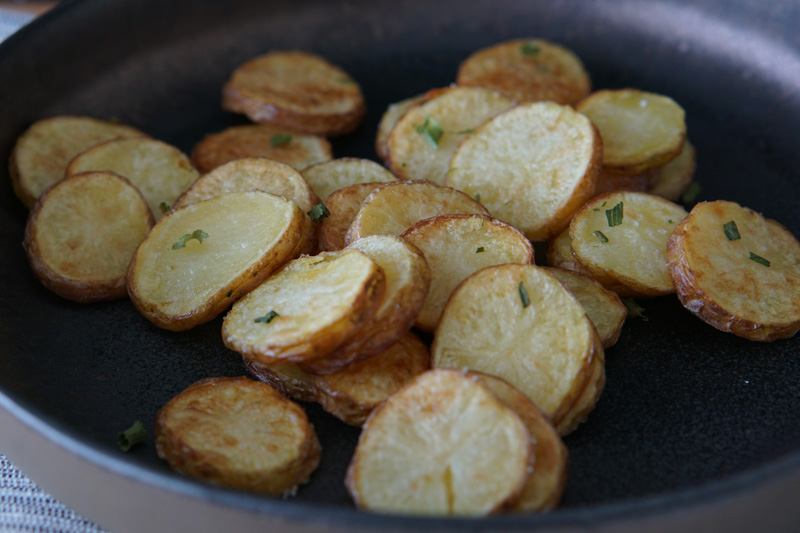 » These jalapeno poppers and pork belly bites are two of our favorite air fryer recipes!
What You'll Need
Russet potatoes – Medium russet potatoes work best. They have enough starch in them to get crispy and yet remain fluffy on the inside. You can also use Yukon gold or Maris piper potatoes.
Olive oil – You can also use Avocado, anole or vegetable oil.
Salt & pepper – to taste
How to Make Air Fryer Cottage Fries
Russet potatoes work the best for this recipe. They have enough starch in them to get crispy and yet remain fluffy on the inside. A smaller sized potato that makes silver dollar size circles is just right.
We've also used yukon gold potatoes and maris piper potatoes with great success. Any starchy potato will do. Waxy, not as much.
Start out by washing and scrubbing the potatoes. Then cut them into slices. Put the slices in a bowl of cold water. You want to try to remove as much of the starch on the surface of the potato as possible.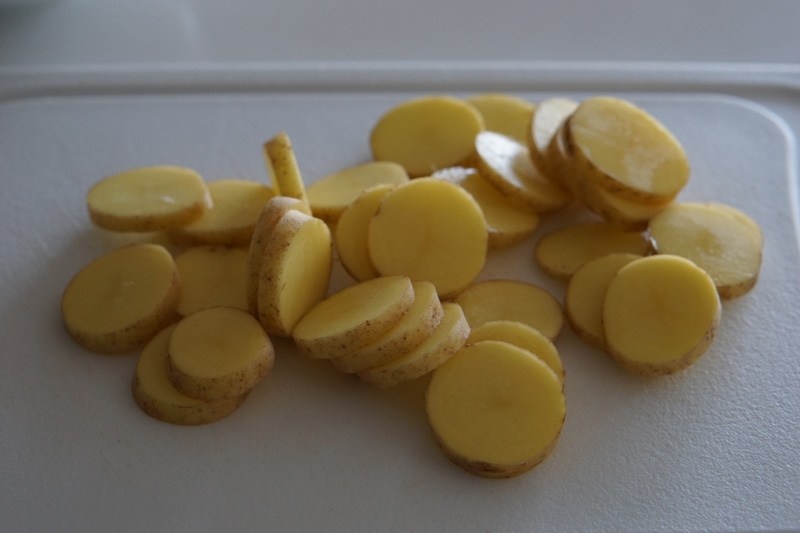 You can leave the potatoes in the cold water for 5-10 minutes for good measure, but I don't find it necessary. It's more important to make sure the potatoes are dried off before putting them in the air fryer.
Pat them dry with a paper towel or tea towel to remove as much moisture on the surface as possible.
Season with just salt & pepper, or use a seasoning salt. To really kick it up a notch, we like to use our homemade dry rub.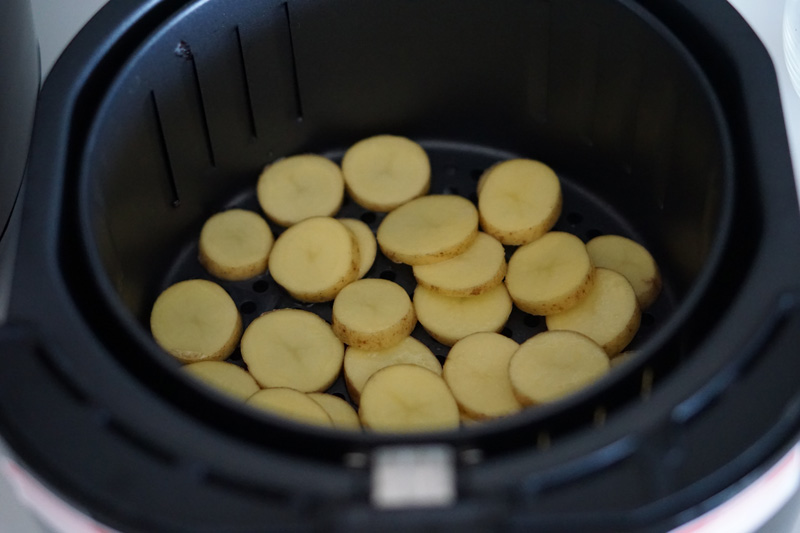 Spray the potatoes with oil, and also spray the bottom of the air fryer basket to help prevent sticking, but don't use a non-stick cooking spray! A reusable oil sprayer is the way to go.
Place the potatoes in the basket, making sure not to crowd them so that they crisp on all sides. Air fry at 400° F (200° C) for 7 minutes, flip them and then another 7 minutes at the same temperature.
Voila, beautifully crispy cottage fries waiting to be dipped in your favorite sauce.
If you like your potatoes to be a little more browned or crisp, leave them in for a bit longer. Every air fryer varies, so you'll have to find the time that's perfect for you.
Why Use an Air Fryer
An air fryer is an incredibly easy way to cook just about anything. You place the food in a fryer-style basket and hot air rapidly circulates all around the food, making the food crisp – much like deep-frying, but without the oil. You can cook anything you'd make in the oven.
Dipping Sauces
All potatoes need dipping sauces, and we've tried them all! Here are a few of our favorites that you can make at home: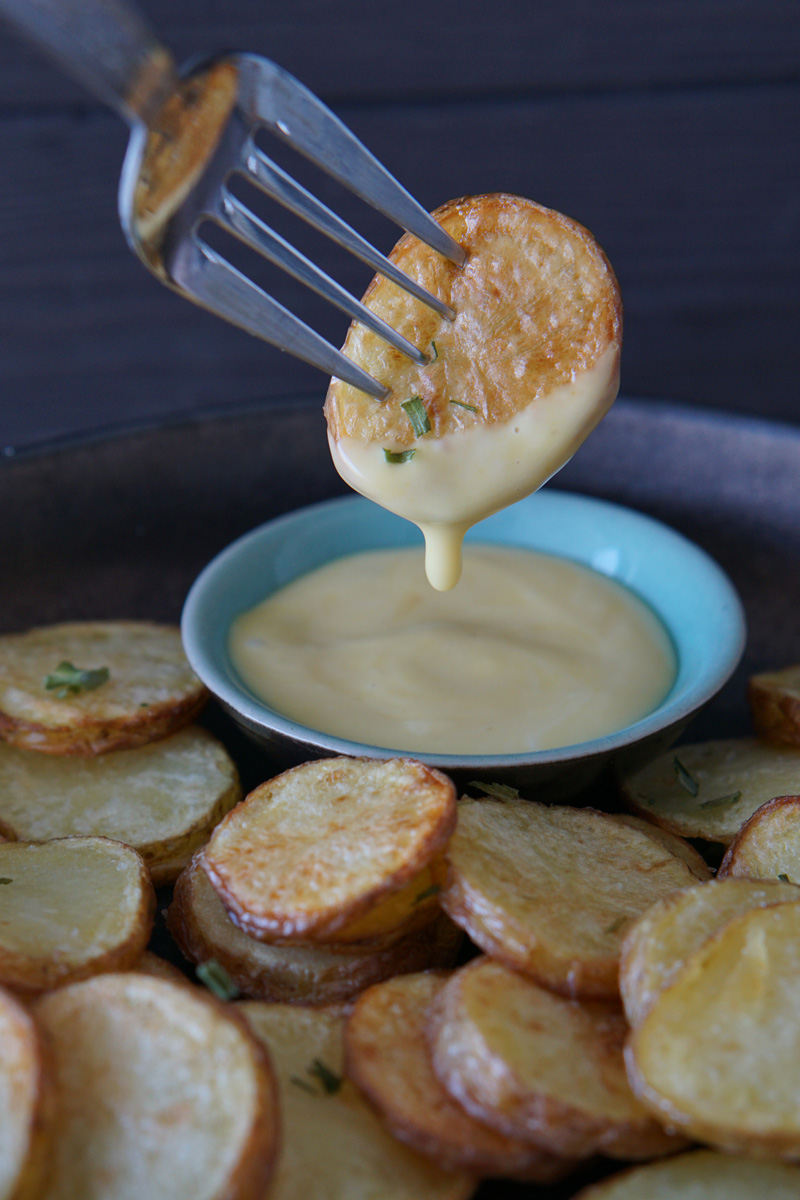 Tips For Making Potatoes in the Air Fryer
Many potato recipes, like french fries and hashbrowns, suggest soaking or rinsing the potatoes in water before baking, to reduce the amount of starch. If you're using very starchy potatoes, like russets, it does help a bit.
We tried it both ways and found that the potatoes were pretty crispy either way. If you're in a hurry, skip it and go directly to the frying.
You can cut the potatoes into any thickness for this recipe but keep in mind that the times will change. If you cut the potato thicker, the cook time will increase to 18 minutes total.
When spraying the potatoes and basket make sure to use pure oil such as avocado, canola, or vegetable oil. Don't use a non-stick cooking oil spray.
Like this recipe? We'd love for you to share it on your Pinterest board! Click to follow our Pinterest boards so you can find all our recipes!
Instagram it! If you try this recipe please tag #AFoodLoversKitchen on Instagram or Twitter. We love to see your photos of our recipes! Also follow us on Instagram, Twitter and Facebook to keep up on what we're cooking up.
Air Fryer Cottage Fries
These Air Fryer Cottage Fries are so easy to make in the air fryer and the result is a potato with a satisfying crispy exterior and fluffy interior.
Print
Pin
Rate
Ingredients
3

medium

russet potatoes

sliced

1

teaspoon

olive oil

Salt and pepper, to taste
Instructions
Preheat the air fryer to 400 degrees F (200 degrees C), for 5 minutes.

Clean and dry the potatoes. Slice them about 1/4" thick. Put the slices into cold water for about 3 minutes to wash off the starch.

Drain the water and pat the potatoes dry. Toss them with the olive oil and salt.

Add the potatoes in a single layer in the air fryer. Cook for 12 minutes, shaking the basket halfway through.
Nutrition
Calories:
272
kcal
|
Carbohydrates:
58
g
|
Protein:
7
g
|
Fat:
3
g
|
Saturated Fat:
1
g
|
Sodium:
16
mg
|
Potassium:
1332
mg
|
Fiber:
4
g
|
Sugar:
2
g
|
Vitamin C:
18
mg
|
Calcium:
42
mg
|
Iron:
3
mg
Other Air Fryer Breakfast Recipes To Try
Click for Even More Air Fryer Breakfast Recipes
🥧 If you're interested in more great recipes, I share all my favorite Instant Pot recipes over at A Pressure Cooker Kitchen, air fryer recipes at Air Fry Anytime, and cocktails and drinks at Savored Sips. Check it out today!
Pin it for later!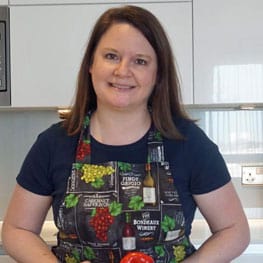 Laura is a home cook who loves making new recipes and finding new favorite things to eat, whether at home or abroad. She also runs a popular travel blog and spends a lot of her time traveling for food.