You will be stunned how easy it is to make spaghetti squash in the air fryer. This simple kitchen tool makes perfect spaghetti squash without the trouble of the oven or microwave.
» You might also like Acorn Squash with Sausage Stuffing.
. You can cook healthier at home with an air fryer, with less mess, less fuss, and all the [...]
Read More
This recipe is no different. All you need to do is half the squash, take out the seeds, put it in the air fryer, and 20 minutes later it's done. The seeds to most squash can be roasted in the air fryer like these pumpkin seeds. Try roasting a butternut squash in the air fryer or any squash for that matter. It is way faster than in the oven.
If you don't have an air fryer yet, you're really missing out. Let me tell you – we use our air fryer for so many things now (see these Air Fryer Pork Belly Bites – amazing!). It's a huge time saver and we've never had a food not turn out great.
Why Use an Air Fryer
An air fryer is an incredibly easy way to cook just about anything. You place the food in a fryer-style basket and hot air rapidly circulates all around the food, making the food crisp – much like deep-frying, but without the oil. You can cook anything you'd make in the oven.
What You Need
This recipe is easy and versatile. Not just for the small amount of ingredients required but also because cooking squash in the air fryer is way faster than the oven. Once you get the squash cooked you can add it to so many things, add spaghetti sauce to make a low-carb meal or serve it as is for a quick side dish.
Spaghetti squash – Choose a medium sized squash that will fit in your air fryer.
Olive oil – This will keep the squash from getting dried out and lend some flavor to the squash.
Salt and ground black pepper – for seasoning
Making Air Fryer Spaghetti Squash
To make spaghetti squash the air fryer way, you'll obviously need an air fryer that's large enough to fit your squash, or you'll need to find a squash that fits your air fryer. Some are larger than others.
Set the air fryer to 380 degrees. It just takes a few minutes to preheat, so it'll be ready by the time you make it to step two.
Step One
Cut the squash in half lengthwise. Use a large spoon to carve out the seeds and "guts", as we call them. Just like cleaning out a pumpkin.
Step Two
Place the halves of the squash into the air fryer base and make sure it fits inside the machine. The open sides should be facing up.
Brush on a light layer of olive oil. Sprinkle the flesh with salt and pepper. That's all it takes for a flavorful squash.
Set the timer for 20 minutes.
Step Three
Cook the squash for 20 minutes. It will come out slightly browned on the top and fork tender. If you stick a fork into the squash, it should give easily. If there's still some resistance, you can put it back in for another 5 minutes.
You can use the tongs of a fork to gently scrape the squash from the shell. It comes out in long strands that resemble spaghetti. This makes it perfect for serving with a tomato meat sauce.
Spaghetti Squash can be served as a side dish without any additional toppings, or you can add some butter and parmesan for a light pasta-like dish.
The thickness of the squash is somewhere between spaghetti and angel hair pasta. You can use it just as you would pasta. It holds up to any type of sauce. And it's not wet like zucchini noodles are, so you don't have to worry about it watering down your sauce.
Can I Freeze Spaghetti Squash?
Even a small fruit produces quite a bit of spaghetti squash. It might be too much for you to finish in one sitting. If you have leftovers, it will keep in the fridge for up to a week. Or if you want to freeze it, that's okay too.
The best way to freeze spaghetti squash is to let it cool down completely. Then dab the strands to remove any extra moisture with a tea towel or paper towel.
Place the squash in a resealable plastic bag. Push out all the extra air from the bag and seal it tightly. This will keep the squash from becoming freezer burned. If packaged well, it will keep for 2-3 months in the freezer.
When you remove it, just reheat it on the stove top or directly in the sauce you're using.
What to Serve With Spaghetti Squash?
I think the perfect way to serve spaghetti squash is with a tomato meat sauce, like you might serve regular spaghetti. As a side dish, I love serving it with a little bit of honey sriracha sauce mixed in with it. It's so flavorful!
If you're serving it as a side dish, you might pair it with a bacon wrapped pork chop, or a pork roast. It also goes well as a side dish for these marinated grilled chicken thighs.
Frequently Asked Questions
What is the trick to cutting spaghetti squash?
Use a dish towel to steady the squash while you cut it in half. If it is too hard for you to cut safely then use this trick to help soften the shell. Pierce the skin with a fork several times along the middle where you want to cut it. Put it in the microwave for 4-5 minutes then try cutting again along the line you pierced with the fork.
Is spaghetti squash healthy?
Yes, it is rich in vitamins, minerals and antioxidants, low in calories and high in fiber. It is a low carb alternative to pasta and very tasty when topped with spaghetti sauce.
Like it, Love it, Want Some More of It? Subscribe to our newsletter and follow us on Pinterest, Instagram and Facebook. We really love it when you save our recipes to Pinterest 😊
Spaghetti Squash in the Air Fryer
This simple recipe is easy to make in the air fryer and leads to perfectly cooked spaghetti squash.
Print
Pin
Rate
Ingredients
1

medium

spaghetti squash

1

tablespoon

olive oil

1

teaspoon

salt

1/2

teaspoon

ground black pepper
Instructions
Preheat the air fryer to 380 degrees F.

Slice the squash open lengthwise. Remove the seeds and pulp. Brush the flesh with olive oil. Sprinkle with salt and pepper.

Place the squash halves, flesh side up, into the air fryer and close the basket. Cook for 20 minutes. When done, scrape the flesh with a fork to remove it from the shell.
Notes
The number of servings varies depending on the size of the squash and whether you're serving it as a side or main dish. Expect between 4-8 servings.
Nutrition
Calories:
106
kcal
|
Carbohydrates:
17
g
|
Protein:
2
g
|
Fat:
5
g
|
Saturated Fat:
1
g
|
Sodium:
623
mg
|
Potassium:
261
mg
|
Fiber:
4
g
|
Sugar:
7
g
|
Vitamin A:
290
IU
|
Vitamin C:
5
mg
|
Calcium:
56
mg
|
Iron:
1
mg
Pin it for later!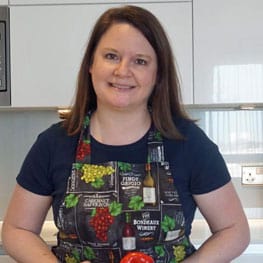 Laura is a home cook, with 25 years experience behind the stove, who spends an extraordinary amount of time in the kitchen cooking. She loves making new recipes and finding wonderful new things to eat, both at home or abroad. She spends a lot of time researching, crafting, and perfecting her recipes and currently has a cookbook in development.