Linguine with White Clam Sauce marries a garlicky white wine with clams and linguine pasta to make an easy and elegant dish that's equally great for a quick dinner or a nice dinner party.
» Also try this Cacio e Pepe or Chicken Fettucine Alfredo.
We often get stuck in a pasta rut that includes spaghetti with meat sauce and pappardelle with ragu. While I love those dishes, I also want to change up the routine a little bit and try some other Italian-style pastas. This linguine with clam sauce is a perfect deviation from the norm.
I've seen many recipes for Linguine with Clam Sauce and I was also hesitant to make it because they all include full shell clams. That just seems too difficult for a weeknight meal. I wanted this version to be easier than that. Who has the time?
Ingredients You'll Need
There are only a few ingredients in this dish, but the quality of each one has a major affect on the final product, so be sure you're using the highest quality ingredients you can find.
Clams – See below for a few notes on what clams to use
Linguine – Fresh is always best, but if you can't find fresh (or don't want to make your own) you can use dried in a pinch. You can go with store-bought pasta, or you can spend a few extra minutes making the pasta yourself. There is a huge reward for those who accept the challenge. Homemade pasta is the. absolute. best.
White wine – Be sure to use a dry white wine, like Pinot Grigio, Chardonnay (stainless steel), or Sauvignon Blanc. Avoid cooking wines. And keep in mind that you don't need an expensive bottle for this. Something under $10 will do.
Olive Oil
Butter
Garlic
Dried seasonings – Oregano, basil, salt and pepper, red pepper flakes (optional)
For Garnish – fresh parsley, fresh grated Parmesan cheese, and lemon wedges
What Clams to Use
While I do love fresh clams, there's a simplicity in using jarred clams that I can't say no to. In my grocery, I can get these little jars of clams with juice (in the UK, this is the exact jar).
The ones I buy are only a couple dollars each, in a 4.5 oz size. I use two of them for Linguine for 2 people. You might not find these in your store, but there will be some alternative – whether it's canned or jarred.
I prefer the tiny clams, but you can purchase larger ones. It won't change the dish too much. Just make sure you're buying clams in natural juice (not in red sauce). You can buy whole clams, but they don't come in clam sauce, which is an important part of this dish, so you would also need to buy clam juice separately.
The most important thing is to make sure you're using high quality clams. The quality will greatly affect the taste and texture of your pasta.
Making Your Own Pasta
If you want to try your hand at making your own pasta, I can't recommend it enough. It's not difficult or scary to make your own pasta.
Here is an incredibly easy homemade pasta recipe that only requires you to mix flour with eggs and knead the dough.
2 large eggs
200g of 00 flour, plus extra for dusting
Make a mound out of the flour (reserving about 20 grams to use only if necessary). Swirl a whole in the middle of the mound with your fingers. Crack the eggs into the center of the mound.
Using a fork, beat the eggs gently, then start to incorporate the surrounding flour, slowly, until fully combined. Add the extra flour only if the dough is too sticky. Then knead the dough until it's smooth and elastic.
Rolling the Pasta
There are two ways to roll your fresh pasta. You can knead it and roll it out with a rolling pin. This takes a bit of muscle and time, but it's not difficult. Or you can use a pasta maker. There are three different types of pasta makers.
A manual pasta roller won't make the pasta for you; it'll just help with rolling out or cutting shapes. The second option is an attachment for the KitchenAid that rolls out the dough for you.
There is a third, even easier option. If you've ever wanted to make fresh pasta, but didn't want to do the work, you need this.
How much homemade pasta per person?
I recommend a 2 ounce serving of fresh pasta per person. Once the pasta is cooked it equals around 1 cup of pasta, which is a decent serving. The recipe above makes 4 servings.
How to Make Linguine with White Clam Sauce
In a large skillet, sauté the garlic, then add the clams and juice, spices and white wine and let that simmer for a few minutes.
When the white wine has evaporated – around 3-5 minutes – add the cooked linguine and stir to coat the pasta.
Divide the pasta between the plate and top with a spritz of lemon juice, a sprinkle of Parmesan cheese, some chopped parsley, and red pepper flakes.
Other Pasta Recipes to Try
Like it, Love it, Want Some More of It? Subscribe to our newsletter and follow us on Pinterest, Instagram and Facebook. We really love it when you save our recipes to Pinterest 😊
Linguine with White Clam Sauce
Linguine with white clam sauce marries a garlicky white wine with clams to make an easy and elegant Italian pasta.
Print
Pin
Rate
Ingredients
4

ounces

(

113

g

)

dry linguine

2

teaspoons

(

10

ml

)

olive oil

1

tablespoon

(

14

g

)

butter

1

clove

garlic minced

9

ounces

(

255

g

)

jarred whole clams in natural juice

or equivalent

1/4

teaspoon

(

0.5

g

)

oregano

1/4

teaspoon

(

0.03

g

)

basil

1/4

cup

(

59

ml

)

dry white wine

Salt & pepper to taste

1

lemon wedge

Sprinkle of grated Parmesan Cheese

Fresh parsley and red pepper flakes for garnish

optional
Instructions
Cook the linguine according to the package instructions. Drain.

In a large saute pan over medium heat, add the olive oil, butter and garlic. Saute for 2 minutes.

Add the clams and juice, oregano, basil and white wine to the pan. Simmer for 3-5 minutes.

Add the linguine and toss to coat. Transfer to serving plates.

Top with a spritz of lemon juice, a sprinkle of grated cheese, fresh parsley and

red pepper flakes

, as desired. Serve.
Nutrition
Calories:
348
kcal
|
Carbohydrates:
45
g
|
Protein:
10
g
|
Fat:
11
g
|
Saturated Fat:
4
g
|
Cholesterol:
21
mg
|
Sodium:
171
mg
|
Potassium:
148
mg
|
Fiber:
2
g
|
Sugar:
2
g
|
Vitamin A:
235
IU
|
Vitamin C:
5
mg
|
Calcium:
19
mg
|
Iron:
1
mg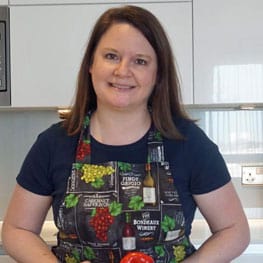 Laura is a home cook, with 25 years experience behind the stove, who spends an extraordinary amount of time in the kitchen cooking. She loves making new recipes and finding wonderful new things to eat, both at home or abroad. She spends a lot of time researching, crafting, and perfecting her recipes and currently has a cookbook in development.