I don't know about you, but I've been cooking what seems like non-stop the last few months. I'm now making breakfast, lunch and dinner for my family at home. This necessitates some tools (and practical tips) that save time in the kitchen.
Cutting down on food prep, lengthy cooking, and cleaning in the kitchen is at the top of my priority list right now. So we've put together a list of 15 tools you can use to save time, making prep, cooking, and clean up a bit easier.
Since it's likely that the whole family is pitching in with the kitchen duty these days, we've chosen products and gadgets that everyone can use, and it might even be a little more fun!
1. Breakfast Sandwich Maker
▶ Buy this breakfast sandwich maker here.
One of my favorite appliances in the kitchen for breakfast is this breakfast sandwich maker. You can make all of the pieces of a perfect breakfast sandwich at one time in this little machine.
Toast the English muffin, fry the egg, and heat the sausage/bacon/ham all at once in the different layers of the machine. It's ready in 5 minutes.
It's not only meant for breakfast sandwiches either. You can make pizza muffins, taco cups, molten lava cake and many other creative recipes in this thing.
2. All-in-One Mandoline
▶ Learn more about this all-in-one mandoline.
Chopping, dicing, slicing – it all takes so much time to do. If your kitchen prep is taking over our life, it's time to get an all-in-one mandoline that can do all the prep work for you.
This one comes with 11 different blades, so it can actually do nearly 100% of the cutting you need to do for a meal. It comes with two different sized chopper blades, two spiralizer inserts, giving you the option of broad ribbons or thin spirals, plus it has a slicer, julienne and grater functionality.
With it comes a bonus peeler, juicer and egg seperator, so you can peel vegetables, juice fresh lemons, separate yolks from egg whites, and slice hard-boiled eggs.
3. Instant Pot
▶ See the best Instant Pot models on Amazon.
If you don't already have an Instant Pot, you've no doubt been hearing about it for a long time and possibly wondering whether you should get one.
I'm a huge fan of my Instant Pot, not only because it cooks food fast, but because it can help you make large meals in a short time, like our favorite Pork Carnitas or Beef Barbacoa. You can pressure cook a large pork shoulder or beef roast in under an hour, and that's meal prep for days.
If you like the set-it-and-forget-it type of cooking that a slow cooker makes possible, you're really going to love the Instant Pot. It's easy to learn, there are tons of recipes for it, and also easy to clean up.
» If you like the ease of an Instant Pot, you'll also love the air fryer for how quickly and easily it cooks food with no mess.
4. Rice Cooker
▶ Shop for a rice cooker here.
Always a super helpful tool in the kitchen is the rice cooker. This is the rice cooker we use. You can cook anywhere from 2 to 6 cups of cooked rice in this little guy. It's fast, but the best thing is that you don't have to babysit it, like you do rice on the stovetop, because it turns off when it's done.
Another feature of this rice cooker is the ability to steam other foods, while the rice is cooking. It will steam meats, fish, vegetables. You can also make soup, chili and other dishes like jambalaya in the pot. It's not just for making plain white rice.
5. Mason Jar Reusable Lids
▶ Check out these Ball reusable jar lids.
We use a lot of Mason jars in our kitchen. They're great for storing leftovers because they take up a lot less space than tupperware and you can clearly see what's in them. We also use them to store vegetables like carrot sticks and celery sticks for snacks.
We use the smaller jars for sauces and salad dressings that we make in bulk to cut down on prep time.
The problem with Mason jars is the lids. The lids of these jars are made for canning, so they are in two parts, and can get rusty quickly. They can't be put in the dishwasher. Instead, we use these reusable Mason jar lids. These are airtight, freezer safe, dishwasher safe and BPA free. Problem solved.
6. Vacuum Wine Stoppers
▶ Buy vacuum wine stoppers here.
If you don't finish a bottle of wine in one sitting, you might find that it doesn't taste very good the next day. These vacuum wine stoppers prevent that by sucking the air out of the bottle by pressing the button on top of the stopper.
Using these stoppers will help preserve the wine flavor for about 7 days, which is quite a few more than without. It will save you from having to toss out left over wine. And it'll give you the leeway to have just a glass now and then, without wasting the rest of the bottle.
7. Apple / Pineapple Corers
▶ Buy a pineapple corer or apple corer here.
There are special corers for both apples and pineapples that will save you a lot of time when cutting up either of these fruits.
One of my hesitations with buying pineapples comes from not wanting to spend the time it takes to cut off the rough skin, then cut the core out, and chop into pieces.
The pineapple corer is a huge time saver because all you do is push the device into the pineapple and it not only removes the core, it also cuts off the skin. When you remove the device, perfect rings of pineapple come out. Then you can use the cutter to make slices. It's brilliant.
The apple corer just plugs in and removes the core – super simple. Then all you have to do is cut up the apple and serve. Huge time saver
8. Microwave Cleaner
▶ Buy an Angry Mom Microwave Cleaner here.
Another thing I avoid in the kitchen is cleaning the microwave. I hate it, actually. One of my least favorite jobs.
Instead of cleaning the microwave by hand, try this Angry Mom Microwave Cleaner. It's the same concept as putting a bowl of water and vinegar in the microwave, only this little device is covered and has holes in the head that allow steam to spray instead of boiling water getting all over the floor of your microwave.
It's a simple way to clean, but also super fun to watch. And it feels cathartic because she looks as angry as I do when I have to clean the microwave.
9. All-in-1 Multipurpose Kitchen Gadget
▶ Buy the All-in-1 multipurpose kitchen gadget here.
How much do you hate having all these little pieces of things bumping around in the drawers and cabinets of your kitchen? This wine-bottle shaped tool takes care of that. There's a funnel, juicer, grater, egg cracker, shredder, can opener, egg separator and measuring cup – all stacked into one easy-to-store wine bottle shape.
This kitchen tool is pretty useful and it all stays in one stack so you don't have all those separate pieces hanging about. It makes a fun Christmas or wedding gift, too.
10. Silicone, Non-Stick, Food Safe Baking Mat
▶ Buy silicon baking mats here.
We use these non-stick baking mats a lot in the recipes we make on this site. They're perfect for keeping food from sticking to the baking sheet and they're more friendly to the environment than parchment paper or tin foil.
You don't need to use any cooking spray or oil when you use these mats. They make it really easy to just pull the food right off. French fries will stick to the pan without oil, biscuits and cookies adhere to the pan. Not with this mat, though. Food comes right off.Oven-safe up to 480 degrees F
They're all oven safe up to 480 degrees F and very easy to clean. These fit half-sheet size pans.
11. Shape+Store Master Meatball Making Tool
▶ Buy a meatball maker tool here.
Making meatballs can take a lot of time. We use them in our popular Meatballs & Mashed Potatoes recipe. If you're making a dozen or more meatballs, it can take 20 minutes or longer.
If you're cooking for a large family, or just want to make a bunch of meatballs to use with freezer meals, this meatball maker tool is very useful. It turns 2 lbs of meat into 32 meatballs.
Each meatball is approximately 1 oz and 1.5 inches in diameter. All you do is load up the tray with ground meat and press the top down onto the meat to form the balls. It's super simple.
It's also ideal for portioning and freezing cookie dough, rice, sauces, herbs, and more
12. Herb Stripping Gadget
▶ Buy the herb stripping gadget here.
Instead of standing around picking the sprigs of thyme off each limb, or plucking rosemary leaves off the stem, use this herb stripping gadget to make quick work of it.
This leaf-shaped gadget works well with woody herbs like oregano, rosemary, thyme, tarragon and is perfect for making kale chips and other healthy snacks.
All you do is insert the stem one way through the hole and pull it back out the opposite direction. It will strip the leaves off the stem in one quick motion.
13. Burger Press Hamburger Patty Maker
▶ Buy a hamburger patty maker here.
Making a bunch of burgers for a barbecue or party? Instead of spending all that time pressing out and shaping each patty, you can use this hamburger patty maker to form perfectly sized burgers in a hurry.
There are three pieces to this patty maker: a large patty mold and a small slider mold, plus a piece that makes an indention in a large patty so you can stuff it with cheese.
The press is easy to clean and is made of BPA-free plastic. It's non-stick so removing the patty once it's pressed is easy too.
14. Dough Press / Pierogi / Empanada Maker
▶ Buy a dough press / empanada maker here.
I love making pierogis and empanadas at home, but the hassle of having to form each individual one makes me hesitate. You can buy dough rounds for pierogies and empanadas, so you don't have to make the dough circles yourself – that saves a ton of time – but what really makes quick work of dumplings is a dough press.
With the dough press, the manual work of making empanadas is cut down to preparing the filling. All you have to do is put a piece of dough on the tool, add a scoop of filling, and press it together. You can make dozens in the time it takes to make just a few by hand.
15. Food Chopper
▶ Buy a food chopper here.
It can take a lot of time to chop up individual vegetables for things like a garden salad, or to dice all the ingredients for pico de gallo or the toppings for taco pizza. Instead of spending time with all that chopping, you can do it quickly with this food chopper.
The idea is that you put the vegetable – like an onion or tomato – in the chopper, press down a few times and it's chopped. You can make quick work of chopping a whole list of things – do an onion, tomato, and garlic in less than a minute.
The thing you have to watch out for when buying a chopper is that it's sturdy and has good blades that are capable of cutting things well. This chopper meets those standards.
CONCLUSION
With these 15 time saving kitchen tools, you'll be making food quicker than you ever thought possible. These are times savers, but also sanity savers. If you can let something else help you with the work, why not!
Pin it for later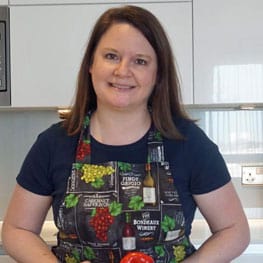 Laura is a home cook who loves making new recipes and finding new favorite things to eat, whether at home or abroad. She also runs a popular travel blog and spends a lot of her time traveling for food.