Stovetop Chili is a true comfort food, packed with meat, beans and so much flavor. You don't have to make it in large quantities to enjoy it. This recipe makes just 4 servings on the stovetop in just over 2 hours.
» Serve this chili with Quick & Easy Instant Pot Corn Bread.
If you're used to making chili in the slow cooker, you might be surprised to hear that it's just as easy to make on the stovetop in smaller quantities, so it's appropriate for just two people (with some leftovers, of course!).
I used to only make chili in huge batches, because it took so long to cook that it didn't seem like a good use of time to only cook a small batch. But that meant we were eating chili for a week.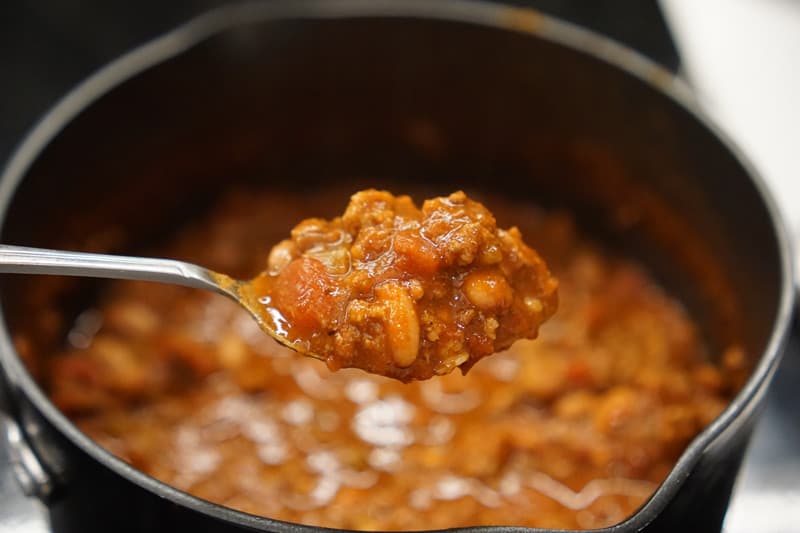 By the end, no one wanted to eat it again for a year. Why do we do these things to ourselves? It's perfectly acceptable to make a smaller batch of chili!
This recipe is perfect for two people, with a some leftover for another serving the next day. It's really simple to make and only takes an hour… or two if you really want to develop the flavors. For me, chili just isn't right unless the ingredients have had enough time to really meld together.
Ingredients You Need
Ground beef
Ground sausage
Yellow onion chopped
Celery chopped
Garlic minced
Tomato paste
Diced tomatoes with juice
Pinto beans drained
Water
Beef bouillon
Chili powder
Ground cumin
Worcestershire sauce
Salt and ground black pepper
Dried oregano
Paprika
White sugar
Cayenne or chipotle powder add extra for more heat
Cheddar cheese, shredded optional as garnish
Why So Many Ingredients?
This recipe includes quite a few ingredients, but it's very much worth it in the end. There are elements of spice, sweetness, acid, and fat. All of them work together in perfect harmony.
That's not to say the chili will be ruined if you don't have one or two of the spices. It'll still work without a few things, so don't shy away if you don't have oregano or beef bouillon cubes. It'll still be super tasty.
How to Make Stovetop Chili
Start this recipe by browning the ground beef and pork together in a skillet. When just about cooked through, add the onion, celery and garlic. This will give these ingredients a chance to develop flavor together.
The browning process adds an incredible amount of flavor, so don't be afraid to get the meat nice and brown before removing it. I cook the meat in a large flat skillet, because it gives more surface space to the meat to enable it to brown well. If you don't want to dirty the extra pan, you can cook the meat in the pot you will use to make the chili, instead.
PRO TIP: You can also make this chili in the Instant Pot, if you wish. You can brown the meat in the pot on the Saute setting before moving on to adding the rest of the ingredients. You just need to adjust the cooking time to 30 minutes under high pressure.
Once the meat is browned, add the tomato paste and stir it all up, then add a cup of water and stir again, making sure to get all the browned bits up off the bottom of the skillet or pot.
Transfer the meat mixture to the pot and add all the remaining ingredients (except for the shredded cheese, which is added at the end.
I use a 3 quart pot, which fits everything just fine. Bring the chili to a boil, then reduce the heat to medium-low, so that it's just barely bubbling.
Cover the pot and allow it to simmer for 1 hour. You'll want to stir occasionally to make sure the meat doesn't stick to the bottom. After an hour, do a taste test.
Does it need more salt or heat? You can add a little of this or that to get to the taste you desire.
I usually add a bit more cayenne powder to make it spicier, but it's always best to add it in slowly, because the heat develops over time. Do note that if you use hot chili powder, you won't need the cayenne to heat it up! I use a mild chili powder, because hot is a bit too much for me.
Remove the lid and continue to simmer for up to an hour. You can serve it whenever it reaches the consistency you desire. You can also continue to cook the chili longer, over low heat, until you're ready to serve it. It's best to put the lid back on so it doesn't cook down too much.
Serving Suggestions
Top your chili with anything you like, such as shredded cheese, sour cream, chives, and crispy onions. We love cornbread as a side for chili, but garlic bread works well, too.
Like it, Love it, Want Some More of It? Subscribe to our newsletter and follow us on Pinterest, Instagram and Facebook. We really love it when you save our recipes to Pinterest 😊
Easy Stovetop Chili Recipe
This easy stovetop Chili recipe is packed full of flavor and will quickly become your go-to chili recipe.
Print
Pin
Rate
Ingredients
1/2

pound

ground beef

1/2

pound

ground sausage

1/2

medium

yellow onion

chopped

1

stalk

celery

chopped

1

clove

garlic

minced

4

ounces

tomato paste

28

ounce

can diced tomatoes with juice

15

ounce

can pinto beans

drained

1

cup

water

1

cube

beef bouillon

2

tablespoons

chili powder

1

tablespoon

ground cumin

1

tablespoon

Worcestershire sauce

2

tsp

salt

1

teaspoon

dried oregano

1

teaspoon

paprika

1

teaspoon

white sugar

1/2

teaspoon

ground black pepper

1/2

teaspoon

cayenne or chipotle powder

add extra for more heat

1/2

cup

cheddar cheese, shredded

optional garnish
Instructions
In a large skillet over medium-high heat, brown the ground beef and sausage, breaking up into small pieces as it cooks. When most of the way cooked, added the onion, celery, and garlic. Continue cooking until the meat is browned. Add the tomato paste and stir well.

Transfer the meat mixture to a 3-quart stockpot. Add all of the remaining ingredients. (except cheese). Stir well to combine. Place the lid on the pot and cook over medium low heat for 1 hour, stirring occasionally.

Remove the lid from the pot, simmer the chili on low for up to an additional hour, stirring occasionally. Top with shredded cheese and any additional toppings you desire.
Nutrition
Calories:
554
kcal
|
Carbohydrates:
37
g
|
Protein:
31
g
|
Fat:
33
g
|
Saturated Fat:
13
g
|
Polyunsaturated Fat:
3
g
|
Monounsaturated Fat:
14
g
|
Trans Fat:
1
g
|
Cholesterol:
96
mg
|
Sodium:
2567
mg
|
Potassium:
1476
mg
|
Fiber:
11
g
|
Sugar:
12
g
|
Vitamin A:
2462
IU
|
Vitamin C:
28
mg
|
Calcium:
292
mg
|
Iron:
8
mg
Like it? Pin it for later.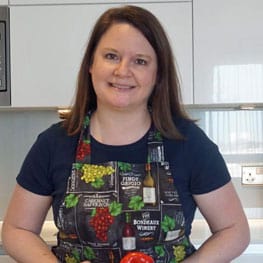 Laura is a home cook, with 25 years experience behind the stove, who spends an extraordinary amount of time in the kitchen cooking. She loves making new recipes and finding wonderful new things to eat, both at home or abroad. She spends a lot of time researching, crafting, and perfecting her recipes and currently has a cookbook in development.