This hummus recipe is so easy to make, creamy, and smooth that you'll be wondering why you ever used store-bought hummus.
>> You might also like this Outrageously Good Spinach Artichoke Dip or Easy & Delicious Fava Bean Puree.
I hate paying such a high price for hummus at the store. At some point I got fed up and tried to make it myself at home. You won't believe how easy it was!
Hummus makes such a great snack or appetizer to serve your guests that it's amazing to be able to make it whenever you want. I keep a couple cans of chickpeas and tahini at home at all times so I can whip up a batch whenever I want. It takes no time at all. Try this roasted broccoli and hummus for a quick and tasty side dish.
There are two camps when it comes to hummus. You either like it completely smooth and creamy, or you like it with a bit more texture. When you make it yourself at home, you can adjust the texture to however you like it.
You can also adjust the seasoning to fit your tastes. Add a bit more lemon, or tahini to change the taste slightly. You can even add roasted garlic to give it additional richness.
How to Make Hummus
All you need for equipment to make hummus is a food processor. I use the Cuisinart 8-cup food processor. It's the perfect size for this recipe. Gather all of your ingredients. You'll need:
Chickpeas – Canned or dry chickpeas work.
Extra Virgin Olive Oil – The quality of the olive oil is very important because it's one of the main ingredients. A low-quality or flavorless olive oil won't add the amazing character and flavor.
Tahini – A paste made from roasted sesame seeds, salt and oil.
Garlic – A small clove or try adding roasted garlic for additional richness.
Lemon Juice – Always use fresh squeezed lemon juice
Seasonings – Cumin, Salt, Pepper
A few notes about the chickpeas. You can make them from dried or use canned. See our quick guide on how to cook chickpeas in the Instant Pot. It's very easy. No matter which way you choose to go, you'll be faced with a second decision to make: whether to peel the chickpeas or not.
You can see in the image below, these chickpeas are not peeled. They are slightly dull in color and if you look closely you'll see a splitting shell on some. Once peeled, they will be shiny.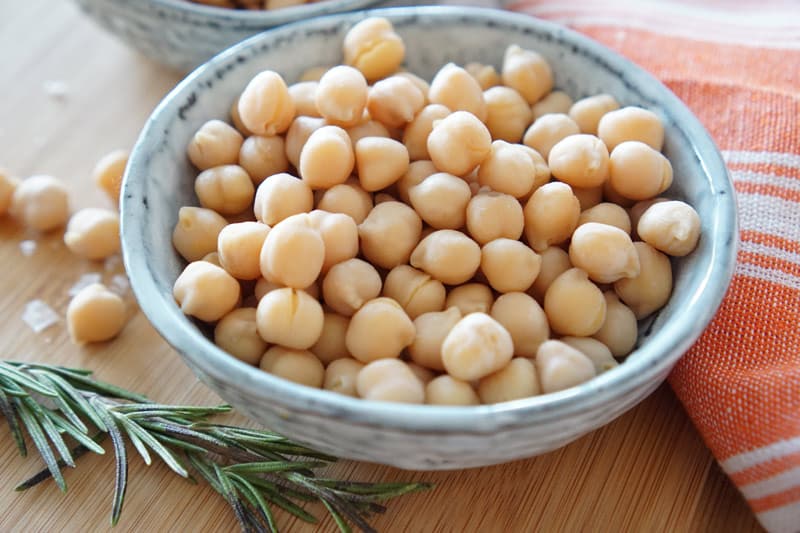 I personally prefer to peel them. It does take a bit of time, because you have to do each one individually. However, removing the thick husk from the chickpea will allow you to make a more smooth and creamy hummus.
To peel them, just put a bean between your fingers and lightly squeeze it. The skin will slide right off.
Making the hummus is the super easy part. Just put all the ingredients into the bowl of the food processor and blend it until smooth.
You'll need to taste it and make adjustments, as needed. I often will add a bit more tahini, lemon juice or salt, to taste.
How To Serve Hummus
One of the reasons I love hummus so much is how easy it is to serve. Add a few scoops to a bowl, drizzle a high-quality olive oil over the top, dust with a little paprika and you're done.
If you want to get creative, you can dress it up with other things like sliced almonds, toasted pine nuts, or a sprinkle of a different spice like cayenne pepper or za'atar. You can also add some fresh chopped parsley and a few extra chickpeas or black olives to make it look nice.
Add some sliced veggies like carrots, celery, and cucumbers on the side, along with warm pita bread for dipping. It'll be gone in a flash.
Frequently Asked Questions
Do I have to peel the chickpeas?
No, the skins are edible. We recommend peeling them. It does take a bit longer but the result is a smoother, creamier hummus.
What does hummus taste like?
Hummus has a rich and savory umami flavor thanks to the garlic and cumin along with a tangy and bright bite from the lemon juice. It has a smooth and creamy texture and pairs well with pita bread or vegetables. It can be used as a dip but also goes well in things like sandwiches, deviled eggs or with a salad.
Is hummus eaten hot or cold?
Hummus is typically eaten at room temperature when all the flavors can meld together and shine, but it is also great right out of the refrigerator. We don't recommend heating it up, the texture changes.
Looking for more dips and appetizers? Try these favorites:
Like this recipe? We'd love for you to share it on your Pinterest board! Click to follow our Pinterest boards so you can find all our recipes!
Easy Hummus
This easy hummus recipes is better than buying hummus. It turns out creamy and smooth in just 5 minutes.
Print
Pin
Rate
Ingredients
1

can

chickpeas (15 oz)

or 1 1/2 cups (250 grams)dried, cooked chickpeas

3

tablespoons

extra virgin olive oil

divided

3

tablespoons

fresh lemon juice

juice from one large lemon

1/4

cup

tahini

2

tablespoons

water

1/2

teaspoon

ground cumin

1

small clove garlic

Paprika for garnish

Salt

to taste
To Serve
Fresh vegetables

Tomatoes, cucumbers, carrots, and/or celery

Pita Bread
Instructions
For canned chickpeas, peel the skins off, then put them in a pot of water and boil for 10 minutes to soften them up. Doing this help give the hummus a smooth texture. If you're using dried chickpeas that you've cooked, just peel the skins off before using.

Add 2 tbsp olive oil, chickpeas, lemon juice, tahini, water, ground cumin and garlic to a blender or food processor.

Season with salt and blend until smooth. Add more water, if necessary, to achieve desired consistency. Taste and adjust seasoning, as desired.

Transfer to a serving dish and drizzle with the remaining extra virgin olive oil and a sprinkle of paprika. Serve immediately with fresh vegetables and pita bread.
Nutrition
Calories:
191
kcal
|
Carbohydrates:
13
g
|
Protein:
6
g
|
Fat:
14
g
|
Saturated Fat:
2
g
|
Sodium:
214
mg
|
Potassium:
162
mg
|
Fiber:
4
g
|
Sugar:
1
g
|
Vitamin A:
11
IU
|
Vitamin C:
3
mg
|
Calcium:
41
mg
|
Iron:
2
mg
Pin it for later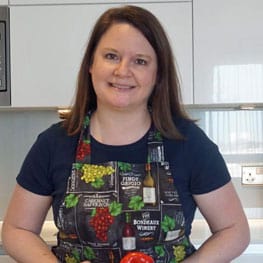 Laura is a home cook, with 25 years experience behind the stove, who spends an extraordinary amount of time in the kitchen cooking. She loves making new recipes and finding wonderful new things to eat, both at home or abroad. She spends a lot of time researching, crafting, and perfecting her recipes and currently has a cookbook in development.