We've really gotten on board with the meat delivery services in 2021. They offer a fantastic way to source quality meat that you can feel good about, and have it delivered directly to your door. Good Chop is one of the services we've tried out, so we want to review it for you today.
Good Chop is a meat and seafood subscription service that allows you to build your own box from over 25 different cuts of beef, pork, chicken, and seafood, which gives you the flexibility to choose what makes sense for your menu.
The best part for me about Good Chop is that all of the meat comes from American farms and fisheries and they are free from any additives, like hormones, antibiotics, and colorings. They hold a very high standard for the meat they source, so you can be sure it comes 100% from domestic family farms and independent ranchers.
I have become an affiliate of Good Chop in order to spread the news to others who might also like this type of subscription meat service. (If you use the links in this review to purchase, I will receive a commission.)
Join GoodChop.com today to get $100 OFF high-quality American meat and seafood. Free shipping included!
What Comes in the Box?
In order to try the Good Chop subscription, for the purposes of this review, we were sent a box of cuts chosen just for us. The variety was great and we were able to make a number of recipes with the meat.
We received wild caught Pacific Cod, beef flat iron steak, ground beef, filet mignon, beef ribeye steak, and boneless pork chops.
This is the medium box for $149. You can choose 6 items from the menu, which is up to 36 portions or $4.14 per meal. You can also choose a large box for $269, which includes 12 items, equal to roughly 72 portions or $3.74 per meal.
All of the selections were shipped to us on dry ice in a box with an insulated liner that is made from renewable plant-based components and paper, so everything was 100% recyclable.
This is more than enough meat for our family of 3 for a month. We even found that some of the cuts, like the flat iron steak and the pork chops were big enough to make two meals out of. Great value, in my opinion.
What We Made
The first thing we made with our Good Chop box contents was Parmesan Crusted Cod, with the Wild Caught Pacific Cod. These were six 5-ounce filets – perfect to serve in portions of 2 or more, because they come in 3 packets of 2. Here's our recipe, if you'd like to give them a try.
The fish was flaky and delicious. We really enjoyed that it was sustainably harvested and with no added hormones or antibiotics.
You can also purchase wild-caught rockfish and wild-caught Alaskan Sockeye Salmon, perfect for pan searing, air frying, or roasting. All their seafood is wild-caught off American coasts or raised in U.S. farms approved by the Aquaculture Stewardship Council (ASC).
Here are some other recipes we've made with our box contents.
How Does It Work?
When you sign up for Good Chop, you will pick your subscription (medium or large) and then choose the cuts of meat you want. The box is delivered to your door, frozen and on dry ice in an insulated, recyclable box every 4 weeks.
You always have the option to make any changes you want or cancel before the shipping deadline each month, so you can pick different cuts, change from a medium to large box, or even have it put on hold if you want to.
A medium box starts at $149 a month. A large box is $269 a month. You can also add premium cuts or specials to your box, which will change the total price.
Want to try Good Cop? Click here to sign up!
What Makes It Worth It?
Every month, your plan will automatically renew and you'll have the option to make changes to your selection. You can pause or deactivate your plan at any time, up until the deadline for your next delivery.
I really feel that a meat delivery service like Good Chop is a great way to go these days, to ensure you know exactly what you're getting. Some of the benefits of Good Chop are:
Natural Angus beef that is raised on open ranges, where they graze on lush green pastures with ample space.
Free-roam chickens from trusted family farms committed to responsible handling. The chickens are fed an entirely vegetarian diet and they never encounter antibiotics, growth stimulants, animal by-products or arsenic in their feed.
MSC- or ASC-certified, sustainable harvested seafood.
Responsibly raised pork exclusively from American farms.
It's completely free of antibiotics, growth hormones, preservatives, or artificial ingredients.
There's a 100% satisfaction guarantee. If you're unhappy with it for any reason, they'll either credit your account or issue a refund.
All of those promises are a major reason why I choose to purchase my meat this way. I am guaranteed to know where the meat is coming from, how it was raised, and that bad things aren't happening in the process.
Of course, the other thing that makes it so good is that the meat itself is high quality. The cuts are substantial. The meat is not tough or grisly, it's packaged well, and it's frozen well. When defrosted, the meat isn't burned, dry, or tough.
The packaging is done very well. The box looks professional. The insulated liner is recyclable. There are instructions included on how to dispose of the dry ice in a safe way.
The Cuts of Meat
There are a number of different cuts available, though they aren't all on the menu every time. Some specials are added at various times of the year. You can expect to see:
Beef: ribeye steak, New York strip, bavette steak, filet mignon, bottom round roast, flat iron steak, stew beef, ground beef, ⅓ lb burger patties, top sirloin steak, ranch steak, porterhouse steak, t-bone steak
Pork: pork chops, Italian ground sausage, pork tenderloin, boneless pork butt, thick-cut bacon, pork loin roast, pulled pork
Chicken: breasts, thighs
Seafood: sockeye salmon, Pacific cod, rockfish, lobster tails
Quality
I have always been apprehensive about purchasing meat at the grocery when I don't know where it comes from or how it was raised. Good Chop is appealing because I know I can trust the quality and don't have to worry about whether I'll be happy with the appearance or taste of the meat.
The cuts are generously sized, the meat has a good texture and tastes good, and it cooks well. These are all important quality measures for me.
Convenience
There's really no easier way to source meat than to have it delivered automatically to your door. I do still purchase some meat from the grocery or a local butcher, when I need something specific, but otherwise there's no need to think about purchasing other meat.
Once you've signed up and chosen the meat, you'll be able to forget all about purchasing meat. The box will just show up every month and you're all set. If there's a time when you don't need the box (for vacation or something) you can always skip a delivery in your online account.
Price
If price is one of your main concerns, you might want to do a bit of comparison shopping with the meat you're currently purchasing to see if Good Chop is a good deal for you.
For the quality of the meat, to me the price is worth it. For the medium box, it comes out to around $4.14 per meal on average. I've found that the price is on par with high-quality well sourced meat sold elsewhere. Add in the time and gas it takes to go to the store to purchase it, and you come out ahead.
This might not be the case where you are, so you'll have to do a little homework to see how the price looks to you.
One bit of good news: they don't charge for shipping!
Taste
Taste is obviously one of the most important factors, too. I find a lot of store-bought meat to be lacking in flavor and either fatty, tough or watery. That's not been my experience with Good Chop.
The steaks defrost well and get a fantastic sear. The flavor is nice, not gamey or strong. The texture is great. The pork chops I especially like. I put them in the Instant Pot and give them some seasoning. They turn out nice and juicy and thick.
Details for Purchasing
I am an affiliate of Good Chop in order to spread the news to others who might also like this type of subscription meat service. (If you use the links in this review to purchase, I will receive a commission.)
So you can get started and pick your box contents right through my affiliate link. You can also visit their website to learn more and see if this type of meat delivery service is for you.
Choose your plan and enjoy $100 OFF your flexible subscription at GoodChop.com!
Final Thoughts on Good Chop
If you're looking for meat that you can trust, then I can't recommend Good Chop highly enough. You can be assured you're getting high-quality sustainably farmed meat and fish, at a great price, sent directly to you each month.
I don't think you'll regret giving it a try. Best case scenario, you fall in love with it. Worst case, you're out one order and a little bit of your time. You can cancel right away if you're not happy. I'm pretty convinced you will be, though.
Don't have time right now? Pin it for later.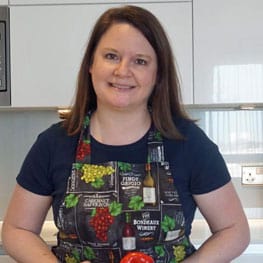 Laura is a home cook who loves making new recipes and finding new favorite things to eat, whether at home or abroad. She also runs a popular travel blog and spends a lot of her time traveling for food.