When you're cooking and a recipe calls for a tablespoon of garlic, what do you do? You can't easily measure how many cloves of garlic are in a tablespoon without crushing them up and measuring them. It can be a huge pain when you're in the middle of a recipe.
» You might like this Delicious Honey Garlic Salmon and How to Roast Garlic Without Foil.
Whether you're in the middle of a recipe and need to know how many cloves of garlic to add, or you're reverse engineering and want to know how many cloves of garlic were used when the recipe says 1 tablespoon – it's a universal issue that we all need the answer to.
There are roughly 3 gloves of garlic in a tablespoon. But that is an average, and can be affected by the size of the clove. Read on to find out more.
Basic Garlic Conversions
The amount of garlic you get from one clove in minced form is roughly one teaspoon. We assume you're working with plump, moist, fresh garlic that's solidly medium in size.
If the garlic you are working with is getting older and leathery, you might not get that much. You may need two or three dry garlic cloves for one teaspoon if you're using smaller garlic or your bulbs have the smallest cloves.
Comparatively, larger garlic cloves can easily make one tablespoon of minced garlic by themselves. Depending on the size of the bulb of garlic or the number of small cloves in your bulbs, you may need two or three garlic cloves per teaspoon.
How to Measure Garlic
Many recipes that call for garlic require a specific number of cloves, like 3 cloves. But some recipes call for a measurement like tablespoons. The best way to measure garlic is by weight in grams. But we're rarely so lucky.
In essence, neither of these methods are highly specific and can easily lead to using too much or too little. While adding a bit too much or too little garlic isn't going to drastically change a savory recipe, it's not very precise.
Garlic cloves can differ greatly in size. Two large-sized garlic cloves, when chopped, may fill the entire tablespoon. Or it can take 4 small-sized cloves to equal a tablespoon.
That's why we tend to use the average of 3 cloves when a tablespoon is called for.
There Is No Uniformity to Garlic
Garlic cloves don't come from a factory in standard shapes and sizes; saying that "one clove equals 'X' teaspoon or tablespoon can be problematic.
Garlic plants live, grow, and like any other plant, they come out of the ground in a wide range of sizes. So you'll always get non-uniform garlic.
If you're preparing a recipe, don't fret too much over the precise measurement. Any cloves-to-tablespoons ratio is only a guide, based on the average size of garlic.
However, utilizing these rough equivalents will help you figure out the approximate amount of garlic to add, andthen you can adjust it according to your taste.
FAQs
Is Minced Garlic An Alternative To Garlic Cloves?
If you must, you can substitute a teaspoon of jarred minced garlic for one fresh garlic clove. Hover, many people do not like the taste of pre-minced, processed garlic, because it has an odd aftertaste and bitterness that fresh garlic doesn't have.
How Good Is Garlic In A Jar Compared To Fresh Garlic?
Some jarred garlic can have a slight off-taste that remains detectable in cooked dishes. It is also not as potent as fresh garlic, so you may need a couple of teaspoons more jarred garlic than fresh to achieve the same flavor profile.
Minced Garlic Is Equivalent To How Much Chopped Garlic?
Fresh garlic is not the same as dried garlic, so the measurement needs to be adjusted. You can substitute 1/2 teaspoon of jarred minced garlic for each clove of fresh garlic.
Conclusion
As we've learned, garlic cloves come in all different sizes ranging from quite small to really large. This will have an affect on the number of cloves you need to obtain 1 tablespoon. The rule of thumb is 3 medium sized – average – gloves of garlic will equally 1 tablespoon.
🥧 If you're interested in more great recipes, I share all my favorite Instant Pot recipes over at A Pressure Cooker Kitchen, air fryer recipes at Air Fry Anytime, and cocktails and drinks at Savored Sips. Check it out today!
Pin it for later!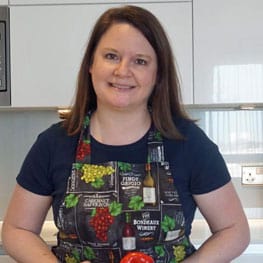 Laura is a home cook who loves making new recipes and finding new favorite things to eat, whether at home or abroad. She also runs a popular travel blog and spends a lot of her time traveling for food.