Who doesn't love roasted garlic? It's so creamy and sweet, easy to spread on bread, and works in so many recipes. I like making roasted garlic at home.
I usually put it in tinfoil and roast it in the oven, which is super easy, but recently I didn't have any on hand and needed to come up with a few methods to roast garlic without foil.
If you've ever wondered how to roast garlic without foil, I'll give you a little tutorial below with some simple, step-by-step instructions that will yield perfectly roasted garlic cloves every time – without using any foil.
How to Roast Garlic in the Oven
Roasting garlic in the oven is a deliciously easy way to make garlic for any dish. If you're looking to get away from using foil, there are three great methods I use. I'll get into the details below.
But first you must prepare your oven and garlic.
Preheat your oven to 400 degrees F.
Cut off the top of the garlic head to expose the cloves.
Drizzle olive oil over the garlic head, then add a pinch of salt.
Get out a baking sheet.
This is where the methods diverge.
Method 1: Upside Down Ramekin
One of the easiest ways to roast garlic without using foil is to simply place a ramekin or other oven-proof bowl over the top. This will seal in the moisture and ensure that the garlic doesn't get burned, just like foil would do.
Method 2: Stacked Ramekins
Another way to roast garlic without foil is to stack two ramekins on top of each other, with the garlic inside. It works the same way as the first method, but doesn't involve getting the baking tray dirty. Less mess, less clean up.
Method 3: Parchment Paper
I am trying not to use aluminum foil in my cooking, but I have nothing against parchment paper. In fact, parchment paper works for almost all of the same things that foil does. It won't hold together on it's own, but you can wrap the garlic in a sheet of parchment paper, pull up the ends and tie them with some butcher's twine.
Roasting:
Now, no matter what method you're using, place the baking tray in the oven for about 40-50 minutes to bake until slightly golden brown. I try not to check on it at all during the cooking. You can rest assured that it won't be burned after 45 minutes, so it's fine to let it go that long, if you want a more soft and creamy outcome.
The garlic should now be ready for use either as-is or chopped up into pieces to add to a recipe.
How to Store Roasted Garlic
Storing roasted garlic is both simple and incredibly useful! To keep your batch of roasted garlic flavorful, it's best to store it in an airtight container in the refrigerator. Make sure that the container you're storing it in will protect the cloves from any light or moisture.
Storing roasted garlic also helps extend its shelf-life; this way, instead of using it soon after you make it, you can enjoy your delicious and fragrant cloves for up to two weeks.
You can also freeze your roasted garlic. It's best to remove the clove from its packaging and freeze them all, individually, on a plate with space between them. Once they are just beginning to freeze, you can remove them from the plate and store them in a freezer bag or container. Since they're all individually frozen, you can choose how many to use a one time.
The garlic will keep well for up to a month in the freezer.
How to Use Roasted Garlic
Roasted garlic adds a nice roasted flavor without being overly pungent like raw garlic. Plus, roasted garlic has many health benefits such as antioxidants and anti-inflammatory properties.
You can use roasted garlic in a variety of dishes – mash it up to spread onto toast or make roasted garlic butter, add it to pastas or salads for an extra punch of flavor, or toss them into soups for extra richness. Roasted garlic is so versatile and simple to make. You'll be following this method all the time now.
Like it, Love it, Want Some More of It? Subscribe to our newsletter and follow us on Pinterest, Instagram and Facebook. We really love it when you save our recipes to Pinterest 😊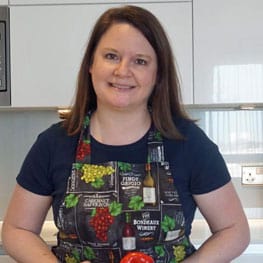 Laura is a home cook, with 25 years experience behind the stove, who spends an extraordinary amount of time in the kitchen cooking. She loves making new recipes and finding wonderful new things to eat, both at home or abroad. She spends a lot of time researching, crafting, and perfecting her recipes and currently has a cookbook in development.