This article has links to products that we may make commission from.
Everyone loves warm moist Banana Bread. As it bakes and the smell of banana and butter waft through the house, it'll be difficult to wait for it to finish baking before digging in.
There's nothing quite like eating banana bread that has just come out of the oven. This easy moist banana bread recipe has great banana flavor and makes a happy pick-me-up and a good afternoon snack.
Banana bread is one of the things I remember eating a lot when I was younger. We would have a slice or two slathered with butter as a quick breakfast before school.
I've made this recipe so many times. It's very easy to make and it turns out great every time, even when I use a different pan, or add extras like chocolate chips or more bananas.
It is at its best just out of the oven, when it's warm and aromatic. You definitely miss out on the full joy of banana bread if the bread isn't warm, so be sure to warm it up for ten to twenty seconds before eating.
Can I Freeze Banana Bread?
Banana bread also makes a great freezer bread. You can leave it in the freeze for up to four months. Believe me, it's such a treat to find a loaf of banana bread in the freezer. It feels like you've won the lottery!
To freeze it properly, you make the bread like normal and let it cool completely. When it's cooled you can wrap it in tin foil and put it in an airtight container or bag. Be sure that no air is getting into the bag, or it will become freezer burned.
Additions to Banana Bread
One of the things that I love to add is roughly chopped walnuts. This gives a great texture to the bread, adding a pleasant crunch to an otherwise soft and moist treat. I recommend adding half a cup of walnuts to this recipe.
You can add the walnuts only to the batter or also onto the top of the bread, for extra crunch (as pictured above).
It is worth the extra effort to toast the walnuts in a skillet for a few minutes before chopping them and adding to the batter. This takes away the bitter taste to the nuts and gives them a toasty taste.
Chocolate chips are a wonderful addition to banana bread. Semi-sweet chocolate compliments the bananas nicely. Just add a 1/2 cup to your batter.
You can also add extra bits of banana to the batter, if you like chunks of banana in your bread. I've also added a lengthwise slice of banana to the top before baking. It makes a fun design on the top of the bread and the aroma is heavenly.
Tips for Making Banana Bread
The best tip I have for making banana bread is to use overripe bananas. Ripe bananas mash better and they also make for a more moist bread. Additionally, ripe bananas have more sugar content and lead to a sweeter bread.
It's also a great way to get rid of bananas that you know nobody in the house is going to eat.
I rarely bother with a stand mixer when making banana bread. I tend to just make it quickly and easily by hand. However, creaming the softened butter and sugar together will make the banana bread lighter and more cake-like with a finer texture.
Using melted butter makes the bread denser and less crumbly. So if you want a lighter texture, it might be worth it to use a stand mixer or hand blender to cream the butter and sugar. Otherwise, using a whisk and a fork to mash the bananas is all the equipment you need.
Other Recipes to try
Like this recipe? We'd love for you to share it on your Pinterest board! Click to follow our Pinterest boards so you can find all our recipes!
Instagram it! If you try this recipe please tag #AFoodLoversKitchen on Instagram or Twitter. We love to see your photos of our recipes! Also follow us on Instagram, Twitter and Facebook to keep up on what we're cooking up.
Banana Bread Recipe
Everyone loves warm Banana Bread. As it bakes and the smell of banana and butter waft through the house, it'll be difficult to wait for it to finish baking before digging in.
Print
Pin
Rate
Ingredients
1/2

cup

butter

softened

1

cup

white sugar

2

eggs

beaten

1

tsp

vanilla extract

1 1/2

cups

all-purpose flour

1

tsp

baking soda

1/2

tsp

salt

1/2

cup

sour cream

1/2

cup

walnuts

chopped

3

overripe bananas

mashed
Instructions
Preheat the oven to 350 degrees F (175 degrees C). Prepare a 9×5 loaf pan by greasing and flouring it.

In a large bowl, beat the butter and sugar together until light and fluffy. Add the eggs and vanilla and mix well.

Combine the flour, baking soda and salt in a bowl and stir together well before stirring it into the butter mixture by hand with a wooden spoon. Do not overmix.

Fold in the sour cream, walnuts and banana, being careful not to overmix.

Pour into the loaf pan and spread evenly on top.

Bake at 350 degrees F for 1 hour on the middle rack, or until a toothpick inserted comes out clean. Allow to cool before slicing.
Pin it for later!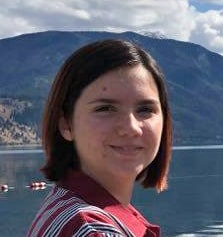 Jillian Morris is the resident baker for A Food Lover's Kitchen. She started baking when she was very little and found she had a great passion for it. She is a high-schooler in a small town in Oregon, where she enjoys music, writing, and baking in her spare time.