This Chocolate Chip Mug Cake is the perfect one serving dessert with moist cookie-like cake and gooey chocolate chips mixed in. It will definitely satisfies your craving.
>> Are you a chocolate lover? Try these Walnut Chocolate Chip Cookies.
I love mug cakes because you can make just one serving instead of having to spend an hour or more making a full-sized cake or a whole tray of cookies in the oven. This microwave chocolate chip mug cake makes just enough for dessert.
The mug cake is a mix between a vanilla cake and chocolate chip cookies. It's not too rich but it definitely fits the bill when you're craving something sweet but don't want to make a whole batch of something.
There are oven versions if you don't like to cook in the microwave, but this recipe is designed for the microwave. In my 800-watt microwave, it cooks in 1 minute and the center turns out perfect.
What is a Mug Cake?
A mug cake is just that – a cake made in a mug. It's a single serving cake that you cook in a mug (or ramekin) in the microwave. It's quick and easy to make and turns out just the way you want it to, without all the fuss of cooking in the oven.
If you like to make dessert once in a while, but don't want to make a major production out of baking a whole cake, taking all that time in the oven, then having all the left overs that you'll surely eat because it's there – then a mug cake is perfect for you.
We love this Chocolate Lava Mug Cake for its moist chocolate cake and lava center. It definitely satisfies a chocolate craving.
Ingredients in Chocolate Chip Mug Cake
You'll need the typical cake making ingredients for this mug cake, though in much smaller measure. The most important parts are quality chocolate chips.
You're also going to need a microwave-safe mug or 8-10 ounce ramekin to cook it in.
Flour
Brown sugar
Baking powder
Milk
Vanilla extract
Oil
Chocolate chips
How to Make a Chocolate Chip Mug Cake
This is pretty easy to make. Just mix the ingredients together in the mug, add the chocolate and water, then microwave.
Here's a breakdown of the steps:
Combine flour, brown sugar, and baking powder in a small bowl and stir together with a fork.
Add in the oil, milk, and vanilla extract. Stir it all up until it's a nice smooth batter.
Fold in half of the chocolate chips so they are incorporated into the batter. I used mini chocolate chips and the smaller size was perfect.
Lightly grease or spray a microwave-safe mug or ramekin. It needs to be at least 10 ounces big or the batter might overflow.
Pour in the batter. Then drop the remaining chocolate chips over the top. Don't push them down, just drop them in. They will sink to the middle of the cake during cooking.
Microwave on full power for 1 minute. My microwave is 800-watts power and this timing is perfect. However, you really don't want to overcook the cake, so if you have a more powerful microwave, 1 minute might be too much.
Cool for 5 minutes before eating. This part is very important too. First of all, the chocolate is actually molten at this point and you'll burn yourself, but it also gives time for the cake to set up properly.

For the first time making this cake, I always recommend stopping it at 50 seconds to check the progress. Do this quickly. Just peer in and see if the top still looks wet. If so, put it back on for 10 seconds and check again. Then do another 5 seconds at a time until it's cooked.

"Cooked" for this cake means it's no longer jiggly or wet in the center. The top of the cake will still have a sort of wet looking sheen to it, but if you touch the top, it won't be actually wet batter anymore. If you cook it too long, it will lose that sheen and will look dry on top.
Tips for Making the Perfect Mug Cake
Here are a few tips to ensure that your mug cake comes out perfect.
Don't over cook it. This can be difficult to gauge the first time, because all microwaves are different and yours might cook faster than mine does. I find that 1 minute is perfect for my microwave. It's always better to undercook then overcook. If you overcook it there's no going back. The cake will be dry and the chocolate might even get scorched. If it doesn't seem quite done then cook for 10 seconds and check again.
Don't over stir the ingredients. You just need to stir to incorporate. There's no whisking or beating necessary. Just stir until the ingredients are combined.
It's always best to use a mug that's too big than one that's too small. A 10-ounce mug is the smallest you can use for this or the ingredients might overflow.
Like this recipe? We'd love for you to share it on your Pinterest board! Click to follow our Pinterest boards so you can find all our recipes!
Instagram it! If you try this recipe please tag #AFoodLoversKitchen on Instagram or Twitter. We love to see your photos of our recipes! Also follow us on Instagram, Twitter and Facebook to keep up on what we're cooking up.
Chocolate Chip Mug Cake
This Chocolate Chip Mug Cake is the perfect one serving dessert with moist cookie-like cake and gooey chocolate chips mixed in. It will definitely satisfies your craving.
Print
Pin
Rate
Ingredients
4

tablespoons

all purpose flour

2

tablespoons

brown sugar

1/2

teaspoon

baking powder

1/4

teaspoon

vanilla extract

2

tablespoons

oil

2

tablespoons

chocolate chips
Instructions
Mix dry ingredients including chocolate chips together in a microwave safe mug or ramekin.

Add wet ingredients and stir just enough to mix all together. Being careful not to over mix. Sprinkle a few more chocolate chips on top.

Cook in the microwave for 1 minute or until the top looks dry and the cake is springy. Adding 10 seconds at a time until desired texture.

Remove from microwave and allow to cool a minute. Enjoy!
Nutrition
Calories:
525
kcal
|
Carbohydrates:
57
g
|
Protein:
3
g
|
Fat:
32
g
|
Saturated Fat:
5
g
|
Polyunsaturated Fat:
8
g
|
Monounsaturated Fat:
18
g
|
Trans Fat:
1
g
|
Cholesterol:
4
mg
|
Sodium:
225
mg
|
Potassium:
66
mg
|
Fiber:
1
g
|
Sugar:
32
g
|
Calcium:
142
mg
|
Iron:
2
mg
Pin it for later!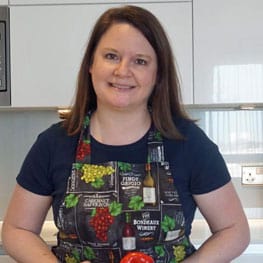 Laura is a home cook who loves making new recipes and finding new favorite things to eat, whether at home or abroad. She also runs a popular travel blog and spends a lot of her time traveling for food.