This Pistachio Dukkah is made with a blend of toasted nuts and spices to make an aromatic and textured crunchy spice blend that you can use on all kinds of foods as a boost of flavor.
» You might also like the Best Ever Meat Marinade.
We had been seeing dukkah a lot recently at restaurants and on tv. When we first tasted it, we were very intrigued by the spice combination and the way the nuts gave such great texture. It's a huge flavor enhancer for things like pasta and fish.
Of course I had to try making it at home, because I wasn't able to find it anywhere to use at home. It's really simple to make, and lasts for quite a while. I find myself using it on so many things now.
I think you're going to love it. You can adjust the flavors and ingredients to what you like and you can also adjust the size of the batch you make, in case you only need it for one recipe or want to have a large batch on hand.
What is Dukkah?
Dukkah is a delicious spice and nut blend that is popular in Middle Eastern, Mediterranean, and North African cuisines. It consists of a mix of nuts, seeds, herbs, and spices such as cumin, coriander, sesame seeds, salt, black pepper, and sometimes even dried fruit.
The name comes from the Arabic word "to pound" which is perfect for this recipe that is originally made with a mortar and pestle. If you have a mortar and pestle, you can use it to make your spice blend, but you can also use a food processor.
The exact proportions of each spice and nut varies depending on the recipe and personal preference, but the resulting mixture is usually coarsely ground and super aromatic.
Ingredients You Need
Below are the ingredients I like to use in my Pistachio Dukkah. It's a really nice blend of multiple nuts and spices that I really like. It's not a firm, set-in-stone recipe though. You can experiment to find your favorite blend. Leave out any of the ingredients you don't like, substitute with other, etc.
You can use just pistachios if you want. I like to add hazelnuts for a little more complexity. You can add almonds, walnuts, etc, if you want.
Pistachios – Use shelled pistachios if possible – makes it much easier on you.
Hazelnuts – You can find them in most grocery stores.
Fennel seeds – Fennel seeds have a mild licorice like flavor.
Coriander seeds – When toasted coriander seeds take on a slightly nutty and citrus flavor. Untoasted they have a floral flavor.
Cumin seeds – Cumin has a very earthy, spicy flavor.
Sesame seeds – Sesame seeds when toasted lend a delicious flavor all their own.
Thyme – You can use dried or fresh thyme.
Salt
Ground cayenne pepper
How to Make Pistachio Dukkah
Step One: Toast
It really boosts the flavor of the dukkah if you toast the nuts and seeds first. This really brings out the aromatics and oils.
Preheat the oven to 350° F. Prepare a baking sheet with parchment paper or a silicon mat.
Place the nuts and seeds on the baking sheet. Don't include the salt and cayenne, or anything that's already ground. Toast it in the oven for about 5-8 minutes, until lightly toasted and aromatic. Remove the tray and let the ingredients cool completely.
Step Two: Blend
Put all of the ingredients in a food processor or grinder. Pulse it for 10-15 second. You want the mixture to resemble coarse sand, not a smooth spice mixture. The presence of larger pieces of nuts gives a great texture to your dish.
Once you've gotten it to the right consistency for your preference, pour into an airtight container. This will help the mixture last for up to 2 months. I suggest using it as often as possible so it's at its freshest when you do use it.
What Do You Do With Dukkah?
The most typical use for Dukkah is as a seasoning or topping for your dish. It gives a great crunch and flavor to the food. It can also be used as a coating for fish or chicken before baking or frying.
Try mixing it into yogurt-based dips or sauces, sprinkled over hummus or salads, used as an addition to egg dishes, stirred into soups, used as a flavor enhancer in marinades, and as an accompaniment to breads.
You can enjoy dukkah on its own or mix it with olive oil and lemon juice for a delicious spread. It has so many uses that I make a big batch and store it in a container so I always have it on hand when I want it.
How to Store Dukkah
This recipe makes about 3/4 cup of dukkah so you will definitely need to store some of it to use whenever the mood strikes. I store mine in an air tight spice container in my spice drawer. It keeps it from leaching out the aromas and it stays fresh for quite a while.
You don't want to store your dukkah in the sunlight or near the stove because heat can cause the oils to release from the spices and the mix will become damp and oily.
Like this recipe? We'd love for you to share it on your Pinterest board! Click to follow our Pinterest boards so you can find all our recipes!
Instagram it! If you try this recipe please tag #AFoodLoversKitchen on Instagram or Twitter. We love to see your photos of our recipes! Also follow us on Instagram, Twitter and Facebook to keep up on what we're cooking up.
Pistachio Dukkah
This Pistachio Dukkah is made with a blend of toasted nuts and spices to make an aromatic and textured crunchy spice blend that you can use on all kinds of foods as a boost of flavor.
Print
Pin
Rate
Ingredients
1/2

cup

pistachios

1/4

cup

hazelnuts

2

tablespoons

fennel seeds

2

tablespoons

coriander seeds

2

tablespoons

cumin seeds

2

tablespoons

sesame seeds

1/2

teaspoon

dried thyme

1

teaspoon

sea salt

1/4

teaspoon

ground cayenne pepper
Instructions
Preheat the oven to 350° F.

Place the nuts and seeds on the baking sheet (not the

salt

and cayenne). Toast in the oven for about 5-8 minutes, until lightly toasted. Remove and cool.

Put all of the ingredients in a

food processor

or grinder. Pulse for 10-15 second, until the mixture resembles coarse sand. Pour into an airtight container and store for up to 2 months.
Notes
This recipe makes 3/4 of a cup.
Nutrition
Calories:
745
kcal
|
Carbohydrates:
43
g
|
Protein:
25
g
|
Fat:
60
g
|
Saturated Fat:
6
g
|
Polyunsaturated Fat:
15
g
|
Monounsaturated Fat:
36
g
|
Sodium:
2363
mg
|
Potassium:
1468
mg
|
Fiber:
22
g
|
Sugar:
6
g
|
Vitamin A:
658
IU
|
Vitamin C:
12
mg
|
Calcium:
593
mg
|
Iron:
19
mg
🥧 If you're interested in more great recipes, I share all my favorite Instant Pot recipes over at A Pressure Cooker Kitchen, air fryer recipes at Air Fry Anytime, and cocktails and drinks at Savored Sips. Check it out today!
Pin it for later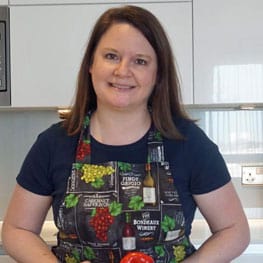 Laura is a home cook who loves making new recipes and finding new favorite things to eat, whether at home or abroad. She also runs a popular travel blog and spends a lot of her time traveling for food.