This adorable Mummy Brie is a baked brie cheese wheel that is wrapped in puff pastry strips to resemble a mummy. It's the perfect Halloween appetizer!
» You might also like this Spider Breadstick Bowl and 22 Spooky Halloween Appetizers & Treats.
If you're anything like me, Halloween isn't just about costumes and trick-or-treating; it's also about the food. Yeah, I know, candy is the main focus, but let's get real: no one needs all that sugar! So why not switch it up this year?
This Mummy Brie is a killer appetizer that marries gooey, delicious brie cheese with flaky puff pastry—all dressed up like an adorable (or creepy, depending on your perspective) mummy.
Why We Love Making Mummy Brie
Making mummy brie isn't just about the end result; it's about the process, too. You get to play around with puff pastry, which is basically adult Play-Doh that you can eat. Plus, anything that involves wrapping something in more food is a win.
But what really seals the deal? The brie turns into this molten, gooey mess that you and your guests will want to dive into. Forget about candy; this dish is the real Halloween treat.
Ingredients Needed
Brie cheese – An 8-16 ounce wheel of cheese is perfect. There are many types and brands you can use. See more info below.
Puff pastry – You need just one sheet per brie wheel. A package usually comes with 2, but the extra can be frozen if you don't use it.
Egg – An egg wash gives the pastry a nice golden appearance.
Milk – Also for the egg wash.
For the eyes – There are many ways you can create the eyes, but we use carrot slices and sliced olives for the pupils.
Crackers for serving
Choosing Your Brie
Not all brie is created equal, and for this recipe, you want something that's creamy but not overly ripe. Trust me, an overripe brie will turn into a puddle before you even finish wrapping it in the puff pastry. Look for a brie that's firm to the touch and doesn't have a too-strong ammonia smell.
How to Make Mummy Brie
Start by preheating your oven to 400°F (204°C). Line a baking sheet with parchment paper.
To prep your work surface flour the counter or use your baking sheet that is lined with parchment paper.
Unroll the thawed puff pastry sheet and place it on a floured surface. Use a sharp knife or pizza cutter to cut it into 1/2" strips. If the strips are much bigger you won't see the brie underneath.
Wrap the pastry strips around the brie, making sure it resembles something akin to a mummy. Place a strip and see how you like it. It can be however you want it to be. Lay your eyes on there to help wrap the pastry.
I didn't cook the eyes with the brie. You can if you want.
In a small bowl, whisk together the egg and milk. Brush this mixture over the wrapped brie. It will give the pastry great color as it bakes.
Put the mummy brie on the lined baking sheet and let it bake for about 20 minutes. You're looking for a golden, crispy puff pastry and a brie that's warmed through.
For that final touch, put a slice of carrot where the mummy's eyes should go and add a slice of olive on top of each carrot. Serve it along side crackers or your choice and dig in!
What to Serve It With
The best way to serve your Mummy Brie is with crackers. I like the thin water crackers best because they don't mask the flavor of the cheese. However, you can use any type of crackers you like. Mix and match even. You could also throw in some sliced apples, a handful of grapes, or even some cured meats if you're feeling fancy.
How to Store Your Mummy Brie
If you happen to have leftovers (and let's be honest, you probably won't), wrap it up tightly in cling film and store it in the fridge. But keep in mind, the puff pastry won't be as crisp the next day. The microwave is not your friend here; reheat it in the oven to keep the integrity of the dish.
Frequently Asked Questions
Can I use a different type of cheese for this recipe?
You could, but brie is particularly suited for this dish due to its creamy texture and mild flavor that complements the puff pastry. If you're feeling adventurous, you might try Camembert, but keep in mind that the taste and texture could vary.
What can I use instead of puff pastry?
While puff pastry is the ideal choice for that flaky, buttery texture, you could use crescent roll dough as a substitute. It won't yield the same crispiness, but it'll do in a pinch. Just keep an eye on the cooking time, as it may differ from puff pastry.
Do you take the rind off brie before baking?
When preparing baked brie, it's best to leave the rind on. This not only helps the cheese maintain its form during baking but also adds to the overall flavor. You have the option to savor the rind along with the gooey, melted cheese or easily peel off the top layer after baking.
Like it, Love it, Want Some More of It? Subscribe to our newsletter and follow us on Pinterest, Instagram and Facebook. We really love it when you save our recipes to Pinterest 😊
Mummy Brie
This adorable Mummy Brie is a baked brie cheese wheel that is wrapped in puff pastry strips to resemble a mummy. It's the perfect Halloween appetizer!
Print
Pin
Rate
Ingredients
1

tablespoon

(

8

g

)

flour

for dusting

1

sheet puff pastry

1

wheel of brie

1

large egg

1

tablespoon

(

15

ml

)

milk

2

slices

carrot

2

sliced black olives
Instructions
Preheat oven to 400°F (204°C). Line a

baking sheet

with parchment paper.

Flour your work surface. Unroll the puff pastry onto the floured surface. Cut it into 1/2" strips.

Wrap the strips around the brie like a mummy.

In a small bowl,

whisk

the egg and milk together. Brush over pastry.

Place the brie on the baking sheet.

Bake until brie is warmed through and puff pastry is golden in color, about 20 minutes.

For the eyes, place a slice of carrot and cover it with the sliced olives. Serve with crackers.
Nutrition
Calories:
289
kcal
|
Carbohydrates:
18
g
|
Protein:
9
g
|
Fat:
20
g
|
Saturated Fat:
8
g
|
Polyunsaturated Fat:
2
g
|
Monounsaturated Fat:
9
g
|
Trans Fat:
0.004
g
|
Cholesterol:
49
mg
|
Sodium:
299
mg
|
Potassium:
171
mg
|
Fiber:
1
g
|
Sugar:
2
g
|
Vitamin A:
5298
IU
|
Vitamin C:
2
mg
|
Calcium:
71
mg
|
Iron:
1
mg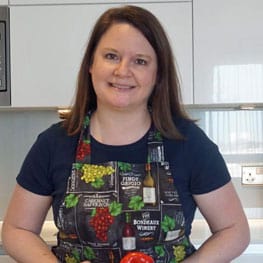 Laura is a home cook, with 25 years experience behind the stove, who spends an extraordinary amount of time in the kitchen cooking. She loves making new recipes and finding wonderful new things to eat, both at home or abroad. She spends a lot of time researching, crafting, and perfecting her recipes and currently has a cookbook in development.