There's nothing quite like a freshly made waffle at home! If you want to fill your house up with the tantalizing smell of hot waffles and treat yourself to one of the tastiest treats out there, then it's time to get yourself a waffle iron.
Making fresh waffles at home is so easy to do. Once you have found a great homemade waffle batter recipe, you will be able to whip up a fresh stack of waffles with no effort or time at all. These can be enjoyed at any time of the day, and are perfect for the whole family.
The only problem with waffle makers is that they tend to be pretty difficult to clean. This is why waffle irons with removable plates were invented. These kitchen gadgets are very easy to use and clean up.
Here's everything you need to know when looking for the best waffle maker with removable plates, as well as our favorite product picks.
Why Choose a Waffle Maker With Removable Plates?
We all love a delicious fresh waffle, but cleaning up after making them can be a nightmare! However, this problem has been solved through the clever invention of adding removable plates to your waffle iron.
Having a waffle iron with removable plates allows you to take out the plates and soak them in soapy water or run them through the dishwasher, it also allows you to get to those hard to reach places when cleaning.
Not only this, but you may also be able to use your waffle maker for different purposes (such as a sandwich press) when taking the plates out.
Basically, a Belgian waffle maker with removable plates will make your life a whole lot easier. This is a kitchen gadget that you will love!
What to Look For in the Best Waffle Iron
With all of the different kitchen products out there, choosing the best Belgian waffle maker can be tricky! Before you make a purchase, here are some important features to consider.
How many waffles can it make? – Some waffle makers can only cook a single waffle at a time, while others can make four (or more). Depending on your needs, your family, whether you entertain often, or simply how hungry you get, make sure that you buy a waffle iron that is big enough.
Can it flip? – Some of the best waffle irons are made with a smart flipping system, allowing you to turn over the machine while in use. This allows for better spreading and no bald spots.
Does it have temperature control? – Some waffle makers come with one set temperature, while others can be adjusted. Being able to regulate the temperature allows for better control while cooking.
Does it have extra uses? – As mentioned earlier, your appliance may be more than just the best waffle maker. Some products can double up as a grill and sandwich maker too!
Round or square? – This is more a matter of personal taste. Some machines make round waffles, and some make square ones. Choose whichever style you prefer.
Size – While we would love to eat waffles all day, you will end up packing your waffle maker away. Take note of how large and heavy your product is to see if it will suit your kitchen.
Our Favorite Waffle Makers With Removeable Plates
Now that you know what to look out for in the best waffle iron, it is time to find the right product and get cooking! Here are our three favorite appliances, all featuring a waffle iron removable plate set.
This Belgian waffle maker puts out 4 square waffles in a traditional style waffle maker. It has removeable plates so you can easily take them off after cooking and clean them. Removable, dishwasher safe die cast plates with a nonstick coating make for the easiest possible clean up.
Another thing I like about this waffle maker is that it has a steam release system that lets the steam out of the waffles as it cooks. This is how you get those deliciously crispy waffles, rather than soft and soggy ones. You can even set it to 5 different browning levels, so you can customize your waffles like you do your toast.
It has indicator lights for when it's on, ready, and done, and also has an audible beep when it's done, so you don't have to stand around waiting for the light to go off and then inevitably miss it and over cook the waffles.
How many waffles can it make? Four square waffles
Can it flip? No
Does it have temperature control? Yes, 5 browning levels
Does it have extra uses? No
Round or square? Square
Size? 12.6 x 6.7 x 16.5 inches
PROS
CONS
Easy to clean, removable plates
Browning control
Red/green on, ready, done lights
Must carefully wash and dry to avoid rust
Can only be used to make waffles
---
If you are looking for a simple, but highly efficient, tool for creating delicious waffles at home, then the Hamilton Beach flip Belgian waffle maker with removable plates is a great choice. This Belgian waffle maker produces thick and fluffy waffles thanks to its deep pockets that hold plenty of battter. It only takes about 5-8 minutes to finish cooking, depending on the batter you use.
The flip design helps the waffle cook evenly on both sides, so it comes out fluffy on the inside and a little crispy on the edges. This product also comes with a useful browning control feature, so you can cook it to your desired darkness. The indicator light will come on when the iron is ready and when it's done.
Some of the top features of this waffle maker are the cool-touch handle, so you don't burn yourself when flipping or opening the pan, and the removable plates, which allow you to clean the plates quickly and easily. There's also an easy to clean drip tray to keep everything neat while you cook.
How many waffles can it make? One 7″ round waffle
Can it flip? Yes
Does it have temperature control? Yes, adjustable browning control.
Does it have extra uses? No
Round or square? Round
Size? 6.76 x 9.9 x 9.06 in
PROS
CONS

Easy to clean
Useful browning control
Handy flip action
Red/green light tells you when the waffle is ready

Can only produce single waffles at a time
Can only be used to make waffles
---
This Cuisinart Waffle Maker takes the removeable plates design to the next level by providing both a four-slice waffle plate and a four-slot pancake plate as well. The perks of this machine over the one above is that you can make multiple waffles at the same time, so everyone can eat together, while the waffles are still hot. It's perfect for families.
This waffle maker has a six-setting temperature control to allow you to make waffles just the way you like them. There is also a light that indicates when your waffles are ready, as well as a useful audible alert.
I like this waffle maker because it's incredibly versatile and large enough, but it doesn't take up a lot of space because it's stored upright. You can make all kinds of different things in this machine. I've made hash browns, grilled cheese, and even fried eggs using the pancake plates.
How many waffles can it make? Four 4″ square waffles
Can it flip? No
Does it have temperature control? Yes, adjustable temperature control with six settings, indicator lights and an audible beep
Does it have extra uses? Yes
Round or square? Square
Size? 9.65 x 12.2 x 6.3 in
PROS
CONS

Comes with tongs and a recipe book
Handy audible and light alert when ready
Can be used to prepare more than just waffles
Can cook four waffles at once

No flipping action
The exterior can get hot
---
There are very few bells and whistles on this Belgium waffle maker, but it does turn out great waffles, nonetheless. If you're looking for a lower-price tag and a guarantee of great outcome, you can't go wrong here. This product by Secura uses a 360-degree rotation to ensure that the batter spreads evenly, which is one of the most important concerns when making waffles.
There is a unique locking clip design which helps the cooking process while minimizing mess and leakage. The handles on this model also keep cool really well, providing a safe machine. There are also useful indicator lights to help you out when cooking.
The things this machine does have are a temperature control and additional plates. But the plates are removable and dishwasher safe, for easy cleanup.
How many waffles can it make? One 7″ waffle
Can it flip? Yes
Does it have temperature control? No
Does it have extra uses? No
Round or square? Round
Size? Approximately 15 x 19 x 9 in
PROS
CONS

Cooks evenly and efficiently
Minimal leakage
Easy to clean
Easy to pack away

No temperature control
Only makes a single waffle at a time
---
Final Thoughts
Making fresh, hot waffles at home is something we should all do, it's so easy and so rewarding! Finding an appliance with waffle maker removable plates is a huge bonus. It can help you out in the kitchen in many valuable ways.
Finding the best waffle makers can seem tricky, but we hope that our guide has helped you to make a decision. There really isn't much better than being able to make your own waffles at home, and one of these handy gadgets really will add so much to your kitchen.
Like this recipe? We'd love for you to share it on your Pinterest board! Click to follow our Pinterest boards so you can find all our recipes!
Instagram it! If you try this recipe please tag #AFoodLoversKitchen on Instagram or Twitter. We love to see your photos of our recipes! Also follow us on Instagram, Twitter and Facebook to keep up on what we're cooking up.
Pin it for later!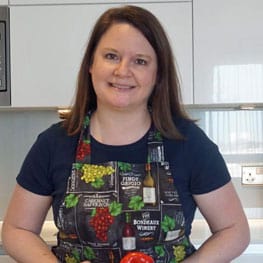 Laura is a home cook who loves making new recipes and finding new favorite things to eat, whether at home or abroad. She also runs a popular travel blog and spends a lot of her time traveling for food.