A Disney character breakfast is one of the highlights of a trip to Disneyland or Disney World for the little ones. Bring some of that magic to your home by creating a fun Disney-themed breakfast for your family to enjoy together at home.
There are many ways you can recreate Disney magic in your own kitchen, from Disney-shaped pancakes and waffles that you can make with special Disney appliances, to designing your own Mickey-shaped pancakes and drinks, to making your own version of foods you would buy at the park.
Why not do a little mix and match? We've put together some great ideas that we know your family will love, so you can surprise them with a fun Disney breakfast.
★ Also try these other great Disney recipes you can make at home.
Disney Breakfast Appliances
We've seen some pretty cool appliances that make Disney-themed breakfast easier than ever. My personal favorite is the waffle maker featured below. These products can be purchased through ShopDisney, one of our favorite online stores for Disney apparel, products, and toys. You can also find the ones below on Amazon.
Sale
Mickey Mouse Waffle Maker
Bakes One 6" Mickey Mouse Character Waffle
Illuminated Mickey Power Light
Nonstick Cooking Plates
Non-skid Rubber Feet
800 Watts; 1 year warranty
Mickey Mouse Toaster
Mickey Character Imprint on Toast
Extra Wide Slots with Self Centering Bread Guides and High Rise Toast Lift
Adjustable Browning Control
Hinged Crumb Tray
Non-Skid Rubber Feet
Sale
Mickey Mouse Waffle Maker
Makes One Mickey Mouse-Shaped Waffle
Non-Stick Baking Plate
Illuminated Power Light
Convenient Cord Wrap
Non-Skid Rubber Feet
Mickey Mouse Coffee Machine
Single serve Coffee maker
Illuminated on/off switch
Removable drip tray
Flip top lid
12 ounce mug and Permanent filter included
Disney Breakfast Foods to Make at Home
Mickey Mouse Waffles
I don't know any kid who wouldn't love eating these Mickey Mouse-shaped waffles. I don't think I'd ever use the regular waffle iron again with this around the house.
The best part about this waffle maker is that it's double sided – each side makes 3 waffles – so you can have 6 waffles done at once. Give this Classic Waffle Recipe a try.
These Mickey shaped waffles are a staple around the Magic Kingdom. You can get them at most breakfast locations and character breakfast's. They are served with powdered sugar and syrup for dunking.
Mickey Mouse Toast
This Disney Mickie Mouse toaster will bring a bit of Disney magic to your kitchen, for sure. It's a regular 2-slice toaster, but it leaves a fun Mickey impression on each piece of toast.
The best part about having this toaster around the house is that toast is an easy go-to breakfast for a kid, so they can make their own breakfast or snack without having to ask mom and dad! They will love this toaster so much that you may have trouble keeping bread in the house.
Disney's Frozen Olaf Waffles
This waffle maker puts a new face on the phrase "frozen waffles". These adorable Olaf waffles are any little girl's new favorite breakfast food. The waffle maker is 500w so it's not slow to cook, but it does only make one waffle at a time.
Get creative with these waffles! You can dress them up with colored sprinkles or dust them with a little bit of powdered sugar. See the waffle maker on Amazon.com.
Mickey and Minnie Mouse Cookie Cutters
I love these Mickey cookie cutters. They allow you to make eggs and pancakes, but also jello or cookies or even biscuits. It's a six-part set, so you can make a Mickey head, bow tie, pants, shoes and hands. Get creative with these and see what fun things you can make with them.
★ See the Mickey Silicon Molds on Amazon.
Disney's Dole Whip
While not strictly a breakfast food, this dole whip is so delicious you will want to add it to your Disney-themed breakfast menu. The line can be very long at the park for this treat which is well worth the wait. Here is a quick make-at-home recipe.
1 big scoop of vanilla ice cream
4 oz pineapple juice
2 cups frozen pineapple
Blend all of these together in a blender and serve. You can store any left overs in the freezer for up to a week.
Raspberry Rose Macarons
These beautiful treats are available at the Jolly Holiday Bakery in Disneyland. They're made in the shape of a Mickey head and they're filled with a raspberry rose cream.
It's not the easiest recipe to make, but it'll definitely be a favorite at your Disney-themed breakfast.
★ Get the recipe for these Raspberry Rose Macarons.
Mickey Mouse Cinnamon Rolls
These cinnamon rolls can be found at DisneyWorld in Disney's Animal Kingdom, but if you're not able to make it to Disney, that's okay because you can make them at home!
You will not believe how easy it is to make this treat. And no, you don't have to be a professional baker to achieve this masterpiece! With only 3 ingredients, these cinnamon rolls are affordable for anyone to make!
★ Get the recipe for these Mickey Mouse Cinnamon Rolls.
Disney Churros
Disney was kind enough to release their churros recipe to the public when the parks had to be closed at the beginning of 2020. Now you can make your favorite theme park treat at home. This is the Disney authentic churro recipe with step by step photos and tips to make this recipe perfect every time.
These crunchy little bites of fried dough coated in cinnamon sugar are so good and they make a great addition to a breakfast spread, even if they are dessert! Serve them warm with a side of chocolate dipping sauce for the best sweet treat.
★ Get the recipe for these Disney Churros.
Mickey Mouse Beignets
These adorable Mickey Mouse beignets are simple to make and addictively delicious. You can find them in Disney parks around the world, but now you can also make them at home!
Disney recently posted their recipe and the homemade version definitely lives up to the reputation. They're chewy and crisp on the outside, and so light and soft on the inside. They are little bites of heaven and you will definitely not be able to stop snacking on them!
★ Get the recipe for these Mickey Mouse Beignets.
CONCLUSION
There are so many great Disney-themed breakfast ideas you can make that it's really a no-brainer to put on your own Disney breakfast at home. We hope you've been inspired to try a few of these ideas.
If you plan a Disney-theme breakfast at home, we'd love for you to share your thoughts in the comments. Or tag us in your Facebook post!
Like it, Love it, Want Some More of It? Subscribe to our newsletter and follow us on Pinterest, Instagram and Facebook. We really love it when you save our recipes to Pinterest 😊
Pin it for later!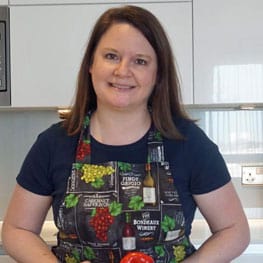 Laura is a home cook, with 25 years experience behind the stove, who spends an extraordinary amount of time in the kitchen cooking. She loves making new recipes and finding wonderful new things to eat, both at home or abroad. She spends a lot of time researching, crafting, and perfecting her recipes and currently has a cookbook in development.