Without formal training, the only way you ever really learn about the different types of kitchen knives is in home economics or, if you're lucky, from your mom. It took me a long time to realize that there was more than just a chef's knife and a paring knife.
Those are the only two knives I ever used. It wasn't until I was trying to debone a chicken for the first time that I realized not all knives are created equal.
There are big differences in the knives we use in the kitchen, that make a job either way easier, or way harder. Choosing to debone a chicken with a paring knife was definitely much harder than it had to be.
Learning which knives
Choosing the Right Type of Kitchen Knives
I started researching knives when I decided to buy my first quality knife block set. I went to the store thinking I would just purchase a pre-packaged set of knives with a block and that would be good. But instead I came home with a customized set of knives that I personally selected, thanks to a really helpful salesperson who didn't think I needed all 17 knives that came with the pre-packaged block.
And you know what, he was right. I wouldn't have used half of those knives.
The knives I bought are the ones I use on a daily basis, plus a few specialty knives that I use on certain occasions, like when I decide to debone a chicken or fish. Or when I want to make sushi at home without totally destroying the nori when I cut into it. Believe me, that really requires a sushi knife.
If you want to learn about kitchen knives so you can either begin to use the right one for the right job, or go buy your own customized knife block set, we have a very handy infographic below. It makes learning about the different types of kitchen knives super easy, so you can build the best knife block.
Wusthof Classic 3-Piece Chef's Knife Set
This is my favorite kitchen knife set. This set contains three knives: 3.5″ paring knife, 6″ utility knife and 8″ chef's knife. These are really the 3 most essential knives you must have in your kitchen.
The reason I love this set so much is because they're all fully forged from a single block of high carbon stainless steel, the handles are full tang, they are baked by a company with a vast reputation for high-quality craftsmanship, and they have a lifetime warranty. It really doesn't get any better than that.
Stick around to the bottom of the graphic to see which knives you should add to your collections first, that will be the most versatile and useful for a home cook. And we'll even give you a few recommendations for knives that we love.
What Kitchen Knives You Absolutely Need
Now that you know what each knife looks like and what it does, it's time to determine which knives you absolutely need in the kitchen.
There are four basic knives that everyone should have. These four should be your every day work-horse knives.
8- or 10-inch Chef's Knife
The chef's knife is the most versatile and useful knife in the bunch. You can use it to cut just about everything, from meat (without bones) to vegetables. It's a universal knife, and will be the one you use the most often. So, you need to get a good one.
How do you know what a good one is? It should have some weight in handle to offer better control, it should have a sharp blade, and it should be a good fit for your hand. If you have small hands, you may want to go with a 7 or 8-inch chef's knife, as they tend to be easier to hold, but there are larger knives with small handles.
I have to say that a good chef's knife is not cheap to purchase. You need to invest in a knife to get a good one. If you purchase a $10 chef's knife, beware that you get what you pay for. Likewise, you'll pay more for a carbon steel knife vs a stainless steel one, but the carbon steel knife will likely last much longer.
Utility Knife
For me, the utility knife is the "work horse" knife. I use it more often than any other knife because it can tackle any job with ease. It's not as large as the chef's knife, so it feels more stable and lightweight in your hand, but it's bigger than the paring knife, so it can tackle more difficult jobs.
It's really an all-purpose cook's knife can be used for chopping, mincing, slicing and dicing. A utility knife is a much more versatile paring knife and is perfect for mincing shallots, onions and herbs as well as cutting vegetables or cutting small meats.
Paring Knife
There are many jobs in the kitchen that are too small for a big giant chef's knife. For instance you really shouldn't use a chef's knife to slice cherry tomatoes or strawberries, julienne a green pepper, or peel an orange. It's just too bulky. That's where the paring knife comes in handy.
You can perform a much smaller, refined cuts with this smaller blade (learn about basic cuts you can make with a paring knife). Paring knives are typically between 3 and 4-inches in length, but sometimes up to 5. I prefer a 4-inch blade.
Bread Knife
Never underestimate the power of a good bread knife. I once destroyed an entire baguette trying to hack away at it with a utility knife, because I didn't have a bread knife. I didn't want to cut up a baguette ever again after that. Until I bought my bread knife and learned how awesome it was.
The bread knife has special teeth on it that allow it to easily cut through the thick crust of bread without ripping it to shreds. It takes a lot less muscle to slice, too.
Filet Knife
A fillet knife is a type of knife used for preparing fish for eating. It is typically a thin, flexible, and sharp knife with a pointed tip. The flexible blade makes it useful for slicing, skinning, and trimming away excess fat from fillets of fish. A fillet knife is an essential tool for those who love to cook and eat fish.
When preparing fish for cooking, the fillet knife is best used to cut away any residual skin, fat, or bones. This helps to ensure that the fish will be safe to eat, removing any potential toxins or stray parasites that could otherwise remain. When filleting a larger fish, it can also be utilized to cut fillets into smaller portions while still retaining a clean cut.
In some cases, a fillet knife is also employed to create decorative garnishes and other aesthetic touches when prepping fish for presentation. This type of knife may also be used in some limited sculpting, such as when creating a customized, unique fish-based dish.
Boning Knife
As I mentioned above, boning a chicken can be quite difficult if you don't have the right knife. Using a chef's knife for the job can be downright dangerous, while using a paring knife won't quite cut it (pun intended).
Using a boning knife will make boning a chicken much easier. The knife's pointed tip easily pierces into the meat while the curved-edge of the blade allows for smooth, clean cuts close to and around the bone.
Boning knives have a thin, flexible, and sharp blade that allows for precise slicing and removal of poultry bones, joints, and gristle.
Steak Knives
You can't live without steak knives! They are the best knives at cutting meat, whether it be steak or chicken, or whatever else you're serving for dinner. It's important to find a set that are easy to handle (not too big and heavy), have really sharp serrated teeth, and can easily set on the side of a plate.
I had a set with a rounded handle that wouldn't sit sturdy on the plate, so it kept falling off and making a mess and a lot of noise during dinner. Never again.
Steak is one of my true pleasures and it can be ruined by a dull or ineffective steak knife. Speaking of steak, I cooked the best steak of my life from a subscription meat plan with ButcherBox. If you haven't tried it yet, I highly recommend it. This filet was so thick and tender.
Usually they come in sets of 6, though you can get larger sets, if you think you'll have more people eating at once. Or you can just buy them one by one, if you only need a few.
Apart from these few kitchen knives, you can start to add specialty knives that you think you'll use regularly. For me, that's a sushi knife, a boning knife, a cheese knife and a utility knife (I prefer a 6-inch non-serrated blade).
I also really love Japanese chef knives, so I also have one of those. If you put together you're own knife set, you'll only pay for knives you will use, and it will take up less space on the counter.
CONCLUSION
What do you think? Have you learned a lot about the different kitchen knives? And now you know how to put together your own set? I hope you find the right knives for you. It does make working in the kitchen so much easier and enjoyable.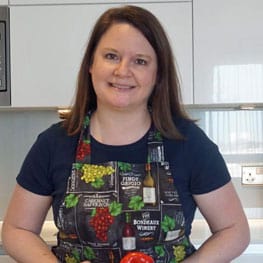 Laura is a home cook, with 25 years experience behind the stove, who spends an extraordinary amount of time in the kitchen cooking. She loves making new recipes and finding wonderful new things to eat, both at home or abroad. She spends a lot of time researching, crafting, and perfecting her recipes and currently has a cookbook in development.