Keeping kitchen knives sharp isn't as easy as we may wish. There are many variables to think about and methods for handling the job. If you've ever had knife sharpening questions, you also know it can be quite a challenge to find the answers you're seeking.
There is a lot of confusion when it comes to knife sharpening. I suppose that has to do with the abundance of retailers and marketers out there trying to sell quick remedies to all our knife-sharpening woes.
Perhaps it's just because we all own knives of some sort, and we all know how important it is to keep them sharp, whether it's to have a stress-free cooking experiences or to keep from hacking a finger off.
I've compiled a list of my top 10 knife sharpening questions and provided answers to these queries.
Top 10 Knife Sharpening Questions and Answers
Q: Do knife sharpeners cause damage to the knife?

A: Whenever you sharpen a knife some metal will be removed, however only a very minimal amount of metal should be removed during sharpening. This is why it is imperative to use a good quality knife sharpener that will intentionally protect the blade from damage and excess metal removal. If you don't know the proper technique for sharpening a knife by hand, it's better to use a manual or electric knife sharpener with well-designed guides that will protect the blade properly. But it is important not to use just any cheap knife sharpener to do the job.
Q: Can I use a knife sharpener on my expensive knives?

A: Yes. If you buy the right knife sharpener, you can absolutely use it to sharpen your expensive and high-end knives. Some things to look for in a good knife sharpener are 100% diamond abrasive wheels and good quality guides for the sharpening slots. Also be sure you are using the appropriate sharpener for the type of knife you are sharpening. For instance, with stainless steel vs carbon steel knives. It's typically better to sharpen carbon steel knives by hand, while stainless steel can be sharpened on a sharpener.
Q: Can a knife sharpener sharpen serrated knives?

A: Most manual and electric sharpeners today are designed to sharpen both straight edge and serrated knives. In a multi-stage sharpener, you use the final stage to sharpen and realign serrated blades. Before purchasing a knife sharpener, be sure to check the specifications to be sure serrated blades are supported.
Q: How often should I sharpen my knives with a knife sharpener?

A: Depending on use, you may need to resharpen 3-4 times a year if you properly maintain your blades. Ideally, you should aim to keep your knife in tip top shape by honing it after nearly every use. Running the blade over a steel or ceramic rod, or through the finishing stage of your manual or electric knife sharpener fairly regularly will keep the blade edge straight and cutting well. This will immensely cut down on the number of times your knives actually need to be sharpened.
Q: Do manual and electric sharpeners sharpen pocket and hunting knives?

A. While most models you'll find on the market do sharpen pocket and hunting knives, some of the larger knives won't fit comfortably between the guides, and thus should not be used on that machine. The guides on most kitchen knife sharpening machines are meant for smaller knives and cannot accommodate larger outdoor knives. You'll want to look for a model that is specifically made for these type of knives, or risk ruining the blade.
Q: What type of cutting board should I use to keep my knives from going dull?

A: The best cutting board is a soft one. Wooden or composite plastic cutting boards are easier on a knife blade than harder materials like glass, granite, ceramic or marble, which can cause the edge to roll or become damaged. For this reason, you should never cut directly on the countertop.
Q: Do I have to spend a lot of money to get a decent knife sharpener that I can depend on?

A: No. There are plenty of decent knife sharpeners out there that don't cost a fortune. The better sharpeners come with diamond abrasive wheels. You can certainly find manual knife sharpeners with diamond abrasives for around $30-$40. It's when you start adding extra features and functions that a sharpener begins to get expensive. Most users don't need a hugely powerful sharpener with all the options. Find what you need, but don't overpay for extra.
Q: Can do you sharpen ceramic knives with a knife sharpener?

A. Not all manual or electric knife sharpeners can sharpen ceramic knives. If you're purchasing a knife sharpener for the purpose of sharpening ceramic knives, you need to check the specifications to be sure it can handle the task. The Kyocera Electric Diamond Knife Sharpener has a dedicated slot for ceramic knives. Learn more about sharpening ceramic knives here.
Q: What is the best type of knife sharpener to use?

A: This is a tough question and the answer is quite likely different for everyone. Much of the decision depends on what kind of knives you'll be sharpening. Knife purists and professionals swear by sharpening stones, but for the rest of us who don't have the time or inclination to learn how to use stones, it's a manual vs electric knife sharpener. For the pros and cons of these two methods, and to find which on is right for you, read our full guide.
Q: Can I use the same sharpener for all my knives?

A: The short answer is no, unless you only buy one type of knife. Sharpeners are often very specific on the types of knives they can sharpen. Some only sharpen German-style 20-degree blades, some only sharpen Japanese-style 15-degree blades. Others don't sharpen specific types, like serrated blades and larger hunting knives. You'll need to determine the type of knife you need to sharpen before buying the appropriate sharpener.
CONCLUSION
I'm sure you have more knife sharpening questions than these, and we're happy to help in any way we can. Put your additional questions in the comments and we'll answer them right away.
Like this post? Why not share it on your Pinterest board.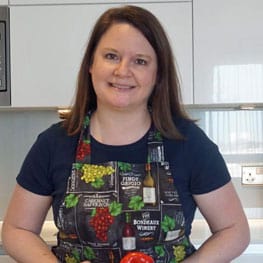 Laura is a home cook, with 25 years experience behind the stove, who spends an extraordinary amount of time in the kitchen cooking. She loves making new recipes and finding wonderful new things to eat, both at home or abroad. She spends a lot of time researching, crafting, and perfecting her recipes and currently has a cookbook in development.