This Pear and Gorgonzola Salad mixes the fresh, sweetness of pear with the tangy, sharpness of gorgonzola – a classic pairing.
» You might want to try this Fennel & Carrot Salad, Golden Beet Salad or this Bacon Jalapeno & Corn Salad.
If you're looking for a salad to serve with a special meal, this one is a really great choice. The flavors are bold and work so well together. It feels like a special occasion every time I make it.
Everyone loves this salad. First of all, it's super easy to make. You can toss it up in just a few minutes, so it's fresh right when you're ready to serve it.
Second, the flavors just works so well together. Even people who don't normally like gorgonzola or sharp-tasting cheeses usually love this salad. It's a great combination of sweet and acidic.
How to Make a Pear and Gorgonzola Salad
The best part about this salad is how easy it is to make. You can serve it for any occasion and everyone will love it. These flavors go together so well. It's always a hit.
Step 1: Roughly chop up the walnuts, cranberries, and pear.
Step 2: Lightly toast the walnuts
Step 3: Mix the vinaigrette
Step 4: Combine the salad ingredients in a bowl. Add the desired amount of vinaigrette. Toss to coat. And serve.
Adding Pears
When pears are in season and are perfectly juicy and ripe, that is when this salad shines the most. Another fun way to serve the pear in this recipe is to use a spiralizer to make fun ribbons out of it (just make sure the pear isn't overripe or it'll just fall apart).
If you can't find pears that are sweet and ripe, you can substitute apple for the pear. It also goes very well with the cheese.
The Cheese
The cheese in this recipe is gorgonzola, but it can be substituted with blue cheese or stilton. Gorgonzola often has a more mild flavor than blue cheese, so it's a good choice if you aren't into stinky cheese.
You can find it in a soft, creamy version or a firmer version. For this salad, the firm version is better. If you don't like gorgonzola or blue cheese, you can also substitute it with feta cheese, which has a rich acidity similar to gorgonzola.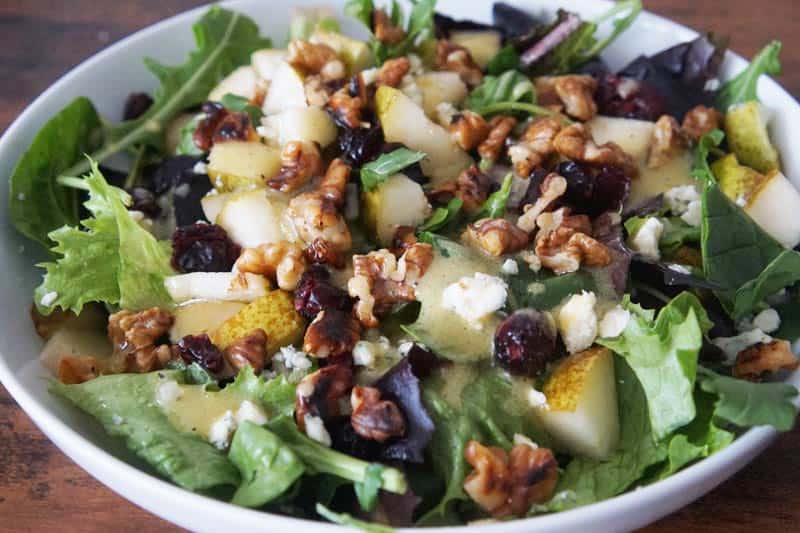 Toasted Nuts
Toasted walnuts are the other important ingredient in this dish. They don't have to be fancy candied walnuts, but be sure not to put them in the salad raw. Raw walnuts have a bitterness that can be overwhelming.
The walnuts should be chopped up into small pieces and lightly toasted. I just put them on a skillet over medium heat with a little bit of olive oil for about 3 minutes, turning or stirring them a few times so they don't burn.
Toasted nuts will stay good for a few days when kept stored and covered tightly. So if you're preparing recipes, like this one, that call for toasted nuts, they can be prepared and stored ahead of time. I usually make a larger batch than a recipe calls for so I have extra.
Note that you can make these ahead of time, so they're ready to just toss into your salad.
I always toast my walnuts on the stovetop, because it's faster with less fuss, but you want to toast them in the oven, here's a guide to follow.
Vinaigrette Dressing
I always make my own vinaigrette dressing. It ends up so much better than any store-bought dressing. And it's so easy to make. I always have the ingredients on hand so I can whip up a dressing when I need it. I bet you do too.
It just takes these ingredients:
O

il

V

inegar

H

oney or other sweetener

Dijon mustard
If you have a food processor or handheld blender, they're perfect for blending up salad dressings. You can also do it with a whisk or by putting the ingredients in a small jar or container with lid and shaking vigorously.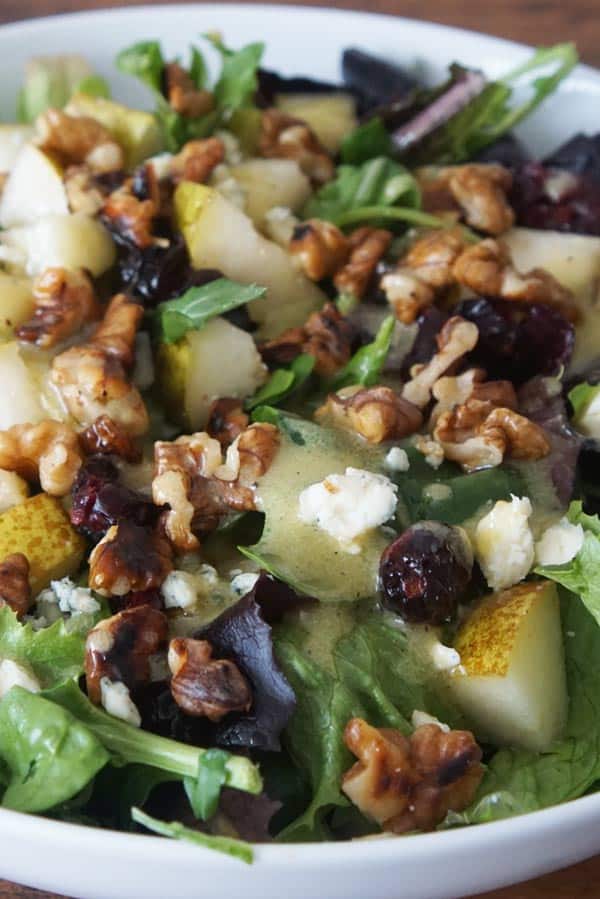 What Lettuce to Use
Arugula is a great choice for this salad because it has a bitterness that is counter-balanced by the sweet pears and pungent gorgonzola.
However, I typically use a wild lettuce mix that has red leaf, spinach, and arugula in it. I like the variation of lettuce. The red leaf lettuce adds a pop of color.
You can use just about any lettuce mix you want. However, I don't prefer to use romaine or iceberg lettuce because it's too crunchy and the water content is too high. Stick with thin, leafy greens.
Serve & Enjoy
Once you make this salad, you'll be addicted, believe me. It has complex flavors that go together so well. It's almost hard to believe how good this salad tastes.
Wondering what to serve this salad with?
Other Salad Recipes to Try
Like this recipe? We'd love for you to share it on your Pinterest board! Click to follow our Pinterest boards so you can find all our recipes!
Instagram it! If you try this recipe please tag #AFoodLoversKitchen on Instagram or Twitter. We love to see your photos of our recipes! Also follow us on Instagram, Twitter and Facebook to keep up on what we're cooking up.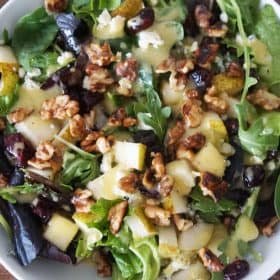 Pear & Gorgonzola Salad
This pear and gorgonzola salad combines crispy lettuce leaves with the sweetness of pear and the acidity of cheese to reach the perfect bite.

Print
Pin
Rate
Ingredients
For the salad dressing
3

tbsp

olive oil

1 1/2

tbsp

apple cider vinegar

1/2

tsp

honey or agave

1/2

tsp

Dijon mustard

1/4

tsp

oregano

salt and pepper to taste

Squeeze of lemon juice
For the salad
3

cups

wild lettuce mix or arugula

1

pear

diced

3

tbsp

crumbled gorgonzola or blue cheese

2

tbsp

chopped walnuts

lightly toasted

2

tbsp

dried cranberries

roughly chopped
Instructions
Toast the walnuts in a pan with a small amount of oil over medium heat for 3 minutes, stirring frequently to avoid burning.

To make the salad dressing, add the olive oil, vinegar, honey, dijon mustard, and oregano to a small mixing bowl. Whisk ingredients together until well combined. Add a squeeze of lemon juice, if desired and salt and pepper to taste.

Add the lettuce, pear, cheese, walnuts and cranberries to a large salad bowl.

Top the salad with half the salad dressing. Mix gently to coat the lettuce. If the salad requires more dressing, add a little extra at a time until the desired dressing ratio is reached. Serve immediately.
Notes
This recipe makes 2 large salads or up to 4 small side salads.
A small pear is enough for this salad. If you can only find a large pear, start with half and add more only if you think it needs it.
You may prefer more or less vinaigrette on your salad, so start with half and add until your desired level.
Nutrition
Calories:
219
kcal
|
Carbohydrates:
15
g
|
Protein:
4
g
|
Fat:
17
g
|
Saturated Fat:
4
g
|
Cholesterol:
8
mg
|
Sodium:
159
mg
|
Potassium:
166
mg
|
Fiber:
2
g
|
Sugar:
10
g
|
Vitamin A:
451
IU
|
Vitamin C:
4
mg
|
Calcium:
92
mg
|
Iron:
1
mg
Pin it for later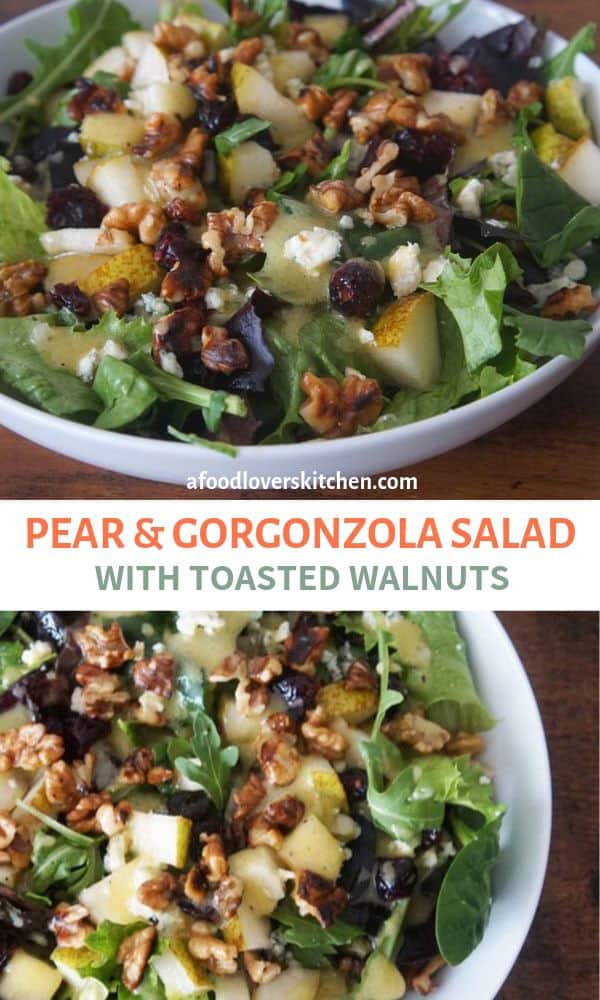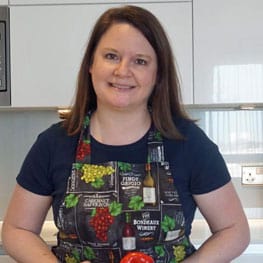 Laura is a home cook who loves making new recipes and finding new favorite things to eat, whether at home or abroad. She also runs a popular travel blog and spends a lot of her time traveling for food.