Chilaquiles can be eaten for breakfast, lunch or dinner. It's a versatile, filling, and flavorful snack or meal. This easy Chilaquiles recipe leaves the chips crunchy and full of flavor.
» You might also like How to Build a Mexican Charcuterie Board and these 8 Favorite Mexican Food Recipes to try.
If you like nachos and enchiladas, you'll love Chilaquiles – the harmonious marriage between these two great dishes. The salsa verde brings it all together, as it coats the tortilla chips to add immense flavor to every bite.
I'm a big fan of salsa verde. If I had to choose between red or green, I always choose green. When the green chilis are roasted and charred, they have a distinct quality that makes the flavor really pronounced. The vegetal flavor is both sweet and sour – the perfect combination.
I don't want to downplay the amazingness that is rojo (red) chilaquiles, though. They are like a deconstructed enchilada. Tons of spicy red chili flavor and they look so dramatic on the plate.
To be fair, I wouldn't turn away either of these plates of chilaquiles. They're good no matter how they're made. If you want to add meat, you can add in some shredded chicken, beef or this pork carnitas. But they are often eaten without meat. I make them both ways, depending on whether it's a snack or a meal.
Add some fresh guacamole to the top in place of the avocado slices. Amazing!
What Are Chilaquiles?
If you haven't figure it out yet from all my gushing about them above, chilaquiles are a Mexican dish that is very much like nachos. Corn chips are coated in either a red or green sauce and baked, then topped with cheese and cilantro. They can be served for breakfast, usually with an egg on top, or really for any other meal.
Ingredients You Need
Just like making nachos, chilaquiles require a few ingredients that you'll likely have to source depending on where you live, like the tomatillos. They look like daunting lists, but it does come together pretty easy once you have everything.
For tomatillo salsa
Fresh tomatillos
Onion
Serrano pepper
Jalapeno pepper
Cilantro
Chicken broth
Garlic
Fresh mint leaves
Extra Virgin olive oil
For the Chilaquiles
Tortilla chips
Chicken breast
Queso fresco or cotija cheese
Onion
Creme fraiche or sour cream
Fresh cilantro leaves
Salt and fresh ground black pepper
How to Make Chilaquiles Mexicanos
The process for making these chilaquiles can be as easy as you want it to be. The traditional method requires you to make your own verde sauce, but if slow roasting vegetables, blending and straining just isn't in the agenda for you, then all you have to do is buy the sauce.
That is the easy chilaquiles way! Don't worry, no one is judging you. If you're making your own sauce, follow the instructions in the recipe for preparing the vegetables.
It takes about 20 minutes to prep the veggies and roast them. You can do this under the broiler in the oven, or on a grill outside.
Once you've roasted and blended the sauce, it should look like the one below. Bright, vivid green! This salsa is great on so many things. It keeps well in the refrigerator for at least a week, so if you made too much, don't worry. You can use it as a sauce for your carnitas tacos or even add it to your avocado egg toast in the morning.
You will heat the sauce (whether homemade or bought) in a large sauce pan (and add in the shredded chicken, if you're using it). Once the sauce is hot, toss in the tortilla chips and coat them with the salsa. Add in the onions, cilantro and cheese and you're done.
The only thing that's absolutely necessary is that you serve them immediately. They aren't as good cold. And they can quickly become soggy. For this reason, I recommend not fully coating every single tortilla chip.
If you're making chilaquiles verdes, I recommend the Las Palmas brand of verde enchilada sauce, if you're buying it. It's really good and is a pretty much perfect balance of flavors. I like the hot version. I promise it's not burning hot. It's got just a little bit of heat that boosts the dish without overwhelming it.
You can also make your own tortilla chips. I take corn tortillas, cut them into fourths, brush them with a little olive oil, and put them in the oven on 350 degrees for about 8 minutes.
Turn them over and cook them a few minutes longer, until they've browned on the edges. Let them sit for a minute or two to finish crisping up. Then toss them with the sauce.
Chilaquiles are just like nachos, only way more flavorful because every chip is covered in sauce. You can add any toppings you want besides the traditional toppings. Make them just the way you like them.
Frequently Asked Questions
Can I use red sauce?
You can make chilaquiles with a salsa verde (green sauce) or with a salsa rojo red sauce). Our recipe below is for green sauce, but you can either make your own red sauce or buy a red enchilada sauce to use.
What proteins can you serve these with?
Chilaquiles are often served for breakfast, so an egg is an appropriate topping to add. Other proteins you might see served alongside chilaquiles are chicken or flank steak. I'd say the most popular way to eat them are vegetarian, however.
How are chilaquiles different from nachos?
Both dishes are popular Mexican favorites and both use fried tortillas or tortilla chips as a base, but chilaquiles are baked or sauted in the sauce, where nachos are generally just topped with cheese and salsa.
Like this recipe? We'd love for you to share it on your Pinterest board! Click to follow our Pinterest boards so you can find all our recipes!
Instagram it! If you try this recipe please tag #AFoodLoversKitchen on Instagram or Twitter. We love to see your photos of our recipes! Also follow us on Instagram, Twitter and Facebook to keep up on what we're cooking up.
Mexican Chilaquiles
Chilaquiles (corn chips) with shredded chicken and green chile sauce, baked and topped with Mexican cheese
Print
Pin
Rate
Ingredients
For tomatillo salsa
8

fresh tomatillos rinsed

husks removed

1

onion chopped into chunks

1

serrano pepper peeled and seeded

1

jalapeno pepper seeded

1/2

cup

chopped cilantro

1/8

cup

chicken broth

1

clove

garlic

2

fresh mint leaves

1

tablespoon

olive oil
For the Chilaquiles
1

13 ounce

bag tortilla chips or 10 corn tortillas cut into large triangles

8

ounces

chicken breast cooked and shredded

optional

1/2

cup

crumbled queso fresco or cotija cheese

2

thin slices onion separated into rings

1/4

cup

Creme fraiche or sour cream

1/8

cup

chopped fresh cilantro leaves for garnish

Salt and fresh ground black pepper
Instructions
To make the salsa
Turn the oven on broil. Position the top rack so it's within 3 inches of the heating element.

Place the tomatillos, chiles, onion and garlic on a baking sheet. Season with olive oil, salt and pepper. Place the baking sheet on the top rack and cook for about 4 minutes per side, until slightly charred and soft. Remove from oven.


Once cooled slightly, add all the vegetables, along with the cilantro, mint and chicken broth, to a blender and puree.
To make the Chilaquiles
If using corn tortillas instead of chips, preheat the oven to 350 degrees F. Add the tortilla pieces to a baking sheet. Brush or spray lightly with olive oil. Bake for 8 minutes, flip the chips over and bake an additional 1-2 minutes until golden and crisp.

Add the tomatillo salsa to a frying pan and simmer over medium heat. Add shredded chicken and stir.

Add the tortilla chips and gently flip the chips to coat with the salsa, being careful not to break the chips.

Transfer the chips to a plate. Top with onion slices, cilantro, cheese and sour cream. Season to taste with salt and pepper. Serve immediately.
Nutrition
Calories:
458
kcal
|
Carbohydrates:
27
g
|
Protein:
34
g
|
Fat:
25
g
|
Saturated Fat:
9
g
|
Polyunsaturated Fat:
2
g
|
Monounsaturated Fat:
10
g
|
Trans Fat:
1
g
|
Cholesterol:
109
mg
|
Sodium:
451
mg
|
Potassium:
1182
mg
|
Fiber:
6
g
|
Sugar:
14
g
|
Vitamin A:
1101
IU
|
Vitamin C:
43
mg
|
Calcium:
269
mg
|
Iron:
2
mg
Other Mexican Food Recipes To Try
Click for Even More Mexican Favorites
🥧 If you're interested in more great recipes, I share all my favorite Instant Pot recipes over at A Pressure Cooker Kitchen, air fryer recipes at Air Fry Anytime, and cocktails and drinks at Savored Sips. Check it out today!
Pin it for later!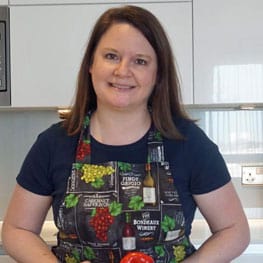 Laura is a home cook who loves making new recipes and finding new favorite things to eat, whether at home or abroad. She also runs a popular travel blog and spends a lot of her time traveling for food.