These Candied Walnuts With Brown Sugar are crunchy and sweet, a perfect accompaniment to any salad or tasty dessert option that's easy to make and enjoy.
» You might also like this Fall Harvest Cobb Salad.
Ever find yourself wanting to elevate a simple salad, snack, or dessert? Candied walnuts with brown sugar are your answer. They bring a mix of sweetness, crunch, and sophistication to just about any dish.
The best part? They're incredibly easy to make. We're talking zero prep time and only 3 minutes of cooking. It doesn't get any easier than this.
The first time I made these was for a spinach blueberry salad that really needed some extra crunch. I thought it would be time consuming to make my own walnuts, but I was definitely wrong. Now I make them all the time and always have them on hand to add to my lunch salads.
Ingredients
Walnuts – I like to use walnut pieces, but you can make full walnuts as well, just personal preference.
Brown sugar – Use light or dark brown sugar – also a personal preference.
Butter – I use salted butter to give them a little extra savory kick.
Equipment Needed
Baking sheet
Parchment paper or a silicon mat
Skillet
Spatula
How to Make Candied Walnuts with Brown Sugar
Prepare the Baking Sheet: Line a baking sheet with parchment paper or a silicone mat. This will make your life easier when it's time to cool the walnuts.
Melt the Butter: Place a pan over medium heat and add the butter. Wait until it's completely melted.
Add the Goodies: Toss in the brown sugar and walnuts. Get your spatula and give it a good stir.
Cook to Perfection: Keep stirring for about 3 minutes, making sure the sugar is fully dissolved. This is where the magic happens, transforming plain walnuts into something extraordinary.
Cool Down: Transfer your hot, sticky walnuts to the prepared baking sheet. Spread them out into a single layer, making sure they're not touching each other. Let them cool for at least 30 minutes before diving in.
Skillet vs Baking
You can use a skillet, like we do, or bake the walnuts. Either way, they'll turn out great. I personally have chosen to use a skillet because it's so simple and this is just easier to me. Preheating the oven takes more time. But if you want a more hands-off approach, where you don't have to watch the walnuts closely so they don't burn, you might like the oven approach.
To cook these walnuts in the oven instead, combine the nuts with the butter and brown sugar. Preheat the oven with racks in the center to 300° F (150° C). Put the nuts on the baking sheet and bake them for about 25 minutes, until browned.
How to Store Leftovers
If you somehow manage to have any leftovers, once they are completely cooled, store them in an airtight container. These candied walnuts can easily last up to two weeks, retaining their crunch and flavor. I usually make a large batch and keep them in a container in my pantry to add to my salads.
What to Use Candied Walnuts For
These little delights can serve multiple purposes:
Salads: Sprinkle them over a bed of greens to add a sweet crunch.
Desserts: Use them as a topping for ice cream or incorporate them into cookies.
Snacking: Eat them as they are, perhaps accompanied by a glass of wine or a cup of tea.
Frequently Asked Questions
Can I use a different type of nut?
Certainly. Almonds, pecans, or cashews can also work well in this recipe.
What if I don't have brown sugar?
You can use granulated white sugar or coconut sugar as an alternative, though the flavor will be slightly different.
Do I really need to let them cool for 30 minutes?
Yes, this is crucial for achieving the right texture. The cooling process allows the sugar to harden and give the walnuts their signature crunch.
So there it is—a simple yet elegant recipe that offers a variety of applications. From salads to desserts, these candied walnuts with brown sugar will undoubtedly become a go-to addition in your culinary repertoire.
Like it, Love it, Want Some More of It? Subscribe to our newsletter and follow us on Pinterest, Instagram and Facebook. We really love it when you save our recipes to Pinterest 😊
Candied Walnuts with Brown Sugar
These Candied Walnuts use brown sugar to make them crunchy and sweet, a perfect accompaniment to any salad or tasty dessert option that's easy to make and enjoy.
Print
Pin
Rate
Ingredients
1

cup

(

117

g

)

walnuts

1/4

cup

(

55

g

)

brown sugar

1

tablespoon

(

14

g

)

butter
Instructions
Line a baking sheet with parchment paper or a silicon mat.

Heat butter in a pan over medium heat until butter is completely melted.

Add brown sugar and walnuts to the pan and stir with a spatula.

Continue cooking, stirring regularly, until the sugar is completely dissolved (about 3 minutes).

Transfer the candied walnuts to the

baking sheet

and spread them into a single layer, not touching.

Let cool for at least 30 minutes before serving.
Nutrition
Calories:
1075
kcal
|
Carbohydrates:
70
g
|
Protein:
18
g
|
Fat:
88
g
|
Saturated Fat:
14
g
|
Polyunsaturated Fat:
56
g
|
Monounsaturated Fat:
13
g
|
Trans Fat:
0.5
g
|
Cholesterol:
30
mg
|
Sodium:
108
mg
|
Potassium:
592
mg
|
Fiber:
8
g
|
Sugar:
56
g
|
Vitamin A:
373
IU
|
Vitamin C:
2
mg
|
Calcium:
164
mg
|
Iron:
4
mg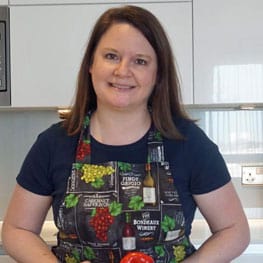 Laura is a home cook, with 25 years experience behind the stove, who spends an extraordinary amount of time in the kitchen cooking. She loves making new recipes and finding wonderful new things to eat, both at home or abroad. She spends a lot of time researching, crafting, and perfecting her recipes and currently has a cookbook in development.